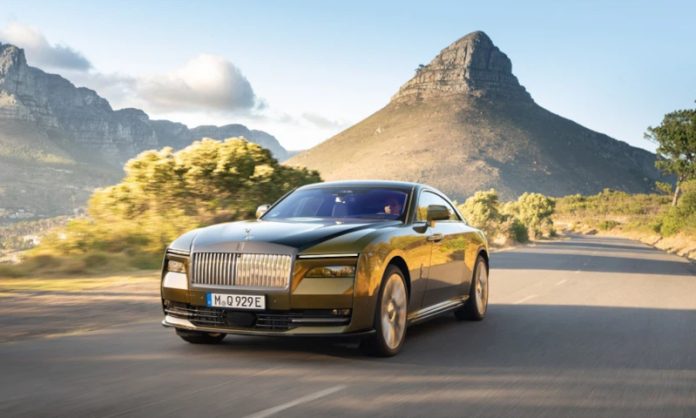 It's not uncommon for new and exotic cars to be spotted in South Africa testing, with its harsh climates, wide variety of terrains and surfaces (ahem, potholes).
Not to mention great locations for testing teams to stay, which ensure South Africa is a popular testing destination.
However, we wonder if Rolls-Royce engineers were banking on a local phenomenon called load shedding for their electric prototype. They'll quickly learn that keeping the batteries topped up is an exercise in forward planning in Mzansi.
SPOTTED IN SOUTH AFRICA: ROLLS-ROYCE SPECTRE
Nevertheless, revealed in 2022, the silent-running Rolls-Royce Spectra is undergoing final testing ahead of its official launch before the end of the year. Rolls-Royce has already visited the extreme cold of the Arctic Circle and the south of France. Now the prototypes are in South Africa for hot-weather testing.
ALSO READ: The EV ownership experience was seriously lacklustre in 2022
TESTING IN SOUTH AFRICA: BUT WHERE?
Two regions specifically: Augrabies in the Northern Cape and Franschhoek in the Western Cape. Rolls-Royce says the two locations provide an ideal contrast between dry and humid heat, with temperatures exceeding 40-degrees at times. It looks of it they encountered some crazy thundershowers along the way, too.
Testing is so meticulous for a brand like Rolls-Royce, more than 1 500 hours were spent perfecting the regenerative braking system to ensure it feels "present yet effortless." Good on them! That's very important for any luxury EV.
METICULOUS ATTENTION TO DETAIL
ALSO READ: What's the longest-ever electric car drift? Watch here
The final specification of the Spectre is still undisclosed. But we know it will come with a dual-motor all-wheel-drive electric powertrain developing in the region of 400 kW. So a Cruising range of 500 km is predicted and a fast charger should ensure an 80% recharge takes less than 30 minutes.