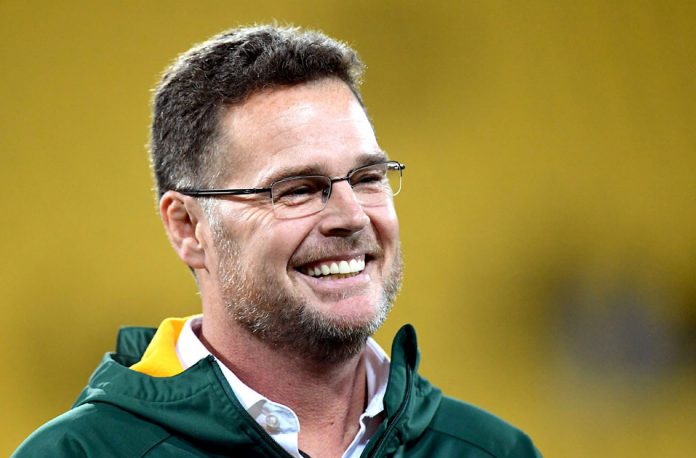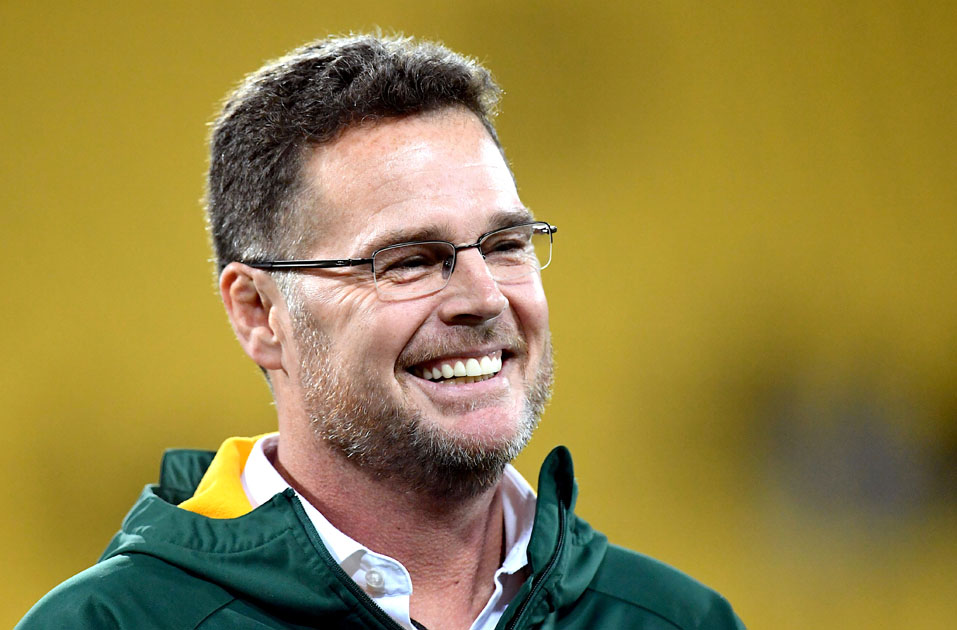 Leading English club Leicester Tigers have reportedly added Rassie Erasmus to their list of top candidates to pursue as coach.
Leicester are currently on the lookout for a replacement for Steve Borthwick, who has taken over as England head coach, and then promptly recruited a pair of other Tigers coaches in Richard Wigglesworth and Aled Walters.
With Leicester now looking to ensure they can land a "big fish" to replace Borthwick, highly reputable English publication The Telegraph has suggested the club is interested in Rassie Erasmus.
The article suggests that "Erasmus, South Africa's World Cup-winning director of rugby, has emerged as a candidate to take over at Leicester Tigers…"
Apparently the shortlist also includes Michael Cheika, the Argentina head coach, and Dan McFarland, the Ulster head coach.
Of course, at this stage, Leicester may just be putting together a "wish list", and it would really seem highly unlikely that Erasmus would consider this sort of role, even if it were to materialise after the World Cup.
Currently, Erasmus, and Springbok head coach Jacques Nienaber, have already begun intensive planning for the Springboks to defend their World Cup title in France later this year.
The duo have been offered full job security through to the 2023 global showpiece, while there is also a very good chance they will remain with the national side beyond the World Cup.
According to a recent report in Sunday newspaper Rapport, Erasmus' lawyer Frikkie Erasmus confirmed that the director of rugby's current deal with SA Rugby runs through to 2025.
If the Springboks successfully defend their world title, there is no doubt that every effort would be made to retain the services of the 50-year-old, although other offers could be considered due to a clause in his contract.
"Rassie is contracted until 2025, but in terms of the terms of the contract, he has the right to end his contract earlier," Frikkie said.
Apparently SA Rugby president Mark Alexander also confirmed Erasmus and Nienaber's contracts do not end after the World Cup.
ALSO READ | RUGBY WORLD CUP 2023 SPRINGBOK SQUAD: WE MAKE OUR EARLY PREDICTIONS!
RASSIE EXCITED BY SPRINGBOKS' DEPTH AHEAD OF RWC 2023
The Springboks eventually won eight of their 13 Tests last year, finishing with a win percentage of 62%. They lost one game each to Wales, New Zealand, Australia, Ireland and France; but did beat both Wales and Argentina twice, and the All Blacks, Wallabies, Italy and England once each.
While many would rate that as a below par performance from the world champions, Erasmus has made it clear that the Springboks had reached its core goals for the year.
In an interview with Rapport, Erasmus explained the 2022 international season was the first time the Springboks had been able to successfully strengthen its Test squad depth post the 2019 World Cup.
"Having this kind of depth is super exciting and the all the players have been given road maps they have to work on. In the end, the 33 guys will be selected on the technical and fundamental strength of the progress they've done in terms of their road maps."
On the horizon, there is now another shot at destiny when the 2023 World Cup in France rolls around, presenting an opportunity for Erasmus to emphatically cement his legendary legacy before perhaps bidding farewell to the Springboks.
ALSO READ | RUGBY WORLD CUP 2023 ODDS: LITTLE LOVE FOR THE SPRINGBOKS!