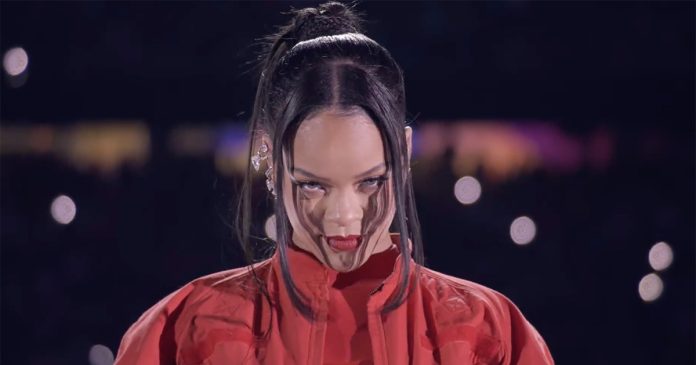 Barbados superstar Rihanna put on a powerful performance during the Super Bowl halftime show on Sunday night in the USA… as well as revealing she is pregnant. Rihanna is now trending at number one on Twitter worldwide, including in South Africa.
It was officially confirmed after the performance in Glendale, Arizona, that Rihanna is pregnant with her second child with American rapper A$AP Rocky. The couple's first son was born in May 2022.
It's been seven years since Rihanna last performed. This time she arrived on a floating stage and performed a packed set of hits: "B- Better Have My Money", "Where Have You Been", "Only Girl (In the World)", "Diamonds", a mash-up of "S&M" and "Rude Boy", "Work", "Wild Thoughts", "Pour It Up", "All of the Lights", "Run This Town" and "Umbrella".
While Rihanna sparkled in an all-red jumpsuit, she was surrounded by a team of white-hooded dancers. Watch below.
Rihanna at the Super Bowl, full video:
Respect to all the legends who came before Rihanna, but she is the best of all time. pic.twitter.com/zCsdA4UGze

— 𝑺 𝑵 𝑬 𝑯 ➐ (@SnehQueenBee) February 13, 2023
Rihanna at the Super Bowl, shorter video
Rihanna is pregnant, debuts baby bump during Super Bowl LVII Halftime Show Performance

This will be the second child for Rihanna and her boyfriend, rapper A$AP Rocky.
————————————————
Sabitzer #prayforburna Deborah pic.twitter.com/15rcKVFnkN

— Letstalk9jablog (@Letstalk9jablog) February 13, 2023
As usual the Super Bowl ads were as hotly anticipated as the NFL game itself. Ben Affleck's Dunkin' Donut commercial grabbed most of the headlines:
Back in 2014, a South African advert which aired in SA went viral and grabbed international attention as being even better than the Super Bowl ads that year. If you haven't seen it, it's a much watch – The Reader.
The interpreter was really enjoying her job at Rihanna's half time performance at the Superbowl😂

ASAP rocky Rihanna pic.twitter.com/sNAQZbFUGV

— Indigo_mamba (@indigo_mamba) February 13, 2023
I love @rihanna waving her Barbados flag ., home now #SuperBowl done 🇧🇧🇧🇧🇧🇧 pic.twitter.com/lOV5fugwKE

— MAX (@ThisIsMax) February 13, 2023