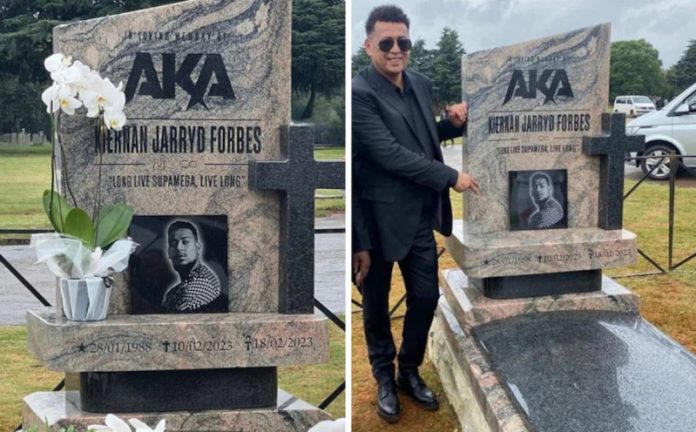 The unveiling of the tombstone of AKA – real name Kiernan Forbes – following his funeral service on Saturday did little to bring closure to fans of the South African rapper following his murder a week earlier.
In fact, it was a harsh reminder that Supa Mega – a name he was known affectionately as – was no more.
The hitmaker was laid to rest in a service on Saturday, 18 February, at the Westpark Cemetery.
According to the SABC, the 35-year-old is buried at Heroes Acre among other stars like Joe Mafela and Hugh Masekela.
ALSO READ: Don Design breaks silence, pours Henny on AKA's coffin [photos]
TOMBSTONE ERECTED ON SAME DAY AS FUNERAL
Somewhat surprisingly, AKA's tombstone was erected on the same day as his burial.
According to experts, while the practice is not unusual, it is recommended that a tombstone be erected after 6-12 months after the burial.
AKA's five-star funeral service was facilitated by funeral parlour Broodie, who rolled out the red carpet for the hitmaker.
From a BMW motorcade to an elegant church and graveside set-up, it was clear that no expense was spared.
Broodie is the funeral parlour that was responsible for AKA's sendoff. They were also hired for Shona Ferguson's sendoff.

They are the best of the best and are based in a township (Soshanguve) https://t.co/oxjEtpPijS

— Kasi Economy (@KasiEconomy) February 18, 2023
AKA'S FANS WEIGH IN
But while AKA's funeral service was a lavish affair, many social media users have questioned his tombstone.
Made from marble, the tombstone featured a simple message: "In Loving Memory of Kiernan Jarryd Forbes. Long Live Super Mega, Live Long".
ALSO READ: WATCH: Heartbreaking scenes from AKA's funeral
The stone also had the graphics from a designer handpicked by AKA himself.
Completing the tombstone was a black and white image of AKA and a cross.
Kiernan Forbes, popularly known as AKA, has been laid to rest following a private ceremony at the Westpark Cemetery in Johannesburg. #AKAFuneral #sabcnews pic.twitter.com/ChV9zTfkyQ

— Melini Moses (@melinimoses) February 18, 2023
Some gave the tombstone design the thumbs up:
@FPolelo: "I love how they chose a simple but elegant tombstone."
@AllAboutAyanda: "Beautiful tombstone – classy, understated, and I love that they put his AKA logo on it and his picture… Nothing over the top."
@MTRADEBE_SA: "Black people, maybe learn to keep it simple"
@LondolaniMakuya: "Rich people have nothing to prove. If it were someone from Limpopo, , we would see a glass room with sliding doors."
Others disagreed…
@MaducksS: "AKA's tombstone is a cheap one."
@theboy_Jippy: "With all the money he made, they couldn't build a wall around his grave and a nice gate? I mean, he's laying right there next to the street like how he went out."