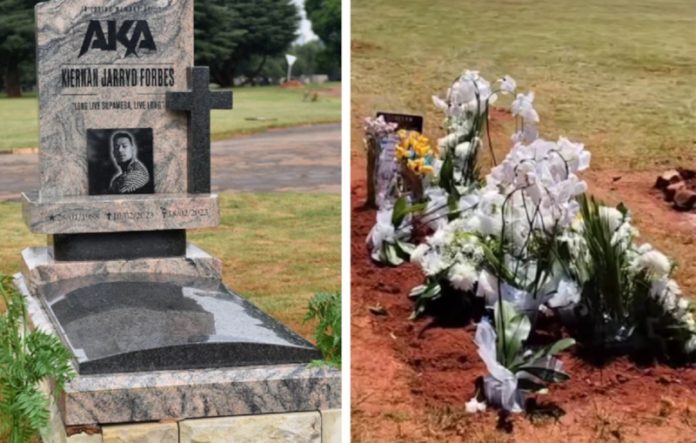 South African rapper AKA – real name Kiernan Jarryd Forbes – was laid to rest in a private funeral on Saturday, 18 February at Westpark Cemetery in Johannesburg.
However, just a few days later, fans noticed that his tombstone was MISSING from his gravesite.
ALSO READ: AKA 'received several warnings' not to set foot in Durban again
What happened to #AKA's tombstone @TheCitizen_News ? 😳🤔😱 pic.twitter.com/cFAFXy6GUP

— Thulani Ndaba (@tndaba) February 23, 2023
HERE'S WHY AKA'S TOMBSTONE WAS REMOVED
According to The Citizen, speculation quickly rose that it had been stolen.
However, Josh Kenp, the Operations Manager at Authentic Stones, told the publication that the musician's tombstone was NOT a victim of theft.
"The family is very much aware that the tombstone was removed after the burial," he said.
ALSO READ: 'You left this world without me': Don Design pens tribute to AKA
Kenp further explained that the tombstone was removed to prevent it from sinking into the ground.
"The tombstone was only at the funeral on Saturday for unveiling purposes, hence it was removed afterwards.
"Once the burial is over, we still need to lay a concrete foundation then we install the tombstone on top of the concrete foundation, otherwise if we installed the tombstone on Saturday, the tombstone would have sunk," said Kenp.
ALSO READ: 'Steff sounds exactly like him': AKA's brother shocks fans [watch]
In addition, he explained that different cemeteries have different rules.
"At the Westpark Cemetery where AKA has been laid to rest, you can't do the installation directly after the funeral and you are not allowed to do installations on Saturdays, so we have to install it during the week where we will lay concrete foundation as the burial is already done.
"But because the cemetery gave us special permission to install the tombstone of the late legend immediately, this is why we will install it back again either this week or next week," said Kenp.
TOP COP TO HEAD UP INVESTIGATION
The 35-year-old Fela in Versace hitmaker was brutally gunned down along with his friend and celebrity chef Tebello "Tibz" Motsoane outside Wish Restaurant on Florida Road in Durban late on Friday, 10 February.
ALSO READ: 'He called him his kid': Friend on AKA and Tibz's close friendship
During the announcement of the Quarter 3 Crime Statistics on Friday, 17 February, Police Minister Bheki Cele revealed that brigadier Vela Cele will head up the investigation into the murder of the duo.
Brigadier Cele is famous for tracking down Luyanda Botha in just 10 days.
Botha was sentenced for the rape and murder of 19-year-old University of Cape Town (UCT) student Uyinene Mrwetyana.