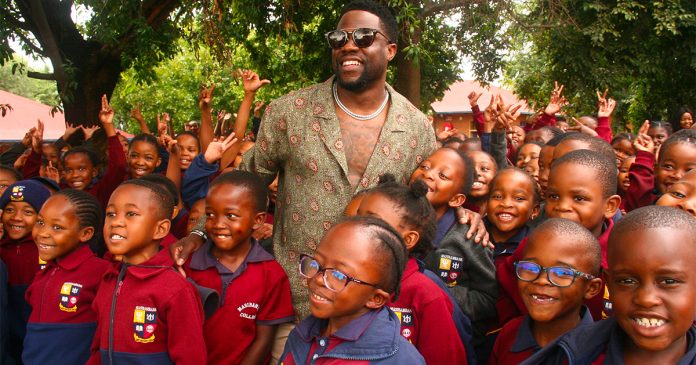 Kevin Hart, comedian and Hollywood box office powerhouse, recently surprised a bunch of school kids in South Africa when he secretly visited Masibambane College in Orange Farm, as a guest of Education Africa.
Several schools from St John's College (which partners with Education Africa to ensure high standards are maintained) to Leshata and Jabulile secondary schools, plus more, were invited to the social cohesion event, so that all could share in the special experience. The 2,000 students who braved the wet weather to participate had NO idea that Kevin Hart would be there!
James Urdang, CEO and founder of the Johannesburg-based NPO Education Africa, says:
"You can imagine their surprise when we announced that Kevin Hart was our special guest. The level of excitement was off the charts!"
Kevin shared the stage with five of the high school learners, answering their questions, and offering some heartfelt words of motivation to the enthusiastic audience.
He told the gathered kids how moved he was by the people he had met at the school:
"Knowing that you guys are part of the future; that you guys will be a part of the change; that you guys are responsible for breaking new ground is what I'm most excited about. I hope you guys truly understand how bright your future is. I am so inspired by everyone that I have met today. Dream big, love strong and take advantage of your now."
He added that some people struggle at times with being themselves:
"But things become easier once you find the happiness in you, and then everything else will fall into place. Through comedy, I found the happiness in telling my story, living my story and putting that story on display for everybody to see. You must always be true to yourself. I love to put people in an environment where we can all laugh together."
Kevin also shared how important it is to have a positive mindset and to dream:
"You can choose to focus on the bad and let the bad weigh you down, or you can find new reasons to live and smile. Embrace the idea of dream, because that's what keeps you going. When you don't have a dream, that's when life gets stagnant."
He also encouraged the learners to embrace the idea of work:
"Always give 100% – sometimes when you give 100% you get 1 000% in return; stay grounded; life is hard but know that the sun always comes out at the end of a storm."
And finally, he urged learners to take advantage of their education:
"I challenge you guys to take advantage of your now; I challenge you to think about your future. Be a future leader; be a ground-breaker; be a changer – that's what you're supposed to do because you are the next generation. You are the future of South Africa. If you want change, then make change."
Kevin Hart was accompanied to the school by US Ambassador to SA, Dr Reuben E. Brigety II, and Lord Matt Scheckner, Chairman of Advertising Week and President of Education Africa Inc.
They undertook an interactive tour of the school before Kevin took to the stage to engage in conversation with the learners. Also speaking at the event, Ambassador Brigety advised students:
"Your passport to your destiny and your future starts here. I hope and pray that you take advantage of every last second of your education. Because South Africa and the world needs you, and we cannot wait to see what you are going to do with your lives."
Founded in 1992, Education Africa is focused on social cohesion. Its motto is to educate, equip and empower. The NPO is committed to Make real change Happen, and Masibambane College is one of its flagship projects.
At the end of the event James presented kevin with a gift from Eudcation Africa – a framed plate of the late Walter Sisulu who was a great friend and supporter of Education Africa, and on whose recommendation Masibambane College was built in Orange Farm.
Kevin Hart was in South Africa for the World Premiere of his Amazon film Die Hart the Movie, to perform for his SA fans (who he surprised in Pretoria by bringing SA comedia Trevor Noah on stage) AND to uplift communities and embed his media company Heartbeat in SA so that he can generate international exposure for SA.
On the eve of the movie premiere in SA, Kevin said "I have no will or want for my star to shine brighter. I don't think it can at this point. I think I've done it all". Instead he hopes to develop material with local writers, actors, producers and directors.
"Coming from the States, there's a lot of propaganda attached to the idea of what South Africa is. There was a moment where I was talking about the world of shots that I got to get before I come because I don't know what's gonna happen.

"But it was all based off news and stories, and once I got here, it was more of a thing where I was like, what the f**k? It's not only beautiful, but the people are dope. The energy is exactly what one of the States would be. The story of your truth is not told enough."
One of his priorities is to tell the SA story in an authentic way that showcases SA's talent.