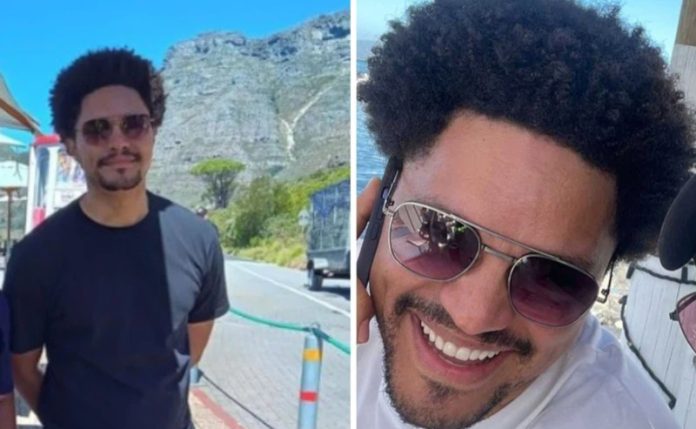 Trevor Noah and Black Coffee were spotted out and about at Table Mountain in Cape Town, to the delight of fans.
For the second time in a matter of days, Trevor Noah was snapped out and about in public – and this time, fellow South African export Black Coffee was seen with him.
The comedian and DJ were spotted at the foot of Table Mountain.
ALSO READ: 4 Times Trevor burned a hole on the dancefloor [watch]
TREVOR NOAH TAKES TABLE MOUNTAIN
In pictures posted on the official Table Mountain Aerial Cableway Instagram account, Trevor Noah and Black Coffee were seen visiting one of the world's seven wonders.
"Mzansi's favourites," the account captioned the photos of the celebrities.
ALSO READ: Star shopper: Fan spots Trevor Noah in Checkers [photo]
And while both entertainers are world-famous stars, they easily blended in with the crowd.
Trevor wore a plain black T-shirt, white shorts, and a pair of white All-Star takkies, while Black Coffee wore a black tee, track pants, and white Air Force Ones.
And just like his shopping moment in Checkers, both Trevor and Black Coffee shunned any form of security or disguise.
View this post on Instagram
CHILLING WITH JONATHAN BUTLER
Meanwhile, Trevor Noah and friends were also spotted at a Cape Town restaurant on Sunday night, likely celebrating his 39th birthday.
Totally fangirling over meeting the SA comedian was singer Jonathan Butler who bumped into the group during dinner.
ALSO READ: From comedian to rapper? Watch Trevor Noah drop bars
He added: "Trevor, keep on making the world a better place, a happier place. Love you, my brother".
View this post on Instagram