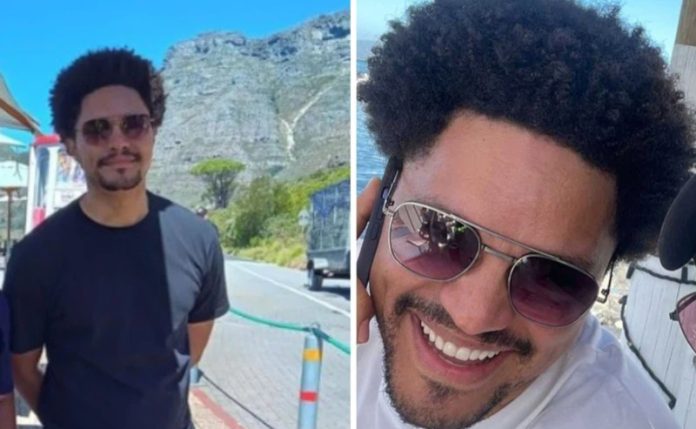 Trevor Noah has travelled around the world 10 times over, but nothing beats the sights, smells and sounds of home; South Africa.
PICTURES | Another celeb spotted on Table Mountain
For the second time in a matter of days, Trevor Noah was snapped out and about in public, visiting Table Mountain in Cape Town.
And now the proud Mzansi export is encouraging his 8.35 million Instagram followers to take a trip to the Mother City too.
ALSO READ: 4 Times Trevor burned a hole on the dancefloor [watch]
TREVOR NOAH: 'ONE OF THE BEST CITIES IN THE WORLD'
Taking to his Instagram account, Noah showed off picture and video clips of his travels around Cape Town.
MUST READ | England cricketer's Table Mountain cable car scare: What happened?
He shared: "Every time I think I remember how beautiful Cape Town is, I visit again. and I'm constantly left in awe. Easily one of the best cities to visit in the world for everything from wine to walks to cycling and surfing. What a joy".
View this post on Instagram
ALSO READ: Star shopper: Fan spots Trevor Noah in Checkers [photo]
Trevor has been spotted out and about in Cape Town in the past week.
On Sunday night he was seen enjoying dinner with friends at an upmarket restaurant on Kloof Street.
This comes after the star was spotted shopping in a Checkers store in Johannesburg last week.
View this post on Instagram
TABLE MOUNTAIN SHOWS LOVE TO 'MZANSI'S FAVOURITES'
In pictures posted on the official Instagram of Table Mountain management, Trevor Noah and Black Coffee were seen visiting one of the world's New 7 Wonders of Nature.
"Mzansi's favourites," the account captioned the photos of the celebrities.
ALSO READ: From comedian to rapper? Watch Trevor Noah drop bars
And while both entertainers are world-famous stars, they easily blended in with the crowd.
Trevor wore a plain black T-shirt, white shorts, and a pair of white All-Star takkies.
Meanwhile, Black Coffee wore a black tee, track pants and white Air Force Ones.
And just like his shopping moment in Checkers, both Noah and Black Coffee shunned any form of security or disguise.