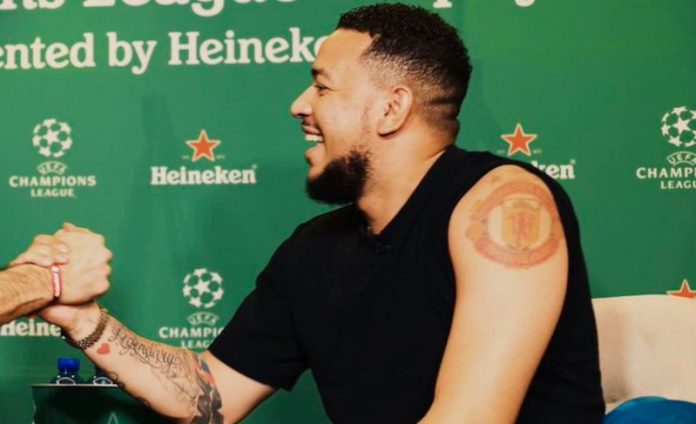 Manchester United have honoured slain South African musician AKA with a heart-warming tribute to him in their FA Cup match programme for their clash against West Ham on Wednesday.
ALSO READ: Benni McCarthy pays tribute to AKA
AKA was shot outside a restaurant in Florida Road, Durban on Friday, 10 February and was declared dead on the scene by police.
AKA was a big Manchester United supporter and with Benni McCarthy being South African and also from the Cape Flats like the rapper, he always hyped up the soccer legend on his social media platforms.
One could say AKA was the vocal lead singer of the Benni McCarthy praise entourage.
Hours before his death, the musician shared one of Manchester United's Instagram posts celebrating McCarthy.
Manchester United played against West Ham in the fifth round of the FA Cup and mentioned AKA in the obituary section of their Match Programme for the match at Old Trafford this past Wednesday.
"We were deeply saddened to learn of the death of Kiernan Forbes – otherwise known as 'AKA' – a rapper and United supporter from South Africa, at the age of just 35. He was a huge Red, and greatly adored by so many. Our thoughts are with his family and many loved ones," read Manchester United's tribute to Super Mega.
ALSO READ: Benni McCarthy's tribute to AKA in pictures!
BENNI MCCARTHY APPRECIATES MANCHESTER UNITED TRIBUTE TO AKA
On Friday, McCarthy shared two photos on his Instagram stories, in praise of Manchester United's classy tribute to his hometown friend.
This first photo he posted is the cover of the Manchester United Match Programme, which McCarthy captioned: "FA Cup Match Programme with a nice mention for my brother AKA."
The second photo posted by McCarthy was of the actual obituary section in which AKA appears. He captioned the post: "Super Mega."