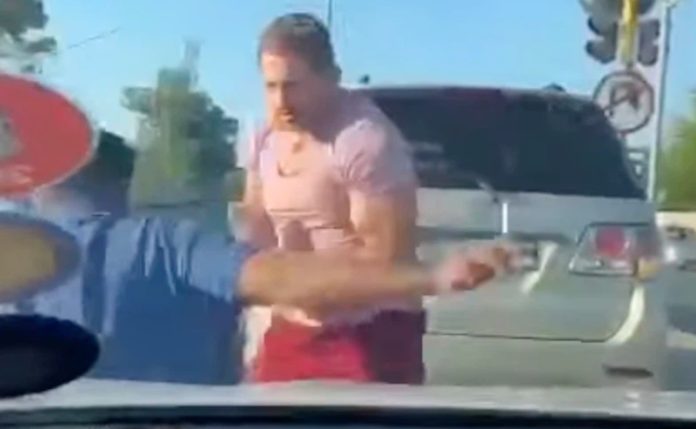 In typical South African style, some light-hearted commentary has been added to the viral video of Schalk Ferreira helping a mother and child.
Towards the end of last week, a video went viral that showed veteran Cheetahs prop Schalk Ferreira coming to the aid of a family during a frightening incident.
ALSO READ | Blitzboks drawn in Group of Death at Hong Kong Sevens
In a video posted on the social media of radio station OFM, a seemingly intoxicated man was seen strangely standing and stomping on the bonnet of a car in traffic, while in the background you can hear how the occupants of the car become increasingly frightened.
FOR THE LATEST RUGBY WORLD CUP 2023 NEWS VISIT THE SOUTH AFRICAN WEBSITE
Schalk Ferreira, who is one of the longest-serving players in South African rugby, was apparently on his way to drop his daughter off at school when he saw the incident unfolding.
WATCH | FASTEST SUPER RUGBY TRY EVER SCORED – DON'T BLINK!
After first speaking to the man in what appeared to be unsuccessful attempts to talk him down from the car, 39-year-old Ferreira intervenes and drags him off the hood of the car.
ALSO READ | STORMERS LOCKED IN AT CT STADIUM UNTIL AT LEAST 2060!
It hasn't taken long for an edit to be made of the video, this time adding in comical commentary of legendary former broadcaster Hugh Bladen.
😂 Schalk Ferreira gets Hugh Bladen commentary.

🎥: @Entragian6

— Jared Wright (@jaredwright17) March 4, 2023
WATCH FERREIRA TAKING ACTION BELOW:
IT'S NOT THE FIRST TIME A RUGBY STAR HAS COME TO THE RESCUE RECENTLY
In news that went viral last month, Netwerk24 first reported on how Jean de Villiers – who captained the Springbok team on 37 occasions- had grown suspicious of a man who was seemingly slipping items into his pockets before walking out of The Boer & Butcher shop in Paarl on 23 January.
Screenshots from surveillance footage show the 41-year-old – who is still in top shape – running after the suspect, and losing his flip flops in the process, before returning and handing him over to security.
ROAD TO THE RUGBY WORLD CUP: SPRINGBOKS' OPTIONS AT FULLBACK