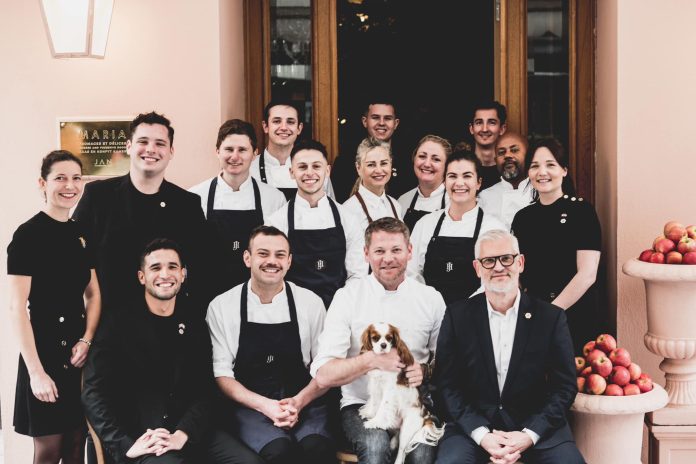 Restaurant JAN in Nice on the French Riviera has had its Michelin star renewed for the eighth year in a row! South African celebrity chef Jan Hendrik says today he has a "bright smile on my face".
Taking to social media after the prestigious awards ceremony in Strasbourg on Monday evening, Jan said: "Since we first gave South African cuisine a world stage when we received our first star, the annual Michelin awards win France have been a big deal for us."
Guests come from around the world to not only taste and savour Jan's delicious recipes, but to also experience good old South African hospitality!
"From the comfort of an elegant dining chair, guests of Restaurant JAN have been able to experience something of our amazing South African spirit and hospitality through dishes ranging from bobotie, melkkos, vetkoek, pap and Sheba sauce to biltong, buchu, rooibos, atchar, tsamma melon and game meat," says Jan.
You may think after eight years, Jan would be taking the Michelin star for granted by now… but instead, attending the awards last night, reminded him how fortunate he is. Filled with gratitude, he wrote "it dawned on me what a privilege it is to be a part of such a small and carefully selected group of culinary magicians. It truly is an honour to be recognised amongst such talent."
Jan congratulated the four new two-star establishments in France "who truly deserve this award" and said they "keep us motivated and make the younger generation of hospitality artists love what they do".
The chef, who spends his time between his beloved South Africa and France, also thanked his team in France and all the company's South African teams "for sharing what I believe is the true art of hospitality. It's very simple".
Jan (full name Jan Hendrik van der Wwas the first South African to ever win a Michelin star. Thinus van der Westhuizen, the fourth* South African chef to be awarded a coveted Michelin star! The 33-year-old is the head chef of 99 Sushi Bar in Abu Dhabi in the United Arab Emirates (UAE), one of the first establishments to be awarded a Michelin star in the Middle Eastern country for the inaugural Michelin Guide Abu Dhabi.
Jan (full name Jan Hendrik van der Westhuizen) was the first South African to ever receive a coveted Michelin star. Since that momentous occasion in 2016, Jean Delport (Restaurant Interlude, UK), Conor Toomey (Condita, Scotland) and most recently Thinus van der Westhuizen (99 Sushi Bar in Abu Dhabi) have joined the elite set of South African celebrity chefs around the world to be awarded the much sought-after star!
South Africans in SA can taste Jan's cuisine at Klein JAN, his gorgeous little restaurant, nestled like a jewel, in the Kalahari; and at JAN Franschhoek – the talented chef's newest seasonal food and wine experience, hosted in La Motte's historic and beautiful Veepos building until 31 May 2023.
If you can't visit one of Jan's restaurants, you can watch JAN RSVP! on Showmax here