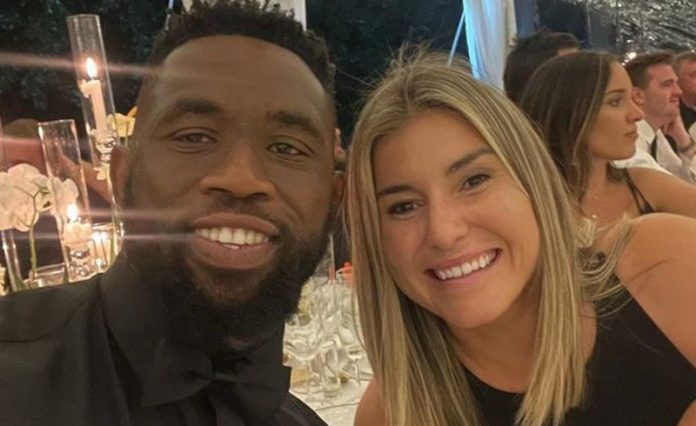 Check out this heart-warming video of Springbok captain Siya Kolisi and his family happily engaging in some early Sunday morning fun.
LIVE UPDATES: SPRINGBOKS' ROAD TO THE RUGBY WORLD CUP
In a recent video posted on the Springbok skipper's Instagram page, the family's blissful interaction in bed, has left fans swooning at the happiness on show.
Siya and Rachel and their two children Nic and Keziah, all launch into a pillow fight in bed, with mom and dad teaming up against their offspring.
The video has garnered over 152 752 views on Instagram and well over 10 000 likes and comments.
ALSO READ: Siya Kolisi overcame poverty and is uniting South Africa through rugby
WATCH: KEEPING UP WITH THE KOLISIS – PILLOW FIGHT EDITION
View this post on Instagram
SPRINGBOK FIXTURES IN 2023
Rugby Championship
8 July: Springboks vs Australia (Loftus Versfeld, Pretoria)
✈ 15 July: Springboks vs New Zealand (Mount Smart, Auckland)
29 July: Springboks vs Argentina (Ellis Park, Johannesburg)
World Cup warm-ups
✈ 5 August: Springbok vs Argentina (Vélez Stadium, Buenos Aires)
✈ 19 August: Springbok vs Wales (Millennium Stadium, Cardiff)
✈ 25 August: Springbok vs New Zealand (Twickenham Stadium, London)
Rugby World Cup:
✈ 10 September: South Africa vs Scotland (Stade Vélodrome, Marseille)
✈ 17 September: Springbok vs Romania (Stade de Bordeaux, Bordeaux)
✈ 23 September: South Africa vs Ireland (Stade de France, Saint-Denis, Paris)
✈ 1 October: Springbok vs Tonga (Stade Vélodrome, Marseille)
ALSO READ | INSIDE ACCESS TO THE SPRINGBOKS LIKE NEVER BEFORE
Quarter-finals sequence of play is as follows:
QF 1 — Winner Pool C vs Runner up Pool D
QF 2 — Winner Pool B vs Runner up Pool A
QF 3 — Winner Pool D vs Runner up Pool C
QF 4 — Winner Pool A vs Runner up Pool B
ALSO READ: D-Day for Springbok World Cup squad announcement revealed
Semi-finals sequence of play is as follows:
SF 1 — Winner QF1 v Winner QF2
SF 2 — Winner QF3 v Winner QF4
Third place playoff:
Loser SF 1 vs Loser SF 2
World Cup final:
Winner SF 1 vs Winner SF 2
ALSO READ: No need for Springboks to turn back to Elton Jantjies