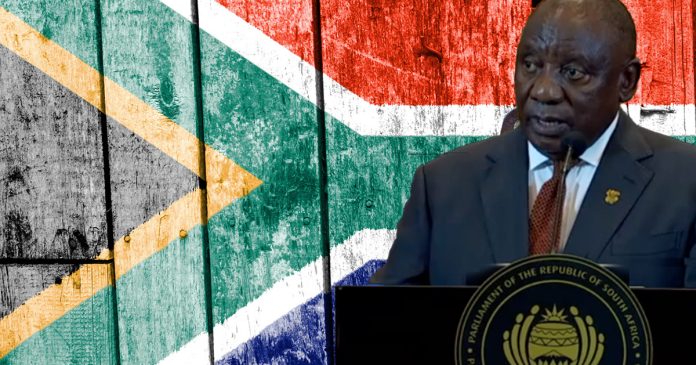 South Africa finds itself in a lowly position after the annual 'World Happiness Report' was officially unveiled on Monday.
Ironically, on the day that the annual World Happiness Report was released, South Africa was in the midst of a so-called 'national shutdown' instigated by the Economic Freedom Fighters (EFF).
ALSO READ: National Shutdown LIVE UPDATES
Overseen by the Sustainable Development Solutions Network, the World Happiness report is released every year in honour of the International Day of Happiness on 20 March.
The ranking – which relates this year to 137 countries – is based on data leveraging six key factors: social support, income, health, freedom, generosity and absence of corruption.
For the sixth year in a row, Finland has been named the happiest country in the world.
So, where did South Africa rank during a time when load shedding, crime and corruption continue to make headlines for all the wrong reasons?
Well, according to this report, South Africa slots in at 85th, well below the likes of South Korea, Kazakhstan and Nicaragua.
The report issues the following summary of its latest findings: "It has been over 10 years since the first World Happiness Report was published. And it is exactly 10 years since the United Nations General Assembly adopted Resolution 66/281, proclaiming 20 March to be observed annually as International Day of Happiness. Since then, more and more people have come to believe that our success as countries should be judged by the happiness of our people. There is also a growing consensus about how happiness should be measured. This consensus means that national happiness can now become an operational objective for governments."
You can read the full report here
SOUTH AFRICA SLOTS INTO AN UNFAVOURABLE POSITION, AS SEEN BELOW:
| Ranking | Country name | Ladder score |
| --- | --- | --- |
| 1 | Finland | 7.804 |
| 2 | Denmark | 7.586 |
| 3 | Iceland | 7.530 |
| 4 | Israel | 7.473 |
| 5 | Netherlands | 7.403 |
| 6 | Sweden | 7.395 |
| 7 | Norway | 7.315 |
| 8 | Switzerland | 7.240 |
| 9 | Luxembourg | 7.228 |
| 10 | New Zealand | 7.123 |
| 11 | Austria | 7.097 |
| 12 | Australia | 7.095 |
| 13 | Canada | 6.961 |
| 14 | Ireland | 6.911 |
| 15 | United States | 6.894 |
| 16 | Germany | 6.892 |
| 17 | Belgium | 6.859 |
| 18 | Czechia | 6.845 |
| 19 | United Kingdom | 6.796 |
| 20 | Lithuania | 6.763 |
| 21 | France | 6.661 |
| 22 | Slovenia | 6.650 |
| 23 | Costa Rica | 6.609 |
| 24 | Romania | 6.589 |
| 25 | Singapore | 6.587 |
| 26 | United Arab Emirates | 6.571 |
| 27 | Taiwan Province of China | 6.535 |
| 28 | Uruguay | 6.494 |
| 29 | Slovakia | 6.469 |
| 30 | Saudi Arabia | 6.463 |
| 31 | Estonia | 6.455 |
| 32 | Spain | 6.436 |
| 33 | Italy | 6.405 |
| 34 | Kosovo | 6.368 |
| 35 | Chile | 6.334 |
| 36 | Mexico | 6.330 |
| 37 | Malta | 6.300 |
| 38 | Panama | 6.265 |
| 39 | Poland | 6.260 |
| 40 | Nicaragua | 6.259 |
| 41 | Latvia | 6.213 |
| 42 | Bahrain | 6.173 |
| 43 | Guatemala | 6.150 |
| 44 | Kazakhstan | 6.144 |
| 45 | Serbia | 6.144 |
| 46 | Cyprus | 6.130 |
| 47 | Japan | 6.129 |
| 48 | Croatia | 6.125 |
| 49 | Brazil | 6.125 |
| 50 | El Salvador | 6.122 |
| 51 | Hungary | 6.041 |
| 52 | Argentina | 6.024 |
| 53 | Honduras | 6.023 |
| 54 | Uzbekistan | 6.014 |
| 55 | Malaysia | 6.012 |
| 56 | Portugal | 5.968 |
| 57 | South Korea | 5.951 |
| 58 | Greece | 5.931 |
| 59 | Mauritius | 5.902 |
| 60 | Thailand | 5.843 |
| 61 | Mongolia | 5.840 |
| 62 | Kyrgyzstan | 5.825 |
| 63 | Moldova | 5.819 |
| 64 | China | 5.818 |
| 65 | Vietnam | 5.763 |
| 66 | Paraguay | 5.738 |
| 67 | Montenegro | 5.722 |
| 68 | Jamaica | 5.703 |
| 69 | Bolivia | 5.684 |
| 70 | Russia | 5.661 |
| 71 | Bosnia and Herzegovina | 5.633 |
| 72 | Colombia | 5.630 |
| 73 | Dominican Republic | 5.569 |
| 74 | Ecuador | 5.559 |
| 75 | Peru | 5.526 |
| 76 | Philippines | 5.523 |
| 77 | Bulgaria | 5.466 |
| 78 | Nepal | 5.360 |
| 79 | Armenia | 5.342 |
| 80 | Tajikistan | 5.330 |
| 81 | Algeria | 5.329 |
| 82 | Hong Kong S.A.R. of China | 5.308 |
| 83 | Albania | 5.277 |
| 84 | Indonesia | 5.277 |
| 85 | South Africa | 5.275 |
| 86 | Congo (Brazzaville) | 5.267 |
| 87 | North Macedonia | 5.254 |
| 88 | Venezuela | 5.211 |
| 89 | Laos | 5.111 |
| 90 | Georgia | 5.109 |
| 91 | Guinea | 5.072 |
| 92 | Ukraine | 5.071 |
| 93 | Ivory Coast | 5.053 |
| 94 | Gabon | 5.035 |
| 95 | Nigeria | 4.981 |
| 96 | Cameroon | 4.973 |
| 97 | Mozambique | 4.954 |
| 98 | Iraq | 4.941 |
| 99 | State of Palestine | 4.908 |
| 100 | Morocco | 4.903 |
| 101 | Iran | 4.876 |
| 102 | Senegal | 4.855 |
| 103 | Mauritania | 4.724 |
| 104 | Burkina Faso | 4.638 |
| 105 | Namibia | 4.631 |
| 106 | Turkiye | 4.614 |
| 107 | Ghana | 4.605 |
| 108 | Pakistan | 4.555 |
| 109 | Niger | 4.501 |
| 110 | Tunisia | 4.497 |
| 111 | Kenya | 4.487 |
| 112 | Sri Lanka | 4.442 |
| 113 | Uganda | 4.432 |
| 114 | Chad | 4.397 |
| 115 | Cambodia | 4.393 |
| 116 | Benin | 4.374 |
| 117 | Myanmar | 4.372 |
| 118 | Bangladesh | 4.282 |
| 119 | Gambia | 4.279 |
| 120 | Mali | 4.198 |
| 121 | Egypt | 4.170 |
| 122 | Togo | 4.137 |
| 123 | Jordan | 4.120 |
| 124 | Ethiopia | 4.091 |
| 125 | Liberia | 4.042 |
| 126 | India | 4.036 |
| 127 | Madagascar | 4.019 |
| 128 | Zambia | 3.982 |
| 129 | Tanzania | 3.694 |
| 130 | Comoros | 3.545 |
| 131 | Malawi | 3.495 |
| 132 | Botswana | 3.435 |
| 133 | Congo (Kinshasa) | 3.207 |
| 134 | Zimbabwe | 3.204 |
| 135 | Sierra Leone | 3.138 |
| 136 | Lebanon | 2.392 |
| 137 | Afghanistan | 1.859 |