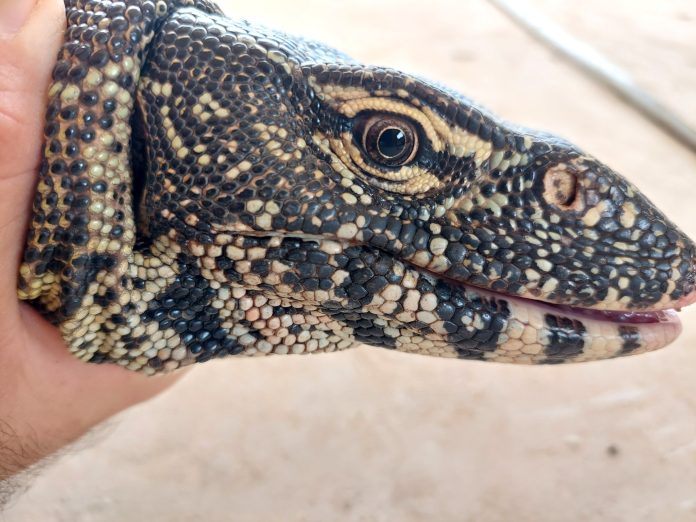 Renowned KwaZulu-Natal snake rescuer Nick Evans from time to time finds himself called out to captured other reptiles.
PICTURE | WILD DOG CATCHES IMPALA MID-AIR
As reported by The South African website, Evans captured no fewer than FOUR black mambas in a single day last week.
And he started his Human Rights Day public holiday on Tuesday, 21 March by rescuing a boomslang.
In between that, Evans was also called upon to capture a 'beast' of a black mamba measuring 2.7 metres and weighing around 3kg.
WATCH | HYENA STEALS IMPALA FROM PYTHON
His latest rescue was something a little different, as reported on his Facebook page.
WATCH | PYTHON CONSTRICTS LEOPARD IN EPIC BATTLE FOR SURVIVAL
"Last week, this large Nile Monitor Lizard found it's way into a suburban garden in Pinetown. The swimming pool had been filled with garden refuse, and being the rainy season, there was water in there too, so the lizard found it a comfortable place to live in.
"However, it didn't make the residents too comfortable, understandably – it's no gecko. Thankfully, they're not really a threat, nor do they attack. The other worry was where would it move on to? There were dogs in neighbouring properties. If it got into one of those properties, it would likely be killed. Yes, even large specimens get killed by dogs, with dogs rarely getting a scratch.
"So, the best solution was to remove it.
"Digging everything out the pool would be a major task, and with a high water level, everything would have been heavy, plus the lizard would just go underwater."
NILE MONITOR LIZARD IN A SAFER ENVIRONMENT NOW
"A trap seemed the best option," Evans continued.
"I contacted Nile Monitor researcher, Euan Genevier. I had borrowed a trap in the recent past, but it never worked. This time, he loaned me one he found to be more successful.
"I set it next to the pool, covering it with sheets of corrugated iron for shade, as there wasn't much else, and put some bait in.
"We thought it might take a few days.
"About 2.5 hours later, I got a call from the resident, to say the lizard was in the trap! I couldn't believe it!
I was with my friends Duncan & Jade Slabbert at the time, and we raced over.
"Getting it out proved quite difficult, as it knew it was safer in there, but eventually, we got it out, a few scratches later. It was huge! We seem to be only rescuing big ones of late!
"I then met up with Euan, to collect data off the animal, before releasing it. The resident initially estimated it to be around 1.8m long. Well, she was only a few centimeters off, which was impressive. It was just under 8kg, a big lizard!
"It's in a much safer environment now."
ALSO READ | Snakes gone wild! Remember this unwanted Woolworths shopper?