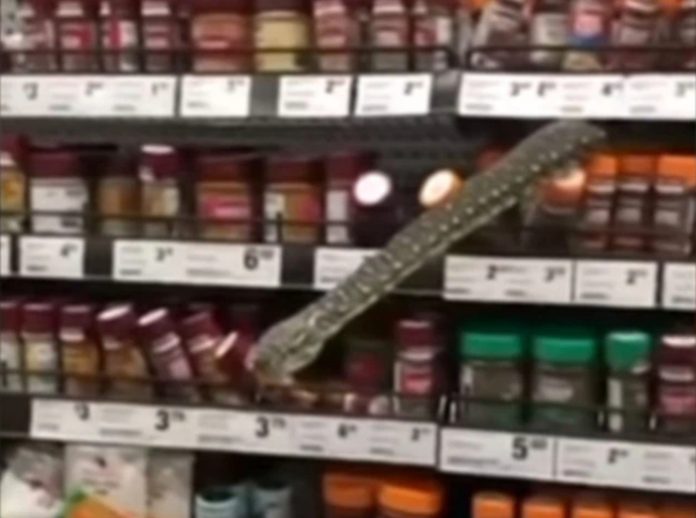 Snake sightings are clearly on the increase around South Africa – as reported by The SA People website in recent days.
WATCH | ELEPHANT LIVES WITH JUST 3 LEGS
Renowned snake rescuer Nick Evans captured no fewer than FOUR black mambas in a single day last week.
And he started his Human Rights Day public holiday on Tuesday, 21 March by rescuing a boomslang.
In between that, Evans was also called upon to capture a 'beast' of a black mamba measuring 2.7 metres and weighing around 3kg.
WATCH | LEOPARD TEACHES CUBS HOW TO CROSS A ROAD
Then there was the unusual case of a two-headed snake found in the Eastern Cape.
Finally, in an article and video that went viral, a couple holidaying in the Kruger National Park spent the night with a python above their bed!
FOR MORE ANIMAL SIGHTING VIDEOS VISIT THE SOUTH AFRICAN WEBSITE
However, all of the above pales into comparison to the story a while back about the Woolworths shopper in Sydney, Australia who had a close encounter with a python in the herbs and spices aisle.
It was a normal day for Helaina Alati who was shopping at a Woolworths store in Glenorie, Sydney when the snake "jumped" out at her.
"I was browsing and turned to my left and he had come out and his face was about 20cm from mine, just looking at me," she told 7News.
She said it was almost like the python was asking her to take him outside.
PICTURE | WILD DOG CATCHES IMPALA MID-AIR
Alati described the snake as "super mellow" saying he wasn't aggressive at all.
Luckily for everyone, Alati is a former volunteer snake catcher so she grabbed her snake bag and took him safely back to the bush.
WATCH | HYENA STEALS IMPALA FROM PYTHON
She reassured everyone that there was nothing to worry about.
"I'm glad I'm the one that found him, most people would have freaked out. Don't want to demonise these beautiful animals anymore", she said.
WOOLWORTHS AUSTRALIA RESPONDS
A Woolworths spokesperson responded to the news and emphasised that the matter was dealt with safely and calmly.
"Once it [the snake] was sighted, our team members reacted quickly and calmly to cordon off the area for the safety of customers. A snake catcher removed the slithery customer, who was released safely into the bushland shortly after."
WATCH | PYTHON CONSTRICTS LEOPARD IN EPIC BATTLE FOR SURVIVAL