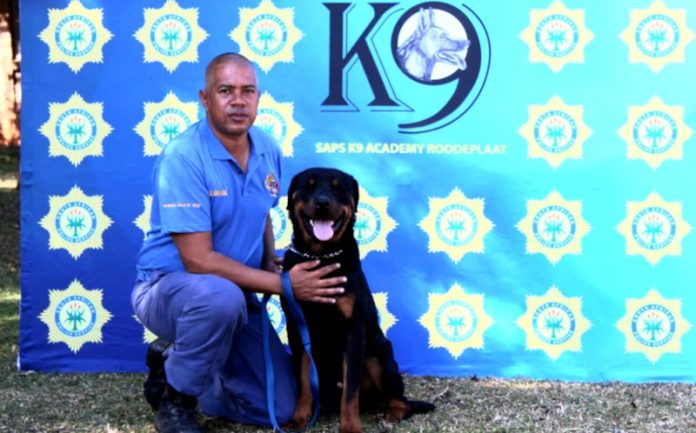 A police dog died a hero while saving the life of his handler and helping in the arrest of a knife-wielding suspect.
It was a sad day at the Police K9 unit in Humansdorp when one of their four-legged colleagues, Deacon, sadly passed away an hour after saving his handler's life and assisting in the arrest of a dangerous suspect.
ALSO READ: Police confiscate bags full of abalone worth over R1 million
Deacon, a Rottweiler, and his handler Seargent Pat Le Grange, responded to a call of housebreaking on Monday, 20 March 2023, in the St. Francis Bay area.
After being informed that the suspect/s had entered the dense bushes in the area, Le Grange and Deacon pursued them.
ALSO READ: It is unconstitutional to deny migrant women healthcare
Police spokesperson Colonel Priscilla Naidu said at some point, the handler heard a scream and rushed to get to his dog.
"As Seargent Le Grange stood up, the suspect lunged at him with a knife. Deacon, who had already been stabbed, still got up to protect his handler and pounced on the suspect, enabling him to arrest him. After Sgt Le Grange had secured his arrest, he realised that his dog was bleeding profusely. He rushed Deacon to a nearby vet for treatment," Naidu confirmed.
ALSO READ: 80-year-old grandfather graduate with a PhD from UJ 
Deacon was treated and stabilised, but an hour later, he went into cardiac arrest due to his injury and sadly died.
ALSO READ: Body recovered six days after drowning
Deacon was only 21 months old and joined the police's K9 crime-fighting team in July 2022.
The suspect faces charges of housebreaking, attacking a police officer, and malicious damage to property following Deacon's death.
ALSO READ: Cape Town Mayor FIRED human settlements MMC Malusi Booi
The 19-year-old suspect appeared in the Humansdorp magistrate court on Wednesday, 22 March 2023.