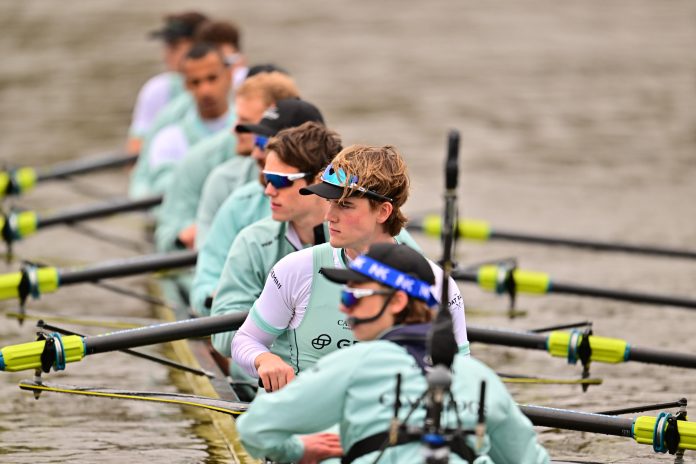 One of the most historic events in the British sporting calendar returned on Sunday as Oxford and Cambridge battled it out in the Boat Race.
The rivalry resumed 194 years on from the first rowing showdown between the two universities in 1829.
It was the 168th race to date, with Cambridge taking victory to extend their overall lead to 86-81 with one race (in 1877) finishing in a dead heat.
OXFORD WERE THE BOAT RACE DEFENDING CHAMPIONS
Oxford were the defending champions having won the race in 2022 for the first time since 2017 after a period of Cambridge dominance.
The Boat Race took place on the Thames in London once again after its return to the traditional venue in 2022.
The 2020 event was cancelled due to coronavirus restrictions, while the 2021 battle was held on the Great Ouse in Ely without spectators.
The race took place on the 4.2 mile (6.8km) Championship Course on the Thames, between Putney and Mortlake in south-west London.
Oxford won the coin toss and elected to start on the Surrey station side with Cambridge starting on the Middlesex side.
Earlier, the Cambridge women beat their Oxford opponents by 4 and a half lengths.
MEN'S RACE CREWS
Oxford
James Forward; Alex Bebb; Freddy Orpin; Tom Sharrock; James Doran; Jean-Philippe Dufour; Tassilo von Mueller; Felix Drinkall; Anna O'Hanlon (cox)
Cambridge
Matt Edge; Brett Taylor; Noam Moulle; Seb Benzecry; Thomas Lynch; Nick Mayhew; Ollie Parish; Luca Ferraro; Jasper Parish (cox)