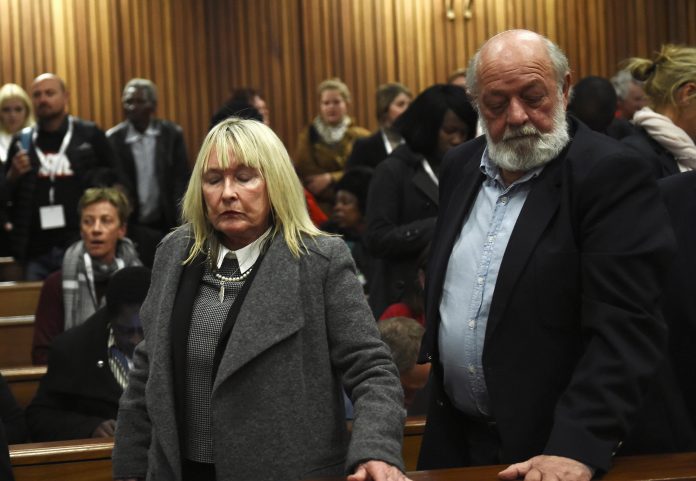 A foundation set up in Reeva Steenkamp's honour has criticised trolls for their attacks on the late model's mom June, who has been labelled "greedy" and bitter."
This, after June Steenkamp attended Oscar Pistorius's parole hearing on Friday, 31 March, where she strongly opposed him being granted an early prison release.
Pistorius was denied bail over claims he had not served his minimum sentence.
He will have another shot at parole in August 2024.
Oscar was convicted of Reeva's murder on 14 February 2013.
ALSO READ: 'Injustice': Oscar Pistorius's brother blasts failed parole bid
OSCAR PISTORIUS FANS COME FOR REEVA'S MOM
In a Facebook post, the Reeva Rebecca Steenkamp Foundation revealed their satisfaction with Pistorius's parole bid.
It said in a statement: "The Parole Board obtained clarification that Oscar Pistorius had not yet served enough of his sentences to be considered for placement on parole. This means today's hearing should never have taken place."
ALSO READ: Oscar Pistorius vs Jub Jub: Was athlete's failed parole bid 'unfair'?
In the comments section, many of the foundation's followers showed Reeva's parents love and support at the news.
But others criticised the family matriarch, lamenting her for her unforgiveness towards Oscar Pistorius.
Some even accused her of being "money hungry".
ALSO READ: Parole board denies Oscar Pistorius's early release: Here's why
Here are a such few comments…
Meraai Marie Hanekom: "I wonder what she would have said if he was her son and all this was the other way round. She is a mother, but all of this is making her money. Tomorrow the newspaper will pay her again for her story."
Janette Rossouw: "Shame on you June STEENKAMP"
Johan Viljoen: "June, pay back the money that Oscar gave you."
Annalize Palmer: "June and Barry are behind their own owned bars in prison. Set up for themselves. Let them rot there while they stay with their unforgiveness."
Hester Bredenhann Hooper: "June Steenkamp must stop playing God. She was just out to get money from the start. What about the other murderers who do less time and then get parole, but she will have to ask God to soften her hard heart, and she should stop thinking of money."
Petro Conradie: "You are unemotional heartless money-greedy people."
FOUNDATION CLAPS BACK
Following the hurtful comments, the foundation shared another post condemning the attacks.
It said: "Thank you for the many messages of support. Shockingly, some people find it acceptable to insult and condemn June. Please remove yourself".
ALSO READ: A type?: Three blonde bombshells linked to Pistorius [photos]
The foundation also praised the parole board for denying killer Donovan Moodley's application this week.
In 2004, Moodley kidnapped and murdered Johannesburg woman Leigh Matthews.
Several courts have also denied Moodley's previous appeals against his sentence and demands for a retrial.
ALSO READ: Made of money! Pistorius family businesses, net worth