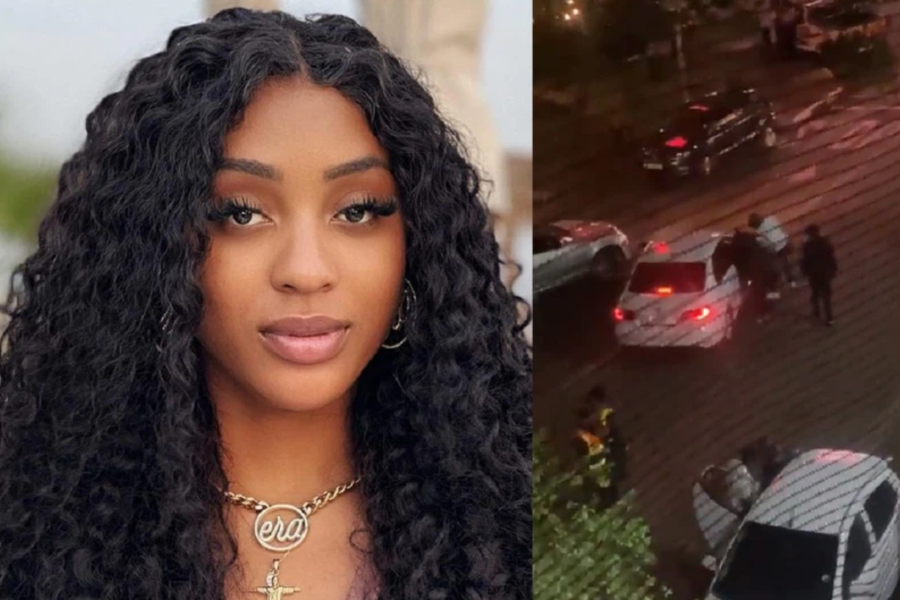 Nadia Nakai on Braamfontein shooting: 'This can't be real life'
Nadia Nakai has responded to the Braamfontein shooting, saying that life can't be lived like that. Shootings have a special place in Nadia Nakai's heart since she lost her boyfriend, AKA, in that manner. ALSO READ: Oooh: Nadia Nakai reveals AKA's hidden secret about the necklace that protected him The shooting at Braamfontein has left most […]
Nadia Nakai has responded to the Braamfontein shooting, saying that life can't be lived like that.
Shootings have a special place in Nadia Nakai's heart since she lost her boyfriend, AKA, in that manner.
ALSO READ: Oooh: Nadia Nakai reveals AKA's hidden secret about the necklace that protected him
The shooting at Braamfontein has left most South Africans in tears as the videos went viral on social media.
Nadia spoke at large of how much she is pained and penned several Twitter messages expressing it.
She said she was even scared to open the video on Twitter as it reminds her of her boyfriend, AKA.
Nadia shared on her Twitter, and fans shared the same feeling.
"I was too afraid to open it… even the other one with the lady leaving the courthouse… like this can't be the life we are living… Lord, the flood can come now… ?"
NADIA NAKAI RESPONDS TO BRAAMFONTEIN SHOOTING
The bubbly rapper shared the message on her Twitter, leaving fans in agreement with her.
After the above message, she again sends another message expressing how much she was hurt.
ALSO READ: 'Might actually happen' – Elon Musk on cage fight with Zuckerberg
"He most likely was drunk, blinded by anger. Alcohol can lead you straight to the devil's playground… but it couldn't just end with a fist fight? Eish scary times ?"
After her post, fans reacted to her message with the below comments.
"I think I'm the only one who still don't want to watch videos of people being killed. I even refused to watch that Kiernan's video till this day. Asifani!"
ALSO READ: Watch: Nadia Nakai's Bhebha dance moves at Konka breaks TikTok
"We have unfortunately become like that, no more sensitivity. We have run out of yohs! Things are that bad."
"These are daily occurrences in the hood. I've witnessed a man being killed at a funeral, 2 years later da ppl who killed him were shot & killed in front of me. Only for da guy who killed da 2 men to be killed last year. Nothing abt ikasi is fun, im glad im out of that place"
That video of the man getting shot outside a club in Braam… the thing is I didn't hear screams and mayhem after the shots were fired! It's like everyone including the person taking the video is desensitised. That scares me.

— BRAGGA (@Nadia_nakai) June 27, 2023
MORE ABOUT THE BRAAMFONTEIN SHOOTING
According to EWN, the man involved in the shooting was a metro police officer and South African Police Service (Saps).
The man who was shot was reported to be a Metro police officer shot by a SAPS Officer who was off duty.
According to TimesLive, the Independent Police Investigative Directorate (Ipid) has confirmed that a murder investigation is underway.
ALSO READ: 'You look like DJ Zinhle': Nadia Nakai's recent pictures get Mzansi talking
"Ipid is investigating the circumstances surrounding the death. The case would be investigated before any arrests could follow," Ipid spokesperson Robbie Raburabu told the publication."
"Giving more details on Twitter, @sa_crime tweeted: "It is alleged that the Saps officer was in his vehicle with his friend when they were allegedly approached by the [metro police officer], who is said to have had a firearm in his hand. It is alleged that the metro officer started assaulting the Saps officer outside the nightclub."