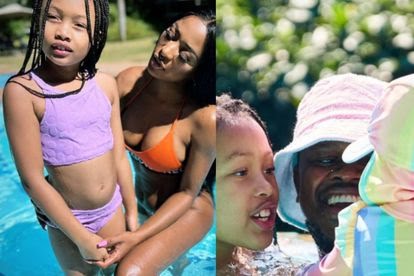 Zinhle's family vacay: Cute clip of Murdah and Kairo in the pool
DJ Zinhle shared a cute video of her 'husband' Murdah Bongz throwing her daughter, who shares with slain rapper AKA, in the pool. South African DJ Ntombezinhle Jiyane, popularly known as DJ Zinhle, shared a cute video of Murdah Bongz and Kairo Forbes playing in the pool on their family vacation via an Instagram Story on […]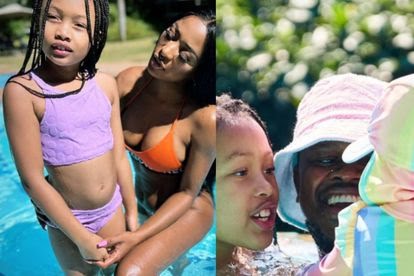 DJ Zinhle shared a cute video of her 'husband' Murdah Bongz throwing her daughter, who shares with slain rapper AKA, in the pool.
South African DJ Ntombezinhle Jiyane, popularly known as DJ Zinhle, shared a cute video of Murdah Bongz and Kairo Forbes playing in the pool on their family vacation via an Instagram Story on Tuesday 18 April.
ALSO READ: 'Duplicate of her daddy': Murdah shares cute snaps with Asante
DJ ZINHLE SHARES CUTE VIDEO OF MURDAH AND KAIRO
Zinhle, Murdah Bongz, Kairo Forbes and Asante Mohosana are on holiday at an unknown location. The family of four seems to be enjoying some down time away and Zinhle shared some clips on her Instagram Story.
In one of the clips, Murdah Bongz is seen playing with Kairo Forbes in the pool. Zinhle welcomed Kairo in 2015 with slain rapper AKA. In 2021, she welcomed her second child — Asante with Murdah Bongz. Murdah and Zinhle are set to marry as he has already paid lobola for her.
Kiernan Jarryd Forbes, popularly known as AKA, was shot dead outside of Wish restaurant on Florida Road, Durban on 10 February, along with his friend Tebello "Tibz" Motsoane. Murdah has been "step dad goals" and often shared sweet moments with the seven-year-old.
Take a look at some of the clips from the vacation…
ALSO READ: 'Never seen DJ Zinhle with Bongz' family': Forbes family pic trolled
FANS WEIGH IN ON MURDAH'S RELATIONSHIP WITH KAIRO
This comes just days after Instagrammers gushed over Murdah and Kairo's relationship after DJ Zinhle posted a photo of the pair after a sugar rush. Since AKA's death fans have admired how Murdah Bongz has displayed step dad goals.
"This is the energy after they finished a packet of Oreos… ❤️ @murdahbongz @kairo.forbes," wrote DJ Zinhle.
ALSO READ: 'AKA is at peace': Fans praise Murdah after he dances with Kairo
Instagrammers took to the comments section of the post to gush over Murdah. Take a look…
"Nobody can replace her father but damm God knew what he was doing when he gave you Murdah ❤️," wrote dwinx786.
"My daughter told her lecturer and classmates that her alone has a good representation of the stepfather. Therefore, not all step parents are bad people. Kwam and Kairo are blessed little Queens ? ? ✨️. Big ups to all step parents. You are not closing any gap but doing God's work ?," wrote @ziyandatshidi.
"This is love, you are blessed DJ Zinhle," wrote @goldengold577.
ALSO READ: Dad of the year: Four times Murdah was 'step dad goals' to Kairo