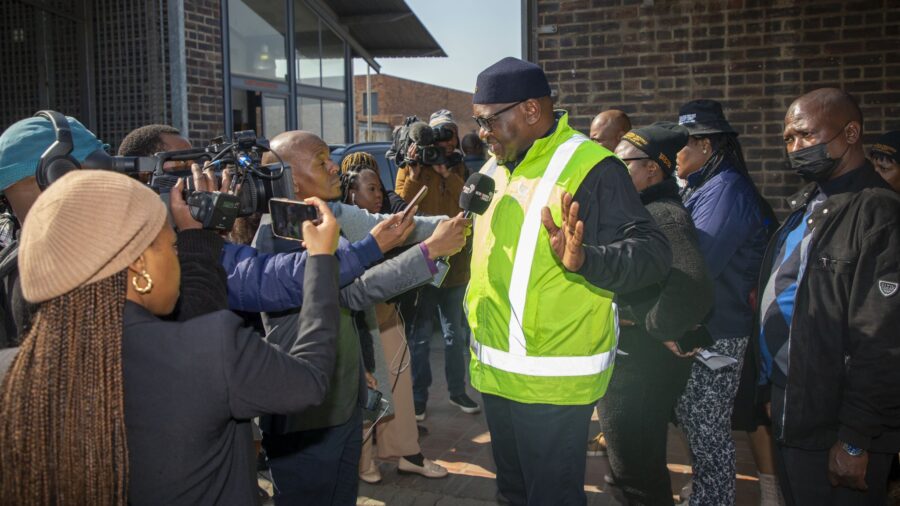 Gauteng Gets Extra Police Resources After Six Shot Dead in Alexandra, Including DJ
Police in Gauteng have launched a manhunt for armed suspects after six people were fatally shot, and another four injured, at different locations in Alexandra on Thursday evening. The fatalities included a well known Alex FM DJ, music manager Joshua Mbatha, known as DJ Josh.  Residents, who have been terrorised by the gang, have been […]
Police in Gauteng have launched a manhunt for armed suspects after six people were fatally shot, and another four injured, at different locations in Alexandra on Thursday evening. The fatalities included a well know
n
Alex
FM DJ, music manager Joshua Mbatha, known as DJ Josh. 
Residents, who have been terrorised by the gang, have been co-operating with police and since the manhunt was launched seven suspects have been arrested.
Gauteng Premier David Makhura tweeted: "The suspects are locals aged between 23 & 33. We welcome the intensification of crime prevention across the province & continue to urge the community to come forward with any information relating to these killings."
Speaking outside Alex Police Station, the Premier said Police Minister Bheki Cele has today committed to additional policing resources across Gauteng, enabling not simply a reaction to the killings, but also proactive policing across the province.
"The people of Alexandra have been collaborating with the police. They have passed over information. That's why I'm saying we will not leave here today until (all) the suspects are arrested," said Makhura. "The police have enough information. They are hot on the heels. This is a localised gang basically, that has moved from one section to another. They've been terrorising this community. They will be behind bars by the time we leave here."
What happened in the Alex shootings?
Gauteng South African Police Service (SAPS) spokesperson Lieutenant Colonel Mavela Masondo said there were at least four armed suspects who went on a robbery and shooting spree in the area last night.
Masondo said: "It is reported that the suspects first met people travelling in a Toyota Etios on Fourth Avenue and Selborne Street and fired shots at them. One person was injured.
"The second incident occurred at Eleventh Avenue and Boulevard Street where the suspects found two people sitting in a car charging cell phones as there was no electricity in the area, due to load shedding. The suspects robbed the victims of their cell phones before shooting them. Both victims were taken to medical care centres for treatment."
He said the suspects came across the next victim at Boulevard Street, where he was fatally shot. The next victim was shot at Seventh Avenue where he died on the scene while two people were robbed of their cell phones and shoes.
Masondo said the suspects came across three people at Sixth Avenue who they shot.
"One person was fatally wounded while two victims were taken for medical treatment.
"It is reported that the last shooting happened at Sixth Avenue and Roosevelt Road where two people were shot while inside the Toyota Avanza. Both victims died at the scene," he said.
The police have opened six cases of murder, four of attempted murder and armed robberies. (Initially only five cases of murder were opened, but a sixth victim died in hospital.)
Motorcades for Ministers while residents have no protection
While the police have responded quickly to the horrific killings, Ian Cameron, who recently had a run in with Police Minister Bheki Cele complained that: "David Makhura & Bheki Cele arriving with motorcades & bodyguards where people are killed every day because of a broken criminal justice system (like Alex) is disgraceful. These so-called leaders are there to serve the people, not the other way around. They aren't above us!"
Gauteng Premier David Makhura's motorcade was rightfully blocked in Alex this morning. THIS once again shows how he and the ANC, like Bheki Cele have lost touch with reality! It is extremely arrogant to go in there with armed guards, motorcade etc while the people have NOTHING! pic.twitter.com/v5ztupWfBc

— Ian Cameron (@IanCameron23) July 15, 2022
Gauteng Police Commissioner, Lieutenant General Elias Mawela, on Friday strongly condemned the random shootings
He subsequently assembled a team, comprising of different units of the SAPS and other law enforcement agencies, to search for the suspects.
Masondo said police management was concerned about the proliferation of firearms in Alexandra and operations to recover such weapons are continuing. Last weekend 15 people were murdered at a township tavern in Soweto.
The Gauteng Premier is currently visiting the injured victims at Edenvale Hospital and Charlotte Maxeke Johannesburg Academic Hospital.
WATCH: Premier @David_Makhura speaks outside the Alex Police Station as Minister Bheki Cele & National Commissioner arrive. Premier says there will be an intensification of crime prevention across the province & thanks the community of Alexandra for collaboratimg with the police. pic.twitter.com/Y553Vy6JIv

— Gauteng Provincial Gov (@GautengProvince) July 15, 2022
"Police are appealing to anyone who might have information that could help in the investigation or assist in the apprehension of the suspects, to please call the nearest police station or crime stop on 08600 10111 or by giving a tip-off on the MySAPS app. All information received will be treated as strictly confidential," he said. – SAnews.gov.za
An Alex FM DJ and other people were shot and killed in Alexendra last night. The station's board chairperson confirmed the passing of its music manager Joshua Mbatha, also known as DJ Josh. Independent Policing Union of South Africa's Mpho Kwinika says the incident is shocking. pic.twitter.com/KazulqsfVA

— eNCA (@eNCA) July 15, 2022