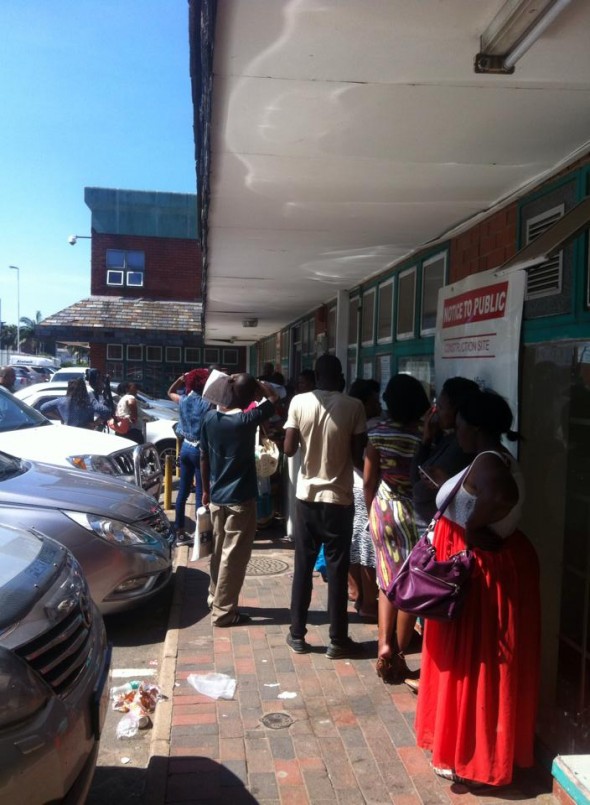 South Africans stand up to poor service…as HA assault caught on video
A video shot outside a Home Affairs office in Durban on Wednesday has gone viral…and may just be the catalyst that makes some civil servants realise it's time to improve their customer services! Before continuing it's REALLY IMPORTANT to note that MANY of the Home Affairs offices in South Africa are brilliant! Here's an example of one of many messages we regularly […]

A video shot outside a Home Affairs office in Durban on Wednesday has gone viral…and may just be the catalyst that makes some civil servants realise it's time to improve their customer services! Before continuing it's REALLY IMPORTANT to note that MANY of the Home Affairs offices in South Africa are brilliant!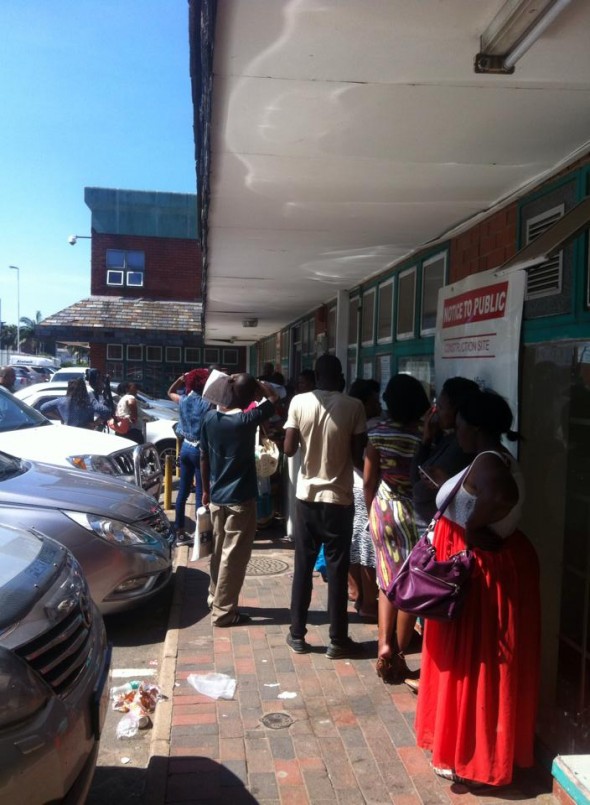 Here's an example of one of many messages we regularly receive at SAPeople. This one was sent in by Anneli Jooste Miller: "Hi guys, just a quick message to sing the praises of Home Affairs in Graaff-Reinet. I live in the UK and sent my mum to them for my unabridged birth certificate. It took exactly 13 days to arrive! So chuffed."
But unfortunately there are a handful of offices where management and communication seem a little less than professional. And South Africans have had enough.
On 4 February Durban resident Tanith Molliere filmed the video below, in which a Home Affairs official from the Umgeni branch appears to strike at her. The video has gone viral and been aired by local media.
"Wow – over 11,000 views in under 24hrs! I'm just bummed that my 15 minutes of 'fame' had to be about SA Home Affairs," Tanith wrote on her FB wall. "But I suppose it just highlights what we are all tired of in this country…"
The incident occurred after people had been kept waiting in a queue for several hours, in the sweltering Durban heat. Tanith arrived in the afternoon to pick up a copy of her marriage certificate.
The published office hours for Wednesdays are 08:30 to 16:30.
"I joined the queue at Umgeni Home Affairs at 14:00," wrote Tanith. "The queue was out the door – sun was beating down. It was sweltering. After speaking to some of the other folk in the queue (some with the teeniest babies & some elderly), it turned out that many of them had been queuing since 08:00 only to be turned away 10:00 (as the office closed due to load shedding between 10:00 and 12:00) and had rejoined the queue that afternoon.
"At around 14:45 (while still in the queue outside which had not moved much) we noticed that the security guard had chained the door closed from the inside. When the public started knocking at the door asking what was going on, the security guard ignored us. Then some people started knocking in earnest and then the security guard (from at least 5m away from the door) motioned that the offices were closed.
"Bear in mind the office hours are 08:30 to 16:30 and they had already been non-operational for around 2 hours during load shedding, and there had been no announcement made or reason given to those queued outside as to why they were closing early.
"At around 15:00, I and a few other people then made our way to an entrance a little further along which was manned by two security guards and demanded to speak to a supervisor. Finally at around 15:30, a staff member (a Ms Z C Dlamini) came out to tell us that the office were closed and that we were to move to the main door (where we had come from) as a manager would be addressing us. I (being very suspicious of the whole thing) was filming her announcement. She was not very impressed and tried to knock my phone out of my hand and then forced the gate to the entrance closed.
"We moved to the main entrance as instructed and waited. Of course no manager arrived, but instead staff members started pouring out of the building to go home. Including Ms Dlamini, who made her way to her car parked near us (this was around 15:45). Two very frustrated gentlemen approached her with questions, and I too approached her (filming the entire time) asking where the manager was that she had advised us would be speaking to us (who never materialised by the way – I stuck around until after 16:00 to be sure)."
What happened next is captured on the video below…
Watch Video – Home Affairs alleged assault on member of public
Two Sides
According to Cherry Muir, an Immigration Practitioner and Consultantat, who assists people at the Dept of Home Affairs on almost a daily basis "I personally know Mrs Dlamini to be one of the nicest, and helpful people at the Durban Regional Office. I think before people start making comments, they should look at the whole picture.
"Firstly, although Mrs Dlamini offered to call someone who would be able to explain why the doors were closed early, no one came.
"It is extremely frustrating for the Home Affairs staff and the Public, trying to deal with matters when the lights keep going off once and sometimes twice a day.
"As the Regional Representative already mentioned, Mrs Dlamini was within her rights to go home at 4.30pm, since she had worked a full day, and was due to leave. I think that it is unfair and that Tanith provoked Mrs Dlamini by the things that she was saying, as well as the fact that she had a camera pointed at the staff member. She asked not to be photographed, and when Tanith continued, she warned her several times that she would react, and it was then that she hit the camera that was taking video of her.
"She had not until this stage done anything wrong, except that she was provoked and lost control. I feel that Tanith has stirred a lot of trouble, and has not considered the consequences of her actions."
Taking Action
Tanith is taking the matter further. She has been advised to lodge an assault charge, email all of the DHA management with links to all videos and share her post with various FB pages. In a message to her friends on FB, she said "I truly wish that we didn't have to go to such lengths to get decent service from (or avoid assault by) some government officials. :()" and she stressed that "the issue of her going for me is secondary. The main issue is the poor service delivery and arrogance of civil servants at this branch in particular…"
Tanith praised the Isipingo Home Affairs branch where she was able to finally get that copy of her marriage certificate.
"What a PLEASURE that office is! Amazing staff, for sure…my visit to Isipingo branch was a dream in comparison – proving that not all staff should be tarred with the same brush…"