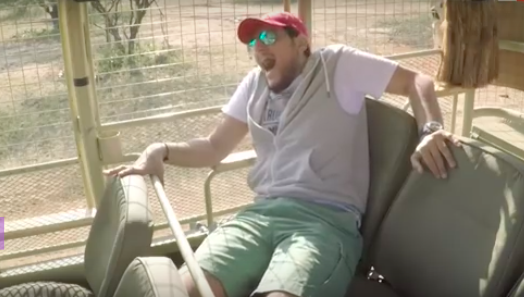 The Unfunniest Safari Prank Ever
This video, which was filmed in South Africa, has to be one of the unfunniest pranks ever played. It was shared a couple of weeks ago by a Somali website, and has been shocking social media users ever since. There's no mention of when it was filmed or by whom… but after (far too many […]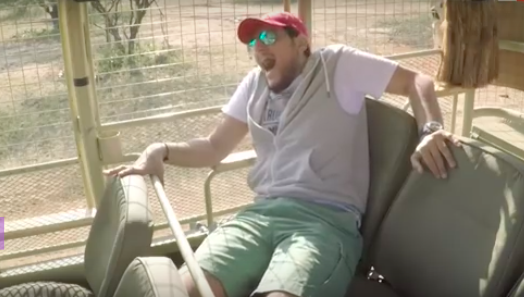 This video, which was filmed in South Africa, has to be one of the unfunniest pranks ever played.
It was shared a couple of weeks ago by a Somali website, and has been shocking social media users ever since. There's no mention of when it was filmed or by whom… but after (far too many hours!) researching, SAPeople has found the original.
It's a show from a series by Egyptian actor and comedian Hany Ramzy called 'Hany in the Jungle'… where he tricks Arab celebrities into flying to South Africa for the 'ultimate safari'. The celebs are put through a frightening experience – fooled into believing their driver has been eaten by a lion, having their caged vehicle attacked by lions, and discovering the only phone for help is in a box with the creature they most fear – a snake (a python to be exact).
Hany and fellow Egyptian actor Ramez Galal usually have a 'prank war' during Ramadan where they trick stars into these incredibly scary (but fake) situations. (Ramez has also fooled American celebrities like Antonio Bandeiras and Steven Seagal into believing the buildings they're in are on fire.)
This episode was filmed last year and features Ahmed Safwat, an Egyptian former professional squash player.
After watching the short version, check out the longer original beneath it for some awesome African singing and wildlife footage… and the classic mistake people make about Egypt. The driver asks Ahmed if it's his "first time in Africa". "I'm from Africa," replies the Egyptian!
The short version: Unfunniest Safari Prank Ever – Hany in the Jungle, Episode 11
https://www.facebook.com/Calanka24/videos/1484559951608881/
The FULL version: Unfunniest Safari Prank Ever – Hany in the Jungle, Episode 11
https://youtu.be/3KrpNq-xoQ4