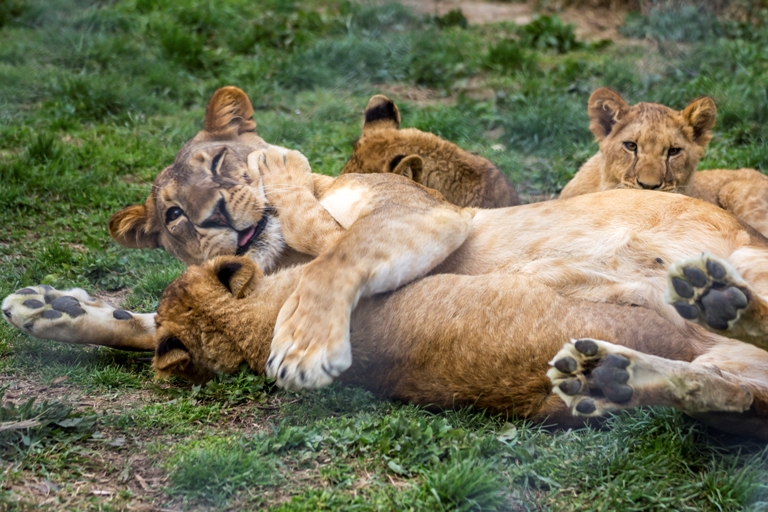 WATCH World Lion Day Sees South Africa Tarnished by Captive Lion Industry
South Africa is not a good place for lions today, on World Lion Day – and it won't be tomorrow either, with an estimated 11,000 lions held captive in more than 300 facilities across the country, according to Humane Society International-Africa (HSI-Africa). The captive lion breeding industry is marked by ongoing exposure of poor conditions […]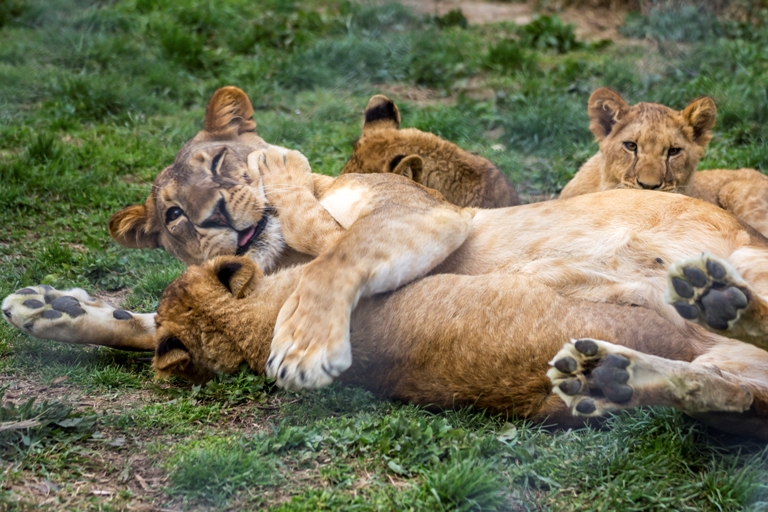 South Africa is not a good place for lions today, on World Lion Day – and it won't be tomorrow either, with an estimated 11,000 lions held captive in more than 300 facilities across the country, according to Humane Society International-Africa (HSI-Africa). The captive lion breeding industry is marked by ongoing exposure of poor conditions and welfare standards, inhumane slaughter and pending cruelty cases, says the organisation.
"Like the pitiful circuses of old, the clock is ticking for this abusive industry, and the South African government should be doing more to hasten its end," said Audrey Delsink, wildlife director for HSI-Africa. "As consumers become increasingly aware of the cruel and exploitative practices in captive lion breeding and its spin-off industries, taking concrete steps to shut down this profit-driven, putrid trade would be a fitting way to honour World Lion Day."
WATCH VIDEO: Lion park in South Africa and selfies
In addition to serious welfare and conservation concerns, COVID-19 has also placed a spotlight on infectious disease outbreaks linked to the wildlife trade.
"In captive breeding facilities, many lions are confined under unhygienic, stressful conditions, and they are often slaughtered on site, creating ideal conditions for the spread of zoonoses," said Delsink.
There are almost four times more lions in "cruel captivity" in South Africa than there are in the wild. The country is home to only 3,000 wild lions, says HSI.
The captive lion industry has no conservation value, says HSI, and is believed to be contributing to the growing demand for body parts of big cats and threatening global populations of other big carnivores – including tigers who are bred, slaughtered and hunted along with lion. The World Wildlife Crime Report issued in May 2020 by the United Nations Office on Drugs and Crime stated that illicit markets in big cats raise conservation concerns for the species.
The industry's associated activities – such as cub petting, lion walking, 'canned' hunting and the trade in lion bone and other body parts – have continued despite the 2018 Parliamentary Colloquium that led to a committee resolution calling for the closure of the industry.
WATCH Big cat petting venue, Johannesburg, South Africa
HSI/Africa provided an extensive submission to the high-level panel commissioned by the Minister of Environment, Forestry and Fisheries Barbara Creecy to inform state policy on the management of lions, leopards and other wild animals in the country.
HSI/Africa called on the panel to take the following actions:
Implement the directives of the Parliamentary resolution addressing captive lion breeding without further delay;
Place an immediate moratorium on new captive lion breeding facilities or further breeding at existing lion facilities;
Place a moratorium on the international import and export of live animals and animal parts, pending an independent investigation into allegations of CITES and local regulation non-compliance; and
Engage with the Department of Agriculture, Land Reform and Rural Development to repeal recent amendments to legislation that facilitate the management of wild animals as farm animals, and the slaughter and consumption of lion and other wild animals as human food.
Tourists are often not aware that South Africa's wildlife 'entertainment' facilities are linked to canned lion hunting, and many such facilities dupe unsuspecting tourists into spending time and money on volunteering at these places under the guise of 'conservation'.
Trophy hunting
Lions exist in only 8% of their former range and are suffering from loss of habitat and prey, in addition to being decimated by trophy hunting, says HSI.
HSI analysis of CITES trade data shows that between 2017 and 2018, the European Union imported 406 lion trophies, while the United States imported 150. Of the 406 EU trophies, 312 were from captive lion hunting facilities in South Africa.
Despite claims that the captive predator breeding industry and trophy hunting of captive-bred lions is a significant contributor to the economy, the contribution to South Africa's GDP is marginal and benefits only a few. A recently published paper estimates that total gross revenue for the sub-sector is estimated at roughly USD $180 million per annum. These revenues represent a mere 0,96% of tourism's total GDP contribution in 2019 (USD $18.8 million) but may entail extensive opportunity costs. The reputational damage to South Africa and the cost to its tourism is a far-greater risk than the country can afford as consumers increasingly seek out ethical tourist destinations around the world.
Panthera leo is classified by CITES as endangered, listed as Vulnerable by the International Union for Conservation of Nature and is also listed in the U.S. Endangered Species Act.
Lions need to be protected to avert extinction
As the world marks World Lions Day today (Monday 10 August), World Animal Protection (which supplied the videos above) has also warned that the King of the Jungle may soon be extinct if urgent measures are not taken.
Edith Kabesiime, Campaigns Manager at World Animal Protection says: "African lions are facing human and nature induced threats hence the need to prioritize their protection. We have witnessed the population of lions in Africa declined in the last decades as human beings occupy their habitat."
Statistics from the International Union for Conservation of Nature (IUCN) indicate that Africa's lion population declined from 200,000 in the last century to the current 20,000. Lions exist in 26 African countries. The continent has lost about 90 per cent of the carnivore from its original habitat.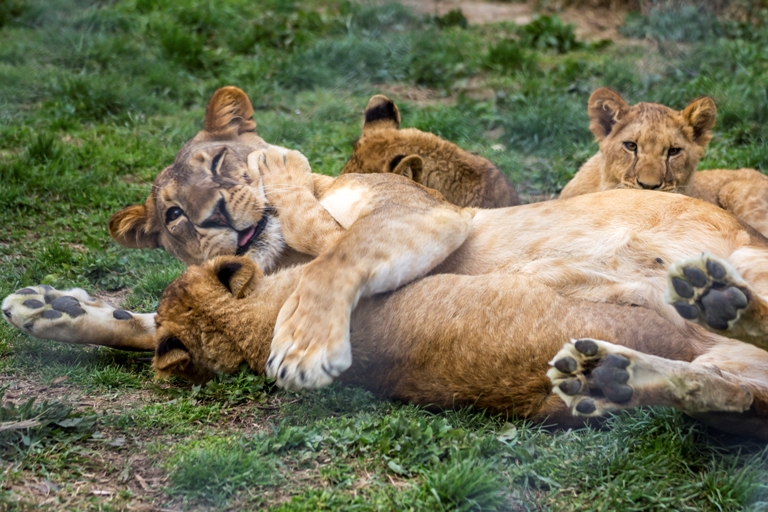 Climate change, removal from their habitats for entertainment and poaching to satisfy the traditional medicine industry are some of the contributing factors to decline in wild lion populations. Shrinking of prey base linked to massive hunting has increased their risk of death by starvation.
Captive breeding of lions that has intensified in some parts of Africa is also a threat to their survival. Animal welfare is often not a priority. Lack of adequate basic animal welfare conditions, such as enough water, food, space, shelter and medical care, is sadly a stark reality in most commercial breeding farms. This has been propelled by the urge to make profits through wildlife trade.
The African lion has been categorized by IUCN as a vulnerable species amid international trade in its claws, bones and jaws to meet rising demand for traditional medicine and jewellery.
Wildlife trade is not sustainable. If anything, it is a recipe for ultimate extinction and possible outbreak of a future pandemic like what we are experiencing currently.
It is essential for an immediate action to be taken to protect and save lions from future extinction, says World Animal Protection. A ban on international trade in lion's products coupled with enforcement of laws to deter poaching will help reverse their declining numbers in Africa.
"Policymakers need to consider a total ban on wildlife trade. There is a need for a coordinated global action to advocate for it as a way of saving Africa's wild Populations," says Tennyson Williams, World Animal Protection Country Director.
"At individual level, one should distance themselves from wildlife trade ultimately making it socially unacceptable. If we learn anything from the current situation, it is that we need to leave wild animals where they belong – in the wild. We all have a responsibility to make a shift in our behaviour and attitudes towards animals that could save the lives of lions, other wildlife species, millions of people and our economies."
This year's World Lion Day is marked with a keen interest in three objectives:
The first is to raise awareness of the plight of the lion and the issues that the species faces.
The second is to find ways to protect the big cat's natural environment.
And the third is to educate people on how to prevent human-wildlife conflicts. Humans and large species like cats can live in harmony together, but only if they understand how to do so.
WATCH Nairobi National Park – human/animal conflict an increasing issue