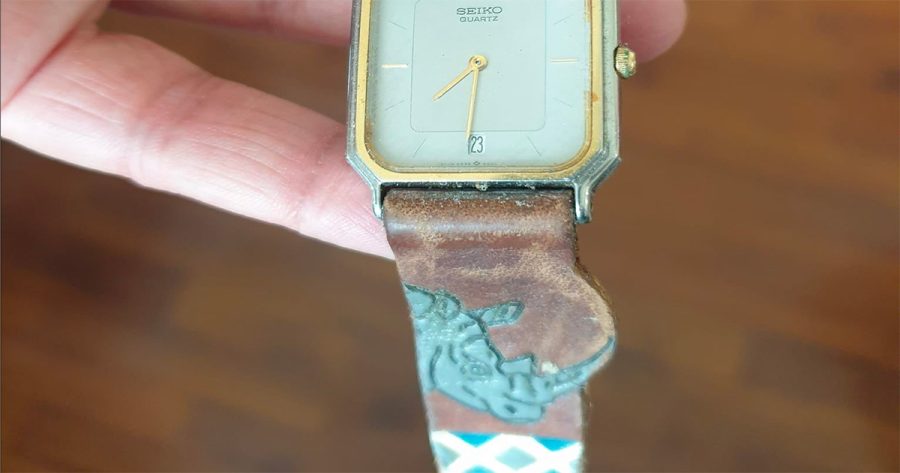 Search On for Owner of Watch with Grey Rhino Etched On Leather Band
The search for the owner of a watch that was found on a beach in Western Australia has gone viral worldwide, as social media users try to find the person who lost what appears to be a sentimental piece of jewellery. There's a great chance the owner could be from South Africa as Fremantle, where […]
The search for the owner of a watch that was found on a beach in Western Australia has gone viral worldwide, as social media users try to find the person who lost what appears to be a sentimental piece of jewellery.
There's a great chance the owner could be from South Africa as Fremantle, where the watch was found, is a popular home to South African expats – being just 30 minutes from Perth. Plus another clue could be in the white rhino that is etched on the band of the watch. Most of the world's white rhino are found in South Africa, so it's likely that even if the owner is not South African, they may have a link with SA and there could be somebody back home who recognises the watch or the names engraved upon it.
The post was published on Wednesday (9 November) by Mish Marciano. She said:
This might be a long shot. But my Dad found a watch in the sand at Port Beach (Fremantle) quite some time ago. I tried to find the owner a while back with no luck.
So I thought I'd try again.
It's a Seiko watch (square face – gold trim). The band looks leather dark brown with a grey Rhino etched into it.
On the back is engraved 'To Peter – Love Sallie 19.6.86.'
Mish said she would "love to reunite this with its owner" and asked friends and followers to please share her post.
The post has now had over 2,000 shares. Yesterday Mish wrote: "Holy sh*tballs, just from this post alone there has be 1.1k shares, this is not to mention all the other shares from other groups I've posted in. Surely the owner has to be found right?!"
If you know who owns this watch, please let Mish know, or email admin@sapeople.com