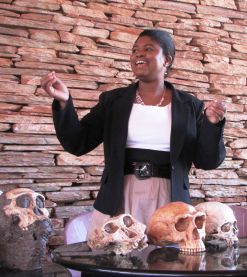 A fun approach to science teaching
Two women from Wits University's Institute for Human Evolution are inspiring a new generation of scientists in South Africa by reaching out to pupils who have not had much exposure to career opportunities in the discipline. Through the medium of story-telling, Dr Mirriam Tawana, a palaeoanthropologist and Zandile Ndaba, a fossil excavator, are bringing the world of […]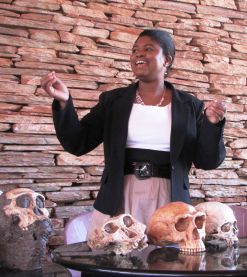 Two women from Wits University's Institute for Human Evolution are inspiring a new generation of scientists in South Africa by reaching out to pupils who have not had much exposure to career opportunities in the discipline.
Through the medium of story-telling, Dr Mirriam Tawana, a palaeoanthropologist and Zandile Ndaba, a fossil excavator, are bringing the world of paleoscience to life, sharing their career highlights, experiences and life stories to inspire children to be curious about science, and proud of South Africa's fossil heritage.
Tawana is part of a new group of progressive academics who believe that it is up to scientists to promote the discipline. South Africa has experienced a shortage of scientists and graduates in the field of science and technology for years.
Tawana's interest is in palaeoanthropology, a branch of palaeontology that studies the evolution of humans.
"I think it's terrible that I only first learned about palaeoanthropology when I was already in university," she says, adding that she finds the field exciting and fun.
When she enrolled at Wits University with the intent to study medicine, Tawana didn't know that a short course in palaeontology, taught by Dr Lucinda Backwell, would grab her attention.
Born in the same area where the Taung Child, a fossilised skull of a juvenile Australopithecus africanus, was discovered in 1924 by quarrymen excavating lime in Taung, a small town in the North West province.
"I was instantly hooked," she says, and immediately made arrangements to change courses.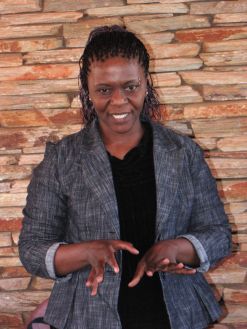 Reaching out to schools
Tawana's experience as a student got her thinking about the predicament of many children in under- resourced schools across the country.
"It is heart-breaking when I ask a child what a fossil is and they don't know," she says. "This motivates me to participate in outreach initiatives at schools."
All children should know about South Africa's valuable fossil collection, says Tawana, who explains that it is one of the richest in the world, containing almost complete hominid skeletons.
Tawana and Ndaba recently took their enthusiasm for palaeontology and fossils to the St Ansgar's school in the Cradle of Humankind district.
Every year the Maropeng cultural centre partners with the Cradle of Humankind Management Authority to give pupils from schools in the area an opportunity to visit the Sterkfontein Caves, the discovery site of two other world-famous fossil finds, Mrs Ples and Little Foot.
The partnership came about three years ago after the authority identified a number of local schools that did not have the financial means to visit Maropeng.
"What I want young boys and girls to know is that careers in palaeontology are suitable for anyone," Tawana says.
Exposing children to fossils
Ndaba says Maropeng and the Sterkfontein Caves have a valuable role to educate children about fossils and the origins of humankind in a fun, interactive way.
"How can children become interested in something they have never seen?"
Dealing with mistaken beliefs about fossils and palaeontology can be a major challenge for a young person thinking about following a career in this field, says Ndaba.
"When I used to return from the fossil site, my father would tell me to wash because I had been working with dead people. It took me a long time to get him to understand what it was that I was doing," she recalls.
Career highlights
For Tawana, participating in excavations is always a highlight. "Every time I go to a site I experience a mixture of anxiety and suspense," she says. "You never know what you are going to find."
One of Ndaba's most memorable experiences is excavations of the Malapa site at the Cradle. Here significant parts of a skeleton, believed to be an entirely new species of hominid named Australopithecus sediba, were discovered in 2009.
"While I was busy digging, I found a pelvis, one of the parts of Sediba," she recalls. "I thought I found nothing, but I learnt that this was a very important find." The pelvis is used to determine how ancient humans walked.
"The atmosphere on site is crazy when you make a find," says Ndaba. "There is a lot of activity with pictures being taken and filming."
Leaders in palaeontology
The two scientists attribute their interest in palaeoanthropology to leaders in the field, such as Dr Lucinda Backwell and Prof Lee Berger.
"Lee has been like a father," Ndaba says. "He wants us all to succeed!"
Tawana says Prof Phillip Tobias, who died earlier this year, also made a significant impact on her career.
She recalls spending a weekend with Tobias in Taung on an outreach programme. "He was surrounded by kids, and he made time for them," she says. "It was such an honour to know him and work with someone of his calibre. He was such a motivator."
We are fortunate to have many more people like him in this field, such as Berger and a Backwell, Tawana added.
More science graduates needed in SA
There are growing concerns among various stakeholders such as the government and the academic and research fields that South Africa is not producing enough graduates in the fields of science, technology, engineering and mathematics.
According to the Paleontological Society of Southern Africa, there is a chronic shortage of qualified palaeontologists in the country, and a need to expand the industry's limited skills base.
This is why promoting this area of study is so important.
A human capital development report by the National Research Foundation suggests that areas such as palaeontology, palaeoanthropology and archaeology offer special research, tourism and educational opportunities in South Africa.
Tawana hopes that some of their stories will leave a lasting impression on the pupils of St Ansgar's.
"By the show of hands it was clear that few of them had intended to pursue a career in science," she says. "Hopefully our stories and passion for the field convinced them that a career in the field can be interesting and fun."
Read more: http://www.mediaclubsouthafrica.com/index.php?option=com_content&view=article&id=3085:science-teaching&catid=69:youth-and-education&Itemid=153#ixzz288fQP7fs