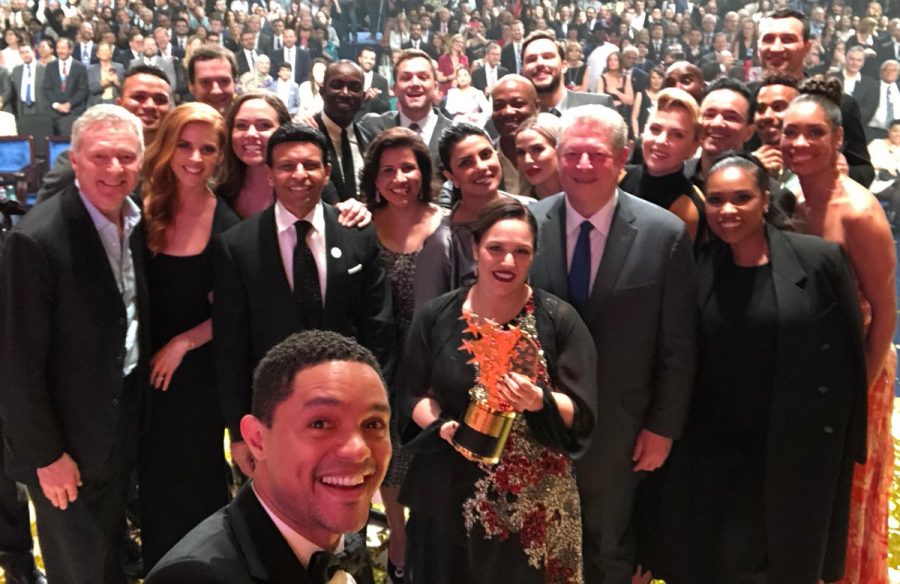 British Teacher Wins $1-Million At Trevor Noah-Hosted Global Event in Dubai
A British teacher won the much-contested $1-million Global Teacher Award at a ceremony in Dubai on Sunday. The star-studded event was hosted by South African comedian Trevor Noah and attended by several celebrities, including South Africa's Oscar-winning actress Charlize Theron, who gathered to honour the teaching profession. Thirty-nine year old Andria Zafirakou became the first […]
A British teacher won the much-contested $1-million Global Teacher Award at a ceremony in Dubai on Sunday. The star-studded event was hosted by South African comedian Trevor Noah and attended by several celebrities, including South Africa's Oscar-winning actress Charlize Theron, who gathered to honour the teaching profession.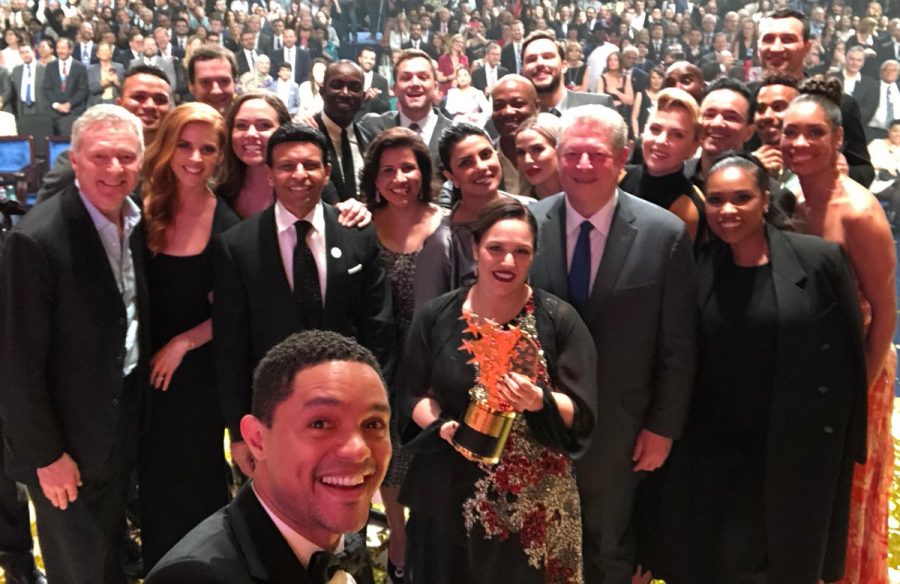 Thirty-nine year old Andria Zafirakou became the first British teacher to win the award, beating out competition from around 30,000 teachers from around the world!
South Africa's Marjorie Brown – who started and leads the Kids Lit in SA programmed, devoted to improving literacy in SA – was one of the exceptional teachers who made it to the top 10.
The prize, which was presented by the ruler of Dubai – Sheikh Mohammed bin Rashid Al Maktoum – is bestowed on an exceptional teacher in the world who has made a significant contribution to teaching.
Andria is an art teacher who works with inner-city kids in an area of London known for being a gangland. Andria was praised for going above and beyond – learning the basic words of various foreign languages to connect with her culturally-diverse students, riding with them on the bus, getting to know their parents and more.
Andria's students said the reason she is the best teacher in the world is that she is "kind".
As the first Brit to win the award, the Prime Minister – Theresa May – congratulated her via a pre-recorded video during the ceremony. Watch below.
British PM @theresa_may congratulates Global #TeacherPrize Winner 2018 @AndriaZaf #GESF @10DowningStreet pic.twitter.com/H90JAgfnpa

— Global Teacher Prize (@TeacherPrize) March 18, 2018
Remind yourself of the Global #TeacherPrize Winner @Andriazaf pic.twitter.com/d5n7k9dJJK

— Global Teacher Prize (@TeacherPrize) March 19, 2018
Both South Africans Trevor Noah and Charlize Theron (far right, around third row back) were at the event in Dubai honouring the teaching profession:
🤳 Selfie time with the winner of the 2018 Global #TeacherPrize, @Andriazaf 🇬🇧, plus @Trevornoah and friends! #GESF @priyankachopra @LewisHamilton @CharlizeAfrica @IAMJHUD @RedOne_Official @algore @sunnyvarkey_ @Mo_Farah pic.twitter.com/zMYq9MfqJe

— Global Teacher Prize (@TeacherPrize) March 18, 2018
South Africa's Marjorie Brown – who made it to the Top 10! – can be seen on the right in this video:
We're thrilled to congratulate #IOE alumna @Andriazaf on being named world's best teacher after winning the 2018 Global #TeacherPrize.https://t.co/954I5KNMbb#GESF @UCLAlumni pic.twitter.com/TvFErRJJI1

— IOE, UCL's Faculty of Education & Society (@IOE_London) March 19, 2018
Congratulations to all of our #TeacherPrize Finalists.

An amazing achievement for every teacher involved. Inspirational. pic.twitter.com/HpeQpgRUsG

— Global Teacher Prize (@TeacherPrize) March 19, 2018
Great to reconnect with @Mo_Farah and @priyankachopra ahead of the @TeacherPrize awards event this evening by @VarkeyFdn. Exciting to have a room fully packed to honor the incredible work that teachers do. @GESForum #GESF2018 pic.twitter.com/yW6vqYOwUi

— Vivian Onano (@vivianonano) March 18, 2018