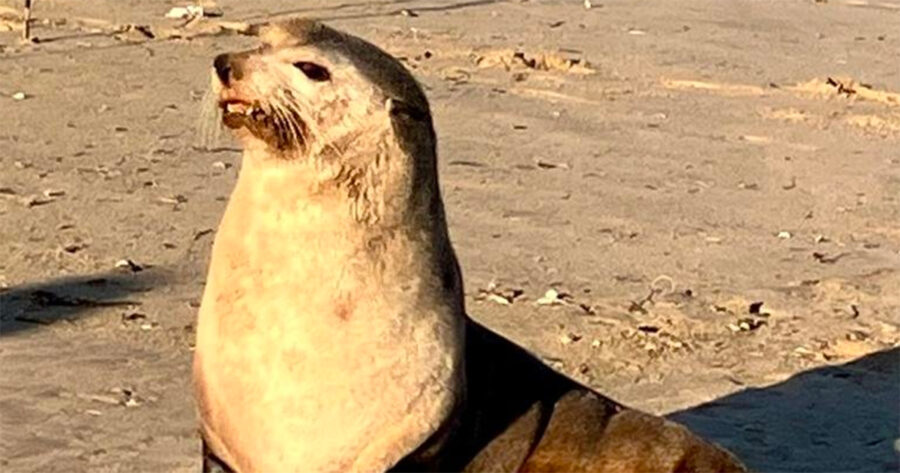 Celebrity Subantarctic Fur Seal Bids Farewell to Mossel Bay Fans
It was quite an emotional day today for everyone who fell in love with Felix, a Subantarctic Fur Seal that has been relaxing on Klein Brak Beach on the Mossel Bay coast the last few days. At around lunchtime, Felix wandered back into the ocean and swam away. Stranded Marine Animal Rescue Team (SMART) – […]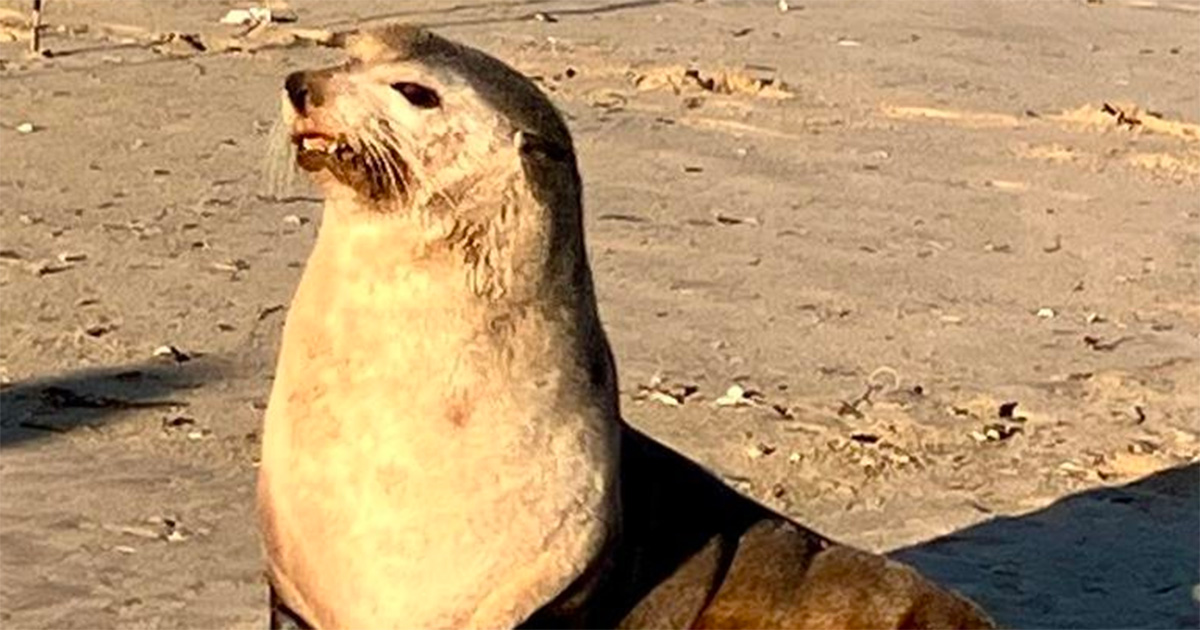 It was quite an emotional day today for everyone who fell in love with Felix, a Subantarctic Fur Seal that has been relaxing on Klein Brak Beach on the Mossel Bay coast the last few days. At around lunchtime, Felix wandered back into the ocean and swam away.
Stranded Marine Animal Rescue Team (SMART) – who have been keeping an eye on him to make sure he stayed safe –  said "it was with mixed feelings that the Smarties (SMART volunteers) looking after him, as well as some members of the public, witnessed him making his way back to sea. Although it is a good thing that he's gone back to sea, we were a bit emotional to see him go, this beautiful animal having crept deep into our hearts. S.M.A.R.T however wishes him good luck and safe travels within the blue waters of the ocean."
SMART thanked the local community who opened their hearts to keep an eye on Felix during the cold nights since he arrived on 27 May. SMART didn't have the resources to remain overnight, and got the "biggest surprise in terms of the goodwill of the public" who stood together to watch over Felix during the nights!
At the time, SMART said it was "so humbled (and completed overwhelmed) by all the people who are helping, offering up the warm comfort of their beds to brace the cold weather at night to watch over this precious animal. We do not have enough words to express our thanks to all involved but be assured that we appreciate what you are doing beyond words."
What was a Subantarctic Fur Seal doing so far from home?
Klein Brak's special guest was far from home – about 2,000 km from Gough Island or Marion Island.
SMART said although he wasn't a youngster he was "still quite attractive", and explained "Subantarctic Fur Seals come ashore to either rest or moult, which occurs once a year and (they) can spend quite a couple of days on the beach before returning to sea."
Apparently, "while resting and/or moulting on land, these animals are 100% self-sustaining. Before coming ashore, they go on a feeding frenzy and then use their built-up blubber for sustenance and water to prevent starvation and/or dehydration whilst on land."
How do Subantarctic Fur Seals and Cape Fur Seals differ?
According to SMART, the Subantarctic Fur Seals have pointier faces, smaller easier and nails on both sets of flippers. They also have creamy-orange chests and faces; and sport a brownish tuft of fur in the centre of their foreheads just above the eyes.
These medium sized seals are a bit more docile than their Cape Fur Seal cousins, says SMART, but "they are not to be tampered with as they will not hesitate to defend themselves."
***
If you spot any marine animal that may be in distress or injured in the area, phone SMART on 072 227 4715.
S.M.A.R.T. has been operating along the Mossel Bay coastline since 2015 and has rescued 750 seals, 450 turtles, 10 dolphins and 7 whales. The non-profit operates under the authority of DEA (Dept Environmental Affairs) and in collaboration with the the local NSRI, Mossel Bay Municipality, George Municipality, Sea Border Police, Cape Nature, Sanparks, Bayworld(PE), Two Oceans Aquarium (Cape Town) and all Conservancies in the area.
Visit: http://s-m-a-r-t.org.za/
WATCH SMART and Felix