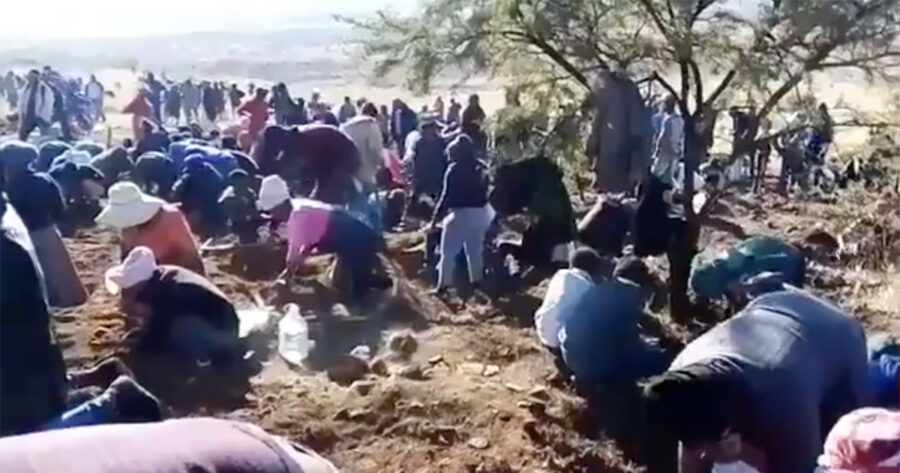 Diamond Rush as Fortune Seekers Flock to Village Near Ladysmith, South Africa
Over 1,000 fortune hunters have driven from all corners of South Africa to a village near Ladysmith, in KwaZulu-Natal (KZN), in the search for diamonds… after the alleged discovery of the precious stone in the area. Crowds of people, men and women – carrying spades and pick-axes – have flocked to KwaHlathi since Saturday to […]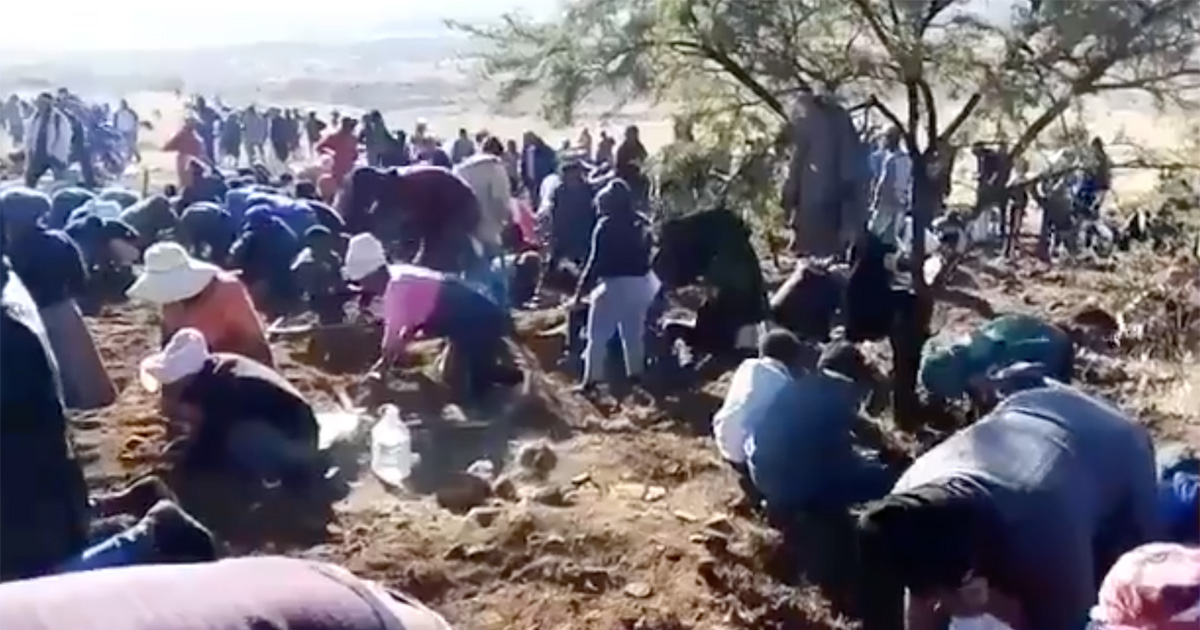 Over 1,000 fortune hunters have driven from all corners of South Africa to a village near Ladysmith, in KwaZulu-Natal (KZN), in the search for diamonds… after the alleged discovery of the precious stone in the area. Crowds of people, men and women – carrying spades and pick-axes – have flocked to KwaHlathi since Saturday to mine diamonds after images and video went viral purporting to show diamonds found in the area, with those involved seen celebrating in the belief they have struck it rich. (Watch 'Diamond Rush' videos below.)
The KZN provincial government said it notes the 'Diamond Rush' reports with "concern" and has called for order, highlighting that illegal mining activities could be in violation of Covid-19 regulations.
Some say the unidentified stones are crystal quartz. Teams from Mintek (the council for Mineral Technology) and GCS (the Council for Geoscience) – including a geologist – will visit the area to analyse and identify exactly what is being discovered.
According to Reuters, some have started selling their stones with a starting price ranging from R100 to R300.
At the request of the KZN government,  the Department of Minerals and Energy is sending teams to the site, including the department's enforcement and compliance unit to conduct an inspection.
KZN Premier Sihle Zikalala said:
"We are deeply concerned about the images showing that some people coming from as far as some of the neighbouring provinces and towns are flocking into kwaHlathi. We are worried that if not brought under control the situation could result in chaos and a possible stampede. We call for order and calm and urge all those involved to cease their operations and vacate the site so as to allow the DMRE to conduct a proper inspection of the site and of what has been discovered there."
The Premier added that the illegal mining activities could be in violation of the Covid-19 regulations.
"It is also very concerning that in the wake of a looming third wave we have so many people gathered in one spot, not maintaining social distancing and also not wearing masks. This could prove to be a super-spreader and might put at risk many people including those who are not part of the mining".
The provincial government said it will work closely with the SAPS (South African Police Service), the DMRE, the traditional communities, traditional leadership and the local and district municipalities to bring calm to the area and to ensure that the relevant information filters through to community members, it said.
WATCH Diamond Rush (Monday lunch-time) – Digging for Diamonds in KZN
A diamond rush in KZN's town of Ladysmith has people driving in from all corners of the country following the alleged discovery of a diamond. #eNCA's Lethiwe Mdluli brings you the latest on #DStv403 #TheMiddayView pic.twitter.com/VoJ26apj01

— eNCA (@eNCA) June 14, 2021
KZN PREMIER CALLS FOR ORDER AMID REPORTS OF A "DIAMOND RUSH" IN KWAHLATHI NEAR LADYSMITH

The KwaZulu-Natal provincial government has noted with concern, the reports of illegal mining activity taking place at KwaHlathi outside Ladysmith

Video : supplied #DiamondRush pic.twitter.com/zy1oyIhPQz

— KZN Provincial Gov (@kzngov) June 13, 2021
KZN Premier calls for order amid reports of a "diamond rush" in Kwahlathi near Ladysmith https://t.co/Vi7DE263oC#ArriveAlive #DiamondRush @AlphaAlarms77 pic.twitter.com/uXxvZt2IWX

— Arrive Alive (@_ArriveAlive) June 14, 2021
#DiamondRush in #Ladysmith, KwaHlathi pic.twitter.com/ZotkILw4z1

— Dimbane ka Dimbane PhD, Pr. Pln (@TheBlackspice) June 13, 2021
The South African government rushing KwaHlathi outside Ladysmith for the #DiamondRush pic.twitter.com/AYd0J7tqmD

— JJ Sesing (@JjSesing) June 13, 2021
Yesterday's broadcast of Carte Blanche focused on illegal mining in another province of South Africa – the liquidation of a gold mine in Krugersdorp left one of the country's worst environmental disasters behind… and running gun battles of rival Zama Zama gangs are leaving communities fearful. If you're overseas, you can watch this episode from tomorrow (Tuesday) on Showmax International.