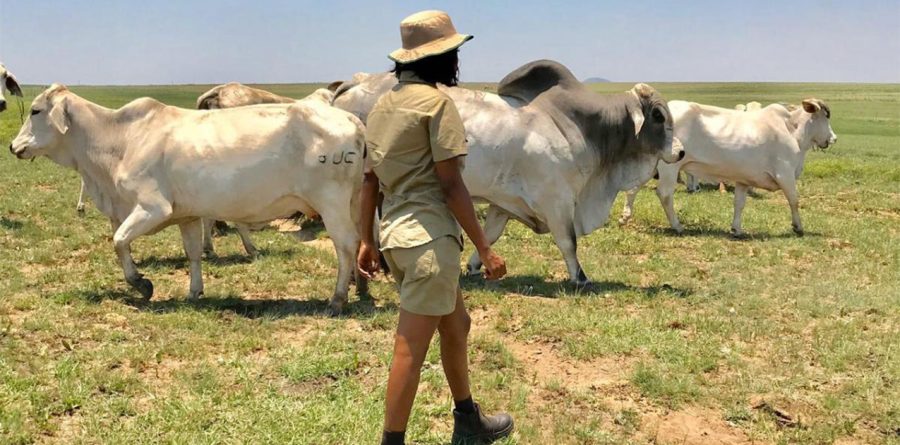 SA government comes to the aid of young female KZN farmer
Despite the challenging odds including the devastating floods that ravaged parts of KwaZulu-Natal, South Africa, young farmer – Ayanda Zulu – has not had to despair but instead has been able to continue to pursue her love for farming, thanks to governmental support. Zulu received funding through the Department of Small Business Development's Small Enterprise […]
Despite the challenging odds including the devastating floods that ravaged parts of KwaZulu-Natal, South Africa, young farmer – Ayanda Zulu – has not had to despair but instead has been able to continue to pursue her love for farming, thanks to governmental support.
Zulu received funding through the Department of Small Business Development's Small Enterprise Development Agency (Seda) which assisted her with equipment for the farm.
During a visit to her Kwa-Vuma Farm, in eShowe, Zulu told SAnews that had it not been for the SA government's assistance, it was not going to be easy for her to continue farming.
Zulu started Wenzokuhle Holdings in KwaNongoma in the Zululand district in 2013 (although it was only formerly registered in 2919), and then started livestock farming in 2022 after moving to eShowe in March. Wenzokuhle specialises in crop and animal production (livestock breeding).
Having lost some of her livestock and equipment due to the floods in 2022, Zulu approached Seda for assistance. The agency came to her rescue through its Flood Relief Scheme and her application was approved – with an amount of R918 240 for equipment, machinery and livestock.
The farm employs 10 permanent employees and the number increases during the harvest and sowing period.
Zulu traces her farming roots to her grandfather's deserted farm in Nongoma where she planted beans and also kept livestock like goats and cows for selling.
However, she encountered challenges as the area in Nongoma is very dry and not conducive for livestock. She was then forced to relocate to eShowe, Vuma area where she bought the farm at which she is currently based.
"During the floods, it was not easy to continue farming. Floods really affected my operations, it was really bad. I thank government for their assistance," Zulu said.
She also added climate change is a threat to livestock farming.
"Climate change is a big threat to livestock farming. But I wouldn't change it for the world, if I had another opportunity to choose, I'll choose farming and my ambition is to run an abattoir, invest in the food value chain, breeding, feedlots, slaughter and running multiple butcheries.

"Currently I have 165 goats and about 200 cattle, I hope to see the farm growing and having more cattle."
Apart from livestock farming, Zulu also plants maize and beans.
Majuba College student, Nelisa Nhleka, is currently doing her internship at Wenzokuhle.
"Since I came here, I have learnt a lot about cattle and farming in general. It is important for young people to consider a career in farming so they can create job opportunities for other young people," she said.
The Department of Small Business Development had to reprioritise its budget for the 2020/21- 2022/23 financial years as it sought to rally resources for the affected businesses during the COVID-19 pandemic, July 2021 unrests and floods.
Wenzokuhle Holdings (PTY) Ltd is amongst businesses that were funded through the Flood Relief Fund and has since emerged out of the woods and shown some resilience anchored by the support from the department and its agencies including the Small Enterprise Finance Agency (sefa) and Seda. – SAnews.gov.za