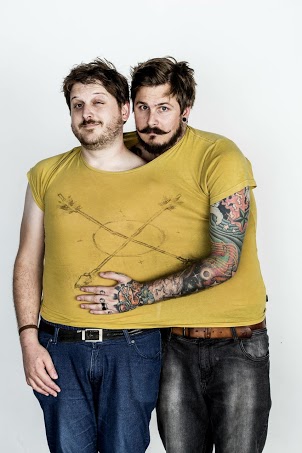 Exclusive: Interview with PAYDAY song duo, Derick Watts & The Sunday Blues
Cape Town comedy duo Derick Watts & The Sunday Blues have a 'kiff' new video called Payday, being billed as "their most ridiculous song yet"….and with lyrics like "when I get my paycheck, it's like my life's begun, When you have no paycheck it's like you're having no fun" – everyone can relate! Here the guys […]
Cape Town comedy duo Derick Watts & The Sunday Blues have a 'kiff' new video called Payday, being billed as "their most ridiculous song yet"….and with lyrics like "when I get my paycheck, it's like my life's begun, When you have no paycheck it's like you're having no fun" – everyone can relate!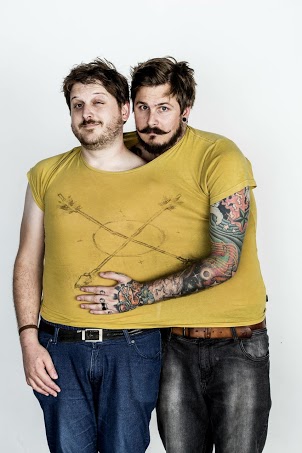 Here the guys speak to SAPeople about peasant burgers, chest hair and orange bank notes…
1. What's the inspiration behind Payday?
NIC: The joy of seeing your account with numbers in it is a feeling everyone can relate to, as well as the crushing soul destroying feeling you get a few days later when your account is nearly empty again after all your monthly accounts. I felt this was something a lot of people can relate to, so I guess that was the inspiration.
GARETH: The peasant burger is real! I have had many times in the past where peasant burgers and two-minute noodles have kept me going.
2. How much fun did you have doing the video? It features guest appearances by Jack Parow, Jeannie D, former-Miss South Africa Cindy Nell & The Kiffness. Did anything go horribly wrong? Did you already know Jack Parow? 
G: We had a lot of fun, but it was a lot of hard work as well. Long days! Nothing really went wrong on the shoot, to be honest – no exploding crew members or forgetting the lens cap on the camera. We've known Jack Parow for many, many days now. Like, over twelve days.
N: We dropped a jar of Nutella in Spar. We said we would pay for it, but then we forgot to. That will haunt me for the rest of my days.
3. Do you do live gigs in Cape Town (or anywhere else in South Africa) – and where will you be next?
G: We have done a couple, and are looking to do more. We're wanting to put together a really good show that isn't just us getting up and singing one song after the other. A story or theme tying it all together is the goal.
4. Many of your videos have been hugely successful virally.  Do you also make it into the Top 10 playlists on radio in South Africa? 

G: Our songs have been played on a lot of stations here and overseas, which is obviously a nice feeling, but we haven't any chart success as of yet. Perhaps we should sing about getting crunk in the club or whipping our chest hair back & forth?
N: Nothing playlisted on radios just yet. I think because the content is more comedic maybe they don't see it as real music?
5. Are you huge 'Breaking Bad' fans? (We noticed the references…and of course there's your epic 'Facebook Look Back – Walter White' upload.)

G: Absolutely!
N: Yes, I forced Gareth to start watching…he still hasn't properly thanked me.
G: Thank you, Nic.
6. Pls finish these sentences:
a) I love South Africa because…

G: …biltong can solve any problem we come up against.
N: …it's better than loving Australia
b) I wish South Africans would…
G: …give me money in the street. I like the orange bank notes.
N: …braai once a week or else face paying a hefty fine.
c) South Africa has made me…
G: …sweaty.
N: …a really nice jersey.
Thanks guys!
Video: Watch PAYDAY (feat. Jack Parow & The Kiffness) – Derick Watts & The Sunday Blues
In the words of the YouTube blurb, 'Payday' chronicles the "journey of two ordinary young men who splurge out and live large on payday, their spending sprees making those of celebrities like P. Diddy and Nicki Minaj look dull in comparison!
"Alas though, reality comes back to bite them and they have to figure out how to get by for the rest of the month until payday comes around again. Will the boys learn their lesson this time around?"
MORE INFO ABOUT #PAYDAYSONG
Derick Watts & The Sunday Blues on Youtube
Payday on iTunes
Payday Lyrics