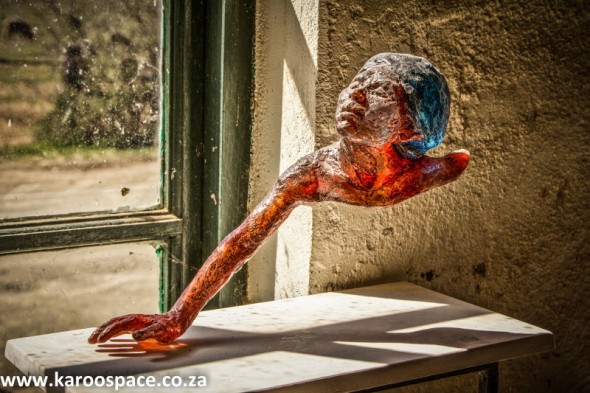 KAROO DIARY: The Sculptor of Nieu-Bethesda
As you stroll past Frans Boekkooi's studio in the Karoo village of Nieu-Bethesda, you will see the likeness of playwright Athol Fugard looking down from the doorway. Apart from the amazing image of Athol – creative patron of Nieu Bethesda – the next work of art to catch your eye inside will be Visman Steier […]

As you stroll past Frans Boekkooi's studio in the Karoo village of Nieu-Bethesda, you will see the likeness of playwright Athol Fugard looking down from the doorway.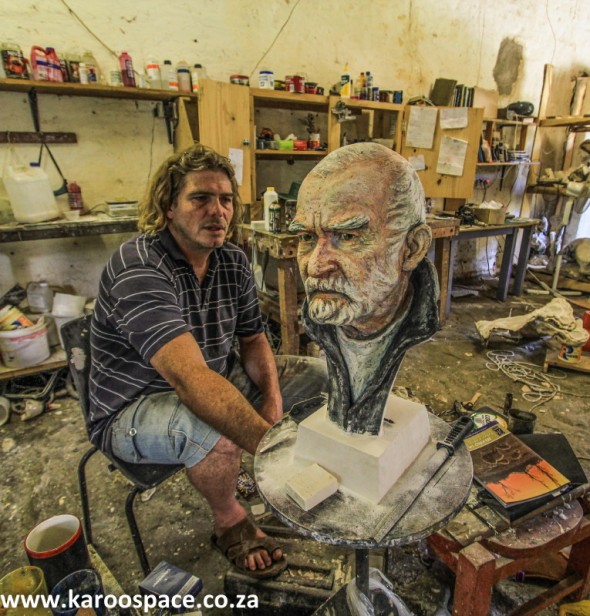 Apart from the amazing image of Athol – creative patron of Nieu Bethesda – the next work of art to catch your eye inside will be Visman Steier (Fisherman Stagger). It's based on an Etienne van Heerden character and is far more elegant in its poise, its fixin'-to-drop mode, than the title would suggest.
There's a half-completed figure of a boy sitting on a high stool. But above him, in the hover position, is a dark angel. He is the result of a series of inspirations that came to Frans Boekkooi, one of the most singular and insightful artists to have come to live in the Karoo in the past decade.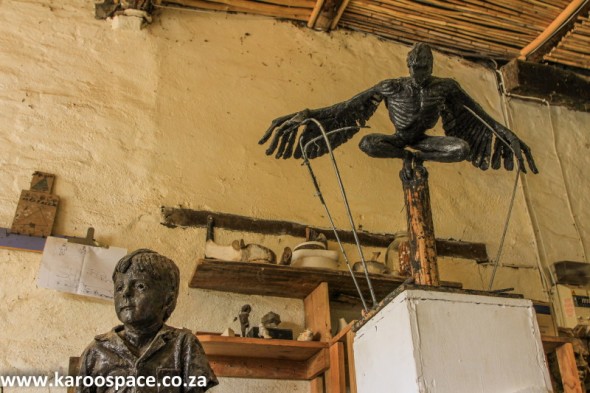 He's called the figure Karoo Angel. Your mind's eye places it high up in the Camdeboo, looking out over the Valley of Desolation, bearing silent witness to the vast plains of South Africa's heartland.
Frans Boekkooi, his wife Heidi and their children (Leighton, Nina Rose and Walter) used to live in Port Elizabeth, and would sometimes come up here into the Sneeuberge to visit friends.
About five years ago, Frans came to Nieu Bethesda to finish some important commissions.
"I spent three months here, in the quiet. My head space changed. There's something about the Karoo. The feeling, the history, the people who make you feel so welcome. The light, the stars at night, the silence.
"It's like you've come home. It's a place that feels familiar, even though you may not have been here before. And it seems to bring out a creativity in so many people."
When Heidi arrived to pick him up, she stayed on and the Karoo bug bit her as well. Not long after, they bought the old smithy.
Frans Boekkooi is fascinated with the movement of children. Many of his sculptures reflect their unselfconscious abandonment to the present.
"I'm inspired by their innocence."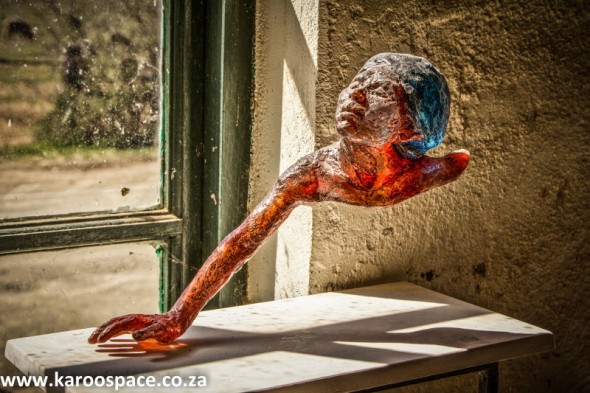 Some of his most famous pieces are of girls skipping and swinging. He gives them an incredible poise – improbably balanced on one little point, like a toe, or a rope, or a heel.
He'll sculpt famous people as well, execute commissions and then sometimes others, like Visman Steier and Karoo Angel, demand to take form. He uses a concoction of different media: wax, metals and resins. Not so much the clay, because it's difficult to keep damp in the dry Karoo climate.
And although they generally end up being slim, finely balanced pieces, their delicacy is often created by the use of power tools, which their dog (a bitch) called Jack hates. The minute Frans hoists a welding torch, Jack starts whining and attacking a nearby bush.
One's eyes dart back into the gloomy recesses of his studio, at the winged figure. Frans says that one day the Karoo Angel might do more than watch. There might be a touch of Archangel Michael and his avenging sword to this brooding presence in time.
And if ever the Karoo needed a guardian angel, it's right now…
Text & Photographs by Chris Marais