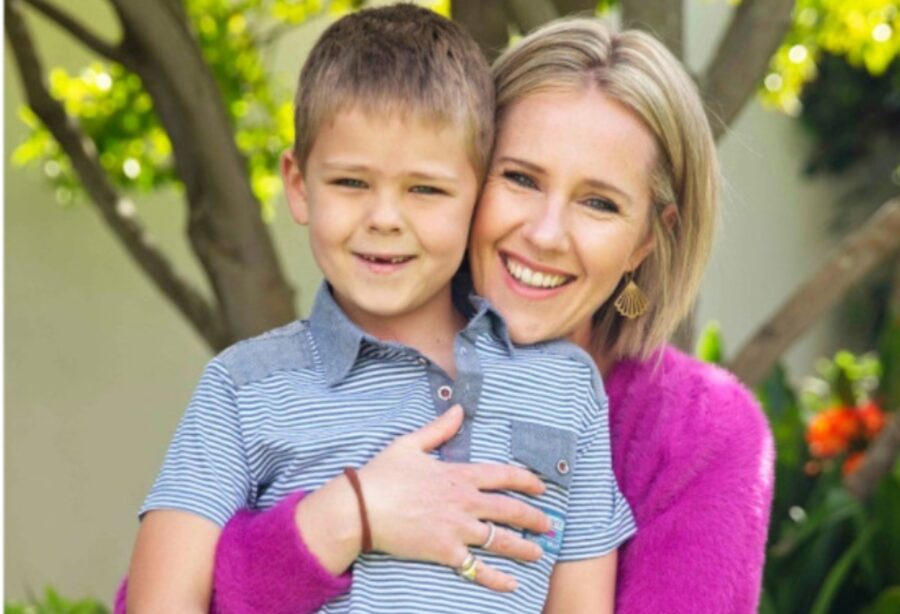 Landmark Procedure Means Mom Can Finally Swim in Sea with her Son
At last, a mother has been able to fulfil her long-cherished dream of swimming in the sea with her son, after undergoing a first-for-Africa procedure to relieve the debilitating effects of secondary lymphoedema, which affected one of her legs. And it's thanks in large part to a couple of incredible female medical experts who travelled […]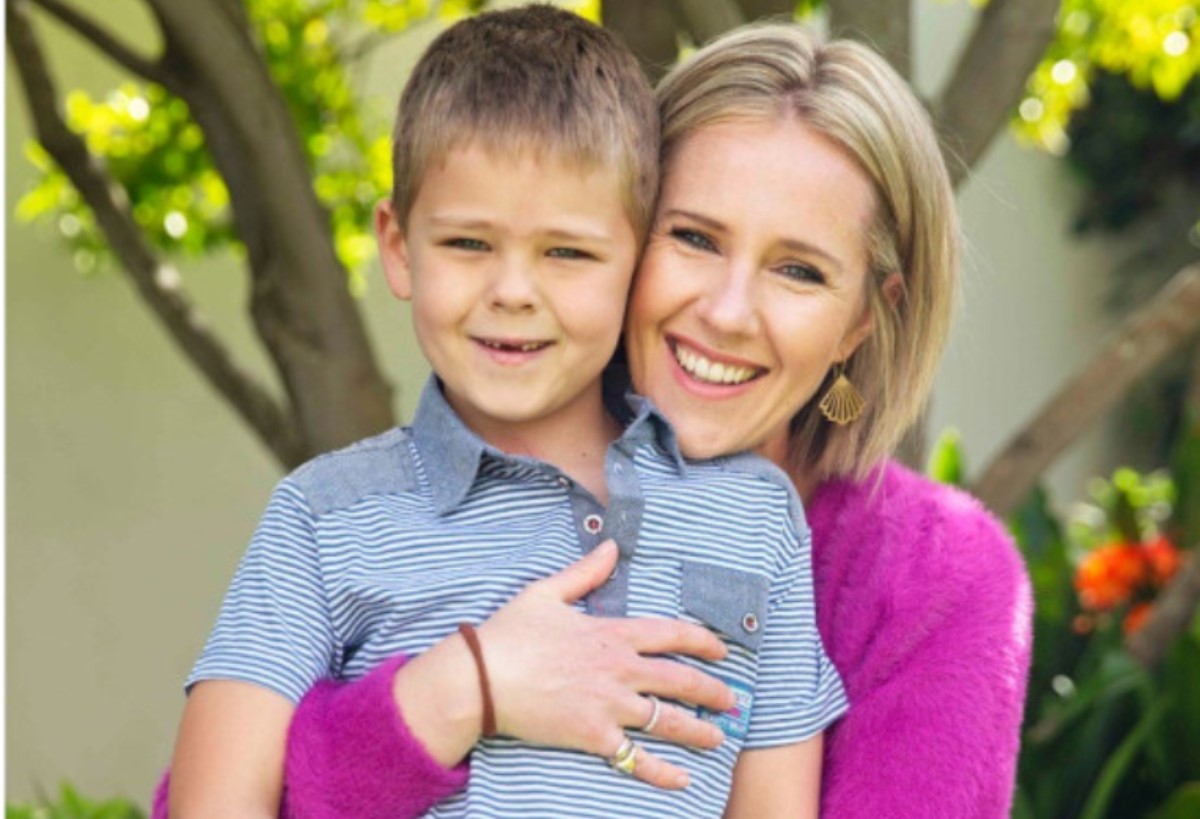 At last, a mother has been able to fulfil her long-cherished dream of swimming in the sea with her son, after undergoing a first-for-Africa procedure to relieve the debilitating effects of secondary lymphoedema, which affected one of her legs. And it's thanks in large part to a couple of incredible female medical experts who travelled from South Africa to Sweden to learn the procedure.
This time last year, 39-year-old Simone Blanckenberg of Cape Town was in dire straits with severely limited mobility. She could no longer run or sit on the floor to play with her six-year-old son, Murray.  The two longed to swim together in the ocean, but this seemed an impossible dream because Simone had been living with secondary lymphoedema for more than eight years following a battle with cancer that started when she was 23 years old.
But on 6 March last year, just as COVID-19 was starting to spread in South Africa, a landmark procedure set Simone's life and that of her young family on an exciting new course.
A life-altering procedure
The life-altering debulking procedure, which took approximately six hours, was performed with the aid of power-assisted liposuction by vascular surgeon, Dr Laura Redman, at Cape Town's Netcare Christiaan Barnard Memorial Hospital.
Commenting on the intricate procedure, Dr Redman explains that the surgery itself forms only a small part of a strict, lifelong regime that started while Simone was still on the operating table.
"Lymphoedema therapist, Suzi Davey, and I travelled to Sweden to learn how to do the debulking surgery from the iconic Dr Håkan Brorson at Malmö University Hospital so that we could achieve the same excellent outcomes in South Africa as he and his team have delivered in Sweden for the past 30 years. We were most fortunate to be given this opportunity as Dr Brorson only trains four teams of doctors and therapists per year. So far Suzi and I are the only South African medical team to have been trained in the procedure and the post-operative care regime," says Dr Redman.
"Dr Brorson, who is the world's leading authority in the field, was well ahead of his time when he linked liposuction as a solution to lymphoedema in the late nineteen-eighties. At the time, Dr Brorson had already demonstrated consistently good results in his patients for more than a decade. This is all the more incredible, given that liposuction on lymphoedema patients was still considered to be experimental in 2009."
"While liposuction is not novel in the field of cosmetic surgery, what we have done here is a substantially different medical procedure. In brief, it involves the removal of abnormally formed adipose tissue, which is lymph fluid that is not cleared out of the limb and turns into fat. The procedure was done using specially developed cannulas that are connected to a vacuum pump, which creates a negative atmospheric pressure. To facilitate and speed up surgery, power-assisted, bloodless liposuction, which uses a vibrating cannula, is used. In Simone's case this was particularly important as she has a rare bleeding disorder that results in poor clotting after surgery, which is a significant co-morbidity," notes Dr Redman.
A lifelong post-operative care regime
Looking back on the surgery and post-operative care regime, Davey says Simone's quality of life has improved ten-fold in the year since her procedure was performed. "Simone started healing within a week after the operation and coped very well with her post-surgical symptoms. To prevent the lymph and fat tissue from building up once more, and to stop the associated complications of lymphoedema, a strict lifelong regime of compression is being followed by Simone," she notes.
"Compression garments are 'medicine' for lymphoedema. As Dr Brorson has so often said, 'they are like insulin for patients with diabetes.' Patients such as Simone must therefore be carefully managed pre-operatively with optimal compression and must remain compliant post-operatively to ensure the very best results," explains Davey.
Simone's journey with a melanoma and lymphoedema
Recounting her healthcare journey, Simone says she was diagnosed with a malignant melanoma on her right shin in her early twenties, which was successfully treated. "However, by the age of 29, the cancer came back more aggressively, this time in my lymph glands. I, therefore, underwent surgery as well as radiotherapy. At the time I was warned that lymphoedema could result from the treatment and I therefore pro-actively saw a lymphoedema therapist.
"When I fell pregnant with my son and underwent a caesarean section, my lymphoedema was triggered and a few weeks after his birth my leg blew up out of proportion. It just got worse and worse. I continued with treatment, but nothing could contain it.
"My life was severely curtailed by lymphoedema and I was suffering from severe back and hip pain. In addition, the clothing and footwear that I was able to wear became increasingly limited. All of this impacted my mental well-being. Without surgical intervention, I believe I would no longer have functioned normally. I would have succumbed to increasing bouts of cellulitis, would have needed hip and knee operations and would ultimately have become a burden to my family."
"After much research, and talking to many doctors both locally and internationally over a period of more than five years, the debulking surgery that Dr Redman proposed seemed like the only option available to me.
"It is incredible to think that Dr Redman and Suzi Davey travelled all the way to Sweden, self-funded their training with Dr Brorson and that Dr Redman then actually acquired the equipment from Europe," says Simone.
All's well that ends well
"Dr Redman believes that she can help those who suffer from this debilitating condition and I am living proof of that. The difference this surgical procedure has made to my quality of life is indescribable. I have never felt better. On days such as today, after a 10-kilometre run, I cannot help but marvel at how far I have come in the space of a year.
"Nowadays I can join Murray on the floor, in the waves and wherever our adventures may take us," concludes Simone.
***
Compiled by vascular surgeons: Dr Martin Forlee, Dr Vinesh Padyachy and Dr Laura Redman ahead of International Vein Week – April 2021
About lymphoedema
The condition of lymphoedema refers to gross swelling of a limb from poorly draining lymphatics. When lymph does not drain, fluid collects in the arm or leg causing it to swell. The swelling may be worse at the end of the day after applying gravity to the limb and somewhat relieved with elevation of the limb or by compression garments.
However, over time, lymph fluid that is not cleared out of the limb turns to adipose tissue (fat). It is still being researched as to exactly why this happens, but this fat accumulation is irreversible.
What causes lymphoedema and how common is it?
Lymphoedema is classified as Primary and Secondary lymphoedema. Primary lymphoedema is rare and occurs in 1:100 000 people. It is a congenital condition relating to a developmental problem of the lymphatics and can present at birth, in adolescence or in young adulthood.
Secondary lymphoedema is far more common and usually occurs as a complication of treatment of certain cancers (lymph node, breast or pelvic cancers) where one has had surgery or radiotherapy in the armpit or groin, resulting in damage of the lymphatics and an inability for the lymph to drain. The actual incidence is unknown and depends on
the cancer type and severity. It is thought to range from 2 to 5 in 10 people, and with more treatment being undertaken for cancers, it is becoming more prevalent.
How do I know if I have this condition?
One would recognise this condition by swelling in the arm or leg. This is typically in one limb only – although can be in more than one, and is a painless swelling that progresses over time. Initially the swelling improves if the limb is elevated or compression is worn, but if left the swelling worsens and elevation does not relieve it, in which case it is important to seek medical attention.
One would be suspicious of secondary lymphoedema if one had undergone surgery in the armpit or groin or received radiotherapy of the chest/armpit or pelvis/groin and then developed swelling. Of course, it is vital to ensure the swelling is not from a deep vein thrombosis. However, this is typically a more gradual painless swelling compared to a thrombosis, which is sudden and painful.
Can Lymphoedema be treated?
Lymphoedema is very difficult to treat as it cannot be reversed nor cured. However, it can be managed, and surgical techniques are performed to improve outcomes as well as quality of life. Conservative treatment includes manual lymph drainage, correct compression garments and lifestyle optimisation including skincare, diet and exercise.
Surgical intervention includes microsurgical techniques such as lymph node transplant and lymphatico-venous bypasses. Liposuction is another technique that will remove all the accumulated adipose tissue, but does not correct the underlying condition.
How successful is the treatment?
Compression and conservative measurements help congested lymph fluid to be mobilised and prevents accumulation of lymph fluid and its complications. Microsurgical techniques may help maintain limb condition but will not reverse limb size if adipose tissue has
accumulated. The bypasses also have the risk of blocking up (up to 50% in one year).
Liposuction is indicated where fluid is managed by compression, but adipose tissue has increased limb volume irreversibly. Liposuction will remove the adipose tissue to the desirable limb size – matching the contralateral limb, however, this needs to be maintained with lifelong compression for success, otherwise the lymph and adipose tissue will re-
accumulate. If one is compliant, success is attainable and there is a significant improvement in quality of life.