Lewis Pugh Embarks on Toughest Swim of His Life in Greenland: #ClimateSwim
Tomorrow – Wed August 25 – legendary South African endurance swimmer Lewis Pugh will attempt the toughest swim of his career, 10km across Greenland's Ilulissat Icefjord. The UN Patron of Oceans, who is on a mission to fully protect a third of the world's oceans by 2030, says there is no better place in the […]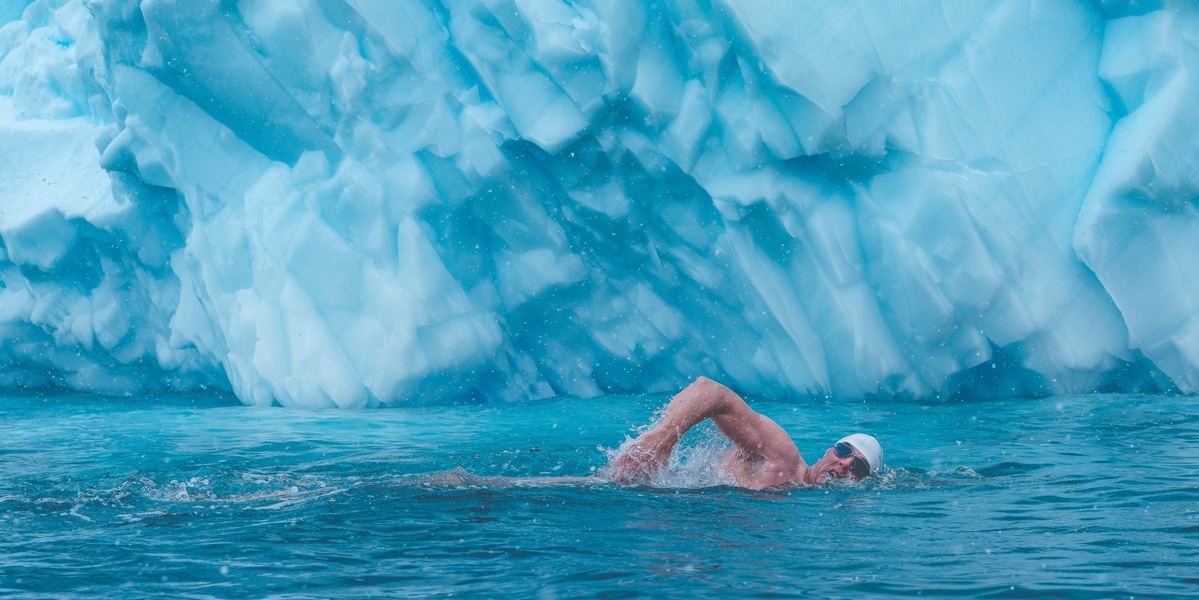 Tomorrow – Wed August 25 – legendary South African endurance swimmer Lewis Pugh will attempt the toughest swim of his career, 10km across Greenland's Ilulissat Icefjord. The UN Patron of Oceans, who is on a mission to fully protect a third of the world's oceans by 2030, says there is no better place in the world to show the dramatic impact of the Climate Crisis. "This is Ground Zero," he says.
Sixty years ago this swim would not have even been possible. The water remained frozen, even in the summer. Today, Lewis said he had his final training session. He said: "At 1°C, every minute feels like a lifetime."
Writing on his Facebook page yesterday, as he prepared for the big swim, Lewis (51) said the tension has been building.
"The water temperature is dropping as the glacier is spewing out icebergs. Doubts set in. It's so intimidating – we thought we would have mostly 4°C water. But it looks like it will be mostly 2°C. That's a vastly different world."
Former British diplomat Simon McDonald has joined the expedition, providing a "wonderful boost":
"Simon recommends that I segment my thoughts. Each day I just have one job: to do that day's swim to the very best of my ability. I must focus on that and nothing else. I have to ignore tomorrow. And the day afterwards. And the day after that.

"Ridley Scott's team have to film like unobtrusive flies on the wall. Otherwise, I'll start thinking about 2 things – swim and film – and that will be fatal."
During the swim, Lewis – who grew up in the UK, Malta and South Africa – will be breaking it down into minutes, not distance. "We do not think about distance. Time is constant. The goalposts don't shift. I count strokes per minute. At the start of the swim, I manage 29 per minute. Then towards the end, as the cold digs deep and the pain gets so intense that my fingers feel like they will explode, I get up to 33 strokes per minute."
Lewis wishes he could take all world leaders to Greenland to witness what is happening. Fortunately, he at least has Simon… a wonderful raconteur who keeps conversations flowing fast at meal times, a necessary distraction. "We talk films, politics, Olympic Games, America's next election … everything except the swim. We do not speak about the swim tomorrow, because that is for tomorrow.
"All this involves focussed discipline. We go to bed around midnight. And breakfast is at 9 am. Ready for the new day. Each day I must think about one thing, and one thing only."
Yesterday, however, Lewis allowed himself to think of one other thing – his mother, who sadly passed away exactly a year ago. He dedicated his training to her.
Simon says it is a privilege to be able to join Lewis and his core team for his first swim in Greenland. Simon says: "Greenland ice sheet is melting, in South at rate 20x the Arctic average. Glaciers are retreating & thinning everywhere… @LewisPugh is swimming across Ilulissat Icefjord Flag of Greenland to make us think what that means for all of us…"
Legend has it that apparently the iceberg that sank the Titanic on 15 April 1912 was calved at Ilulissat Flag of Greenland, where many icebergs are born (some over 1km high!).
Under the training of Dr Max Holloway, Lewis has been preparing how to navigate his way through the icebergs and sharp brash ice. He says this week's cold water adaptation has been some of the toughest swimming of his life.
To ensure his safety, Lewis swallows a capsule 90 minutes before swimming. "It records my core body temperature before, during and after each swim. This is essential for my team to work out how long it is safe to stay in the Arctic waters before they pull me out."
Even out of the water, he admits: "Once you've experienced extreme cold, you never quite thaw out. You remember it in your bones…"
Follow Lewis Pugh on Twitter as he sets off on this incredible feat, and brings attention to the Climate Crisis facing the world.
This is the Greenland ice sheet melting. It is an existential threat to life on Earth. #ClimateSwim pic.twitter.com/q7saDL180m

— Lewis Pugh (@LewisPugh) August 24, 2021
My final training session before the #ClimateSwim begins tomorrow. At 1°C, every minute feels like a lifetime. pic.twitter.com/bjOeketrVk

— Lewis Pugh (@LewisPugh) August 24, 2021
If Greenland ice sheet melted, 🌎's oceans would rise 7 metres. That would devastate every coastal city. And obliterate Bangladesh 🇧🇩 & every low-lying country. @LewisPugh's message from 🇬🇱 this week: stakes couldn't be higher for @COP26 pic.twitter.com/nHKGG9wL5M

— Simon McDonald (@SimonMcDonaldUK) August 24, 2021
.@LewisPugh is enduring pain of 🏊‍♂️ in 1°C seawater to dramatise plight of 🌎's ice ahead of @COP26. 60 years ago, his swim wouldn't have been even theoretically possible: these waters were frozen, even in summer. He's ready to take on Ilulissat Icefjord 🇬🇱. Film by @mboothp pic.twitter.com/pwJ8l1P59P

— Simon McDonald (@SimonMcDonaldUK) August 24, 2021
Land of midnight sun: at Ilulissat 🇬🇱, ☀️ rises on 20 May & doesn't set again until 24 July. Two days ago, when I arrived, it set at 22.01. But nights drawing in rapidly. By time I leave in 3 days, 🌅 will be 21.33. Longest night begins on 30 November & lasts until 12 January. pic.twitter.com/yMPA73omOW

— Simon McDonald (@SimonMcDonaldUK) August 22, 2021
ANNOUNCEMENT: In two weeks I will attempt the toughest swim of my life across Greenland's Ilulissat Icefjord. There is no better place in the world to show the dramatic impact of the Climate Crisis. This is ground zero. 🏊‍♂️🇬🇱🧊 #ClimateSwimhttps://t.co/hJfSMOXVBr pic.twitter.com/XPq8cnxHhU

— Lewis Pugh (@LewisPugh) August 11, 2021