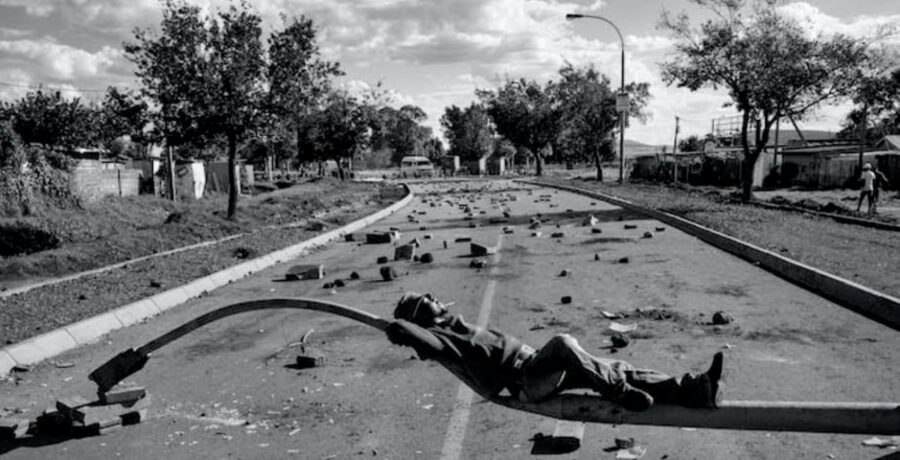 Lindokuhle Sobekwa's powerful personal journey as a photographer in South Africa
The winner of the prestigious FNB Art Prize documents township life in lockdown and rural life in a former homeland.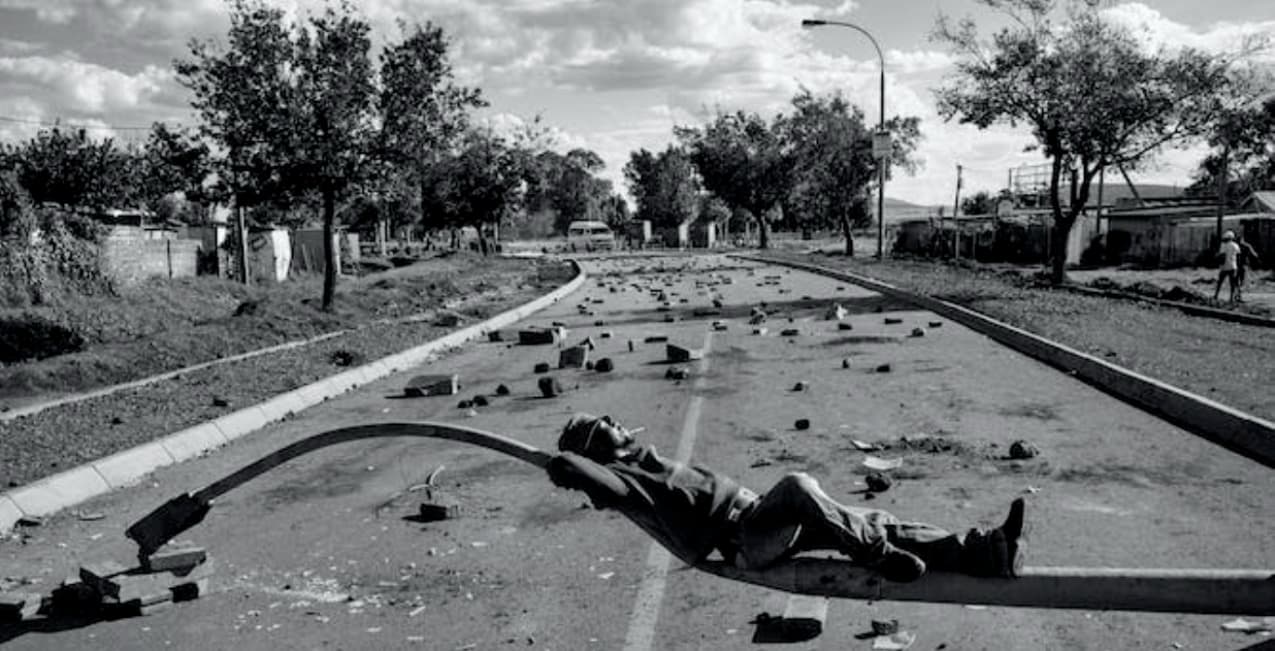 Lindokuhle Sobekwa has been awarded South Africa's 2023 FNB Art Prize. He becomes the first artist to use documentary photography as his primary medium to win the prestigious competition.
Born in Katlehong in 1995, Sobekwa began learning photography skills in 2012, through the Of Soul and Joy photography education programme in Thokoza township, where his family had moved. He knew, as a young boy, that he thought in images, visualising what he experienced. Encountering cameras, he realised there was equipment – a small machine, a perforated roll of clear plastic, and a chemical reaction – able to externalise his thought processes.
Thokoza, like many settlements on the outskirts of South African towns and cities, exists because of colonial and apartheid spatial segregation. Black South Africans weren't permitted to live in "whites only" residential areas, yet provided essential, low-paid labour for the city. They created accommodation from whatever materials they found to build shelter.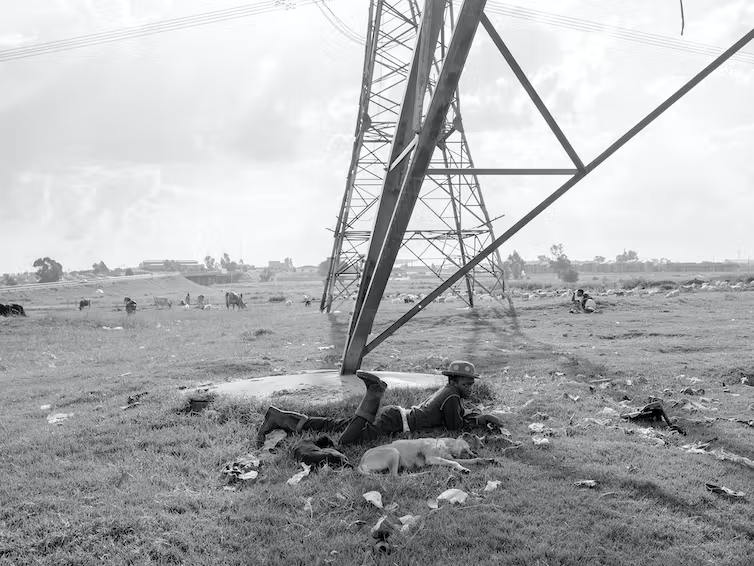 Though Thokoza is only 26km away from Johannesburg, the country's commercial metropolis seems as distant as another planet. The destitution of many in townships, as well as the abiding commitment to one another – necessary for making life possible in precarious conditions – is evident in Sobekwa's work.
A scholar of visual identities and the legacy of documentary photography, I met Sobekwa when he was awarded a scholarship to study at Johannesburg's Market Photo Workshop in 2015. I've conducted numerous interviews about the development of his projects that I draw from here to consider his work.
I've been struck by Sobekwa's clearly articulated goal: to represent Thokoza in ways that divert from how it was imaged in the 1980s, during apartheid – as a location of spectacular instances of violence against police, and each other, instigated by shadow government forces.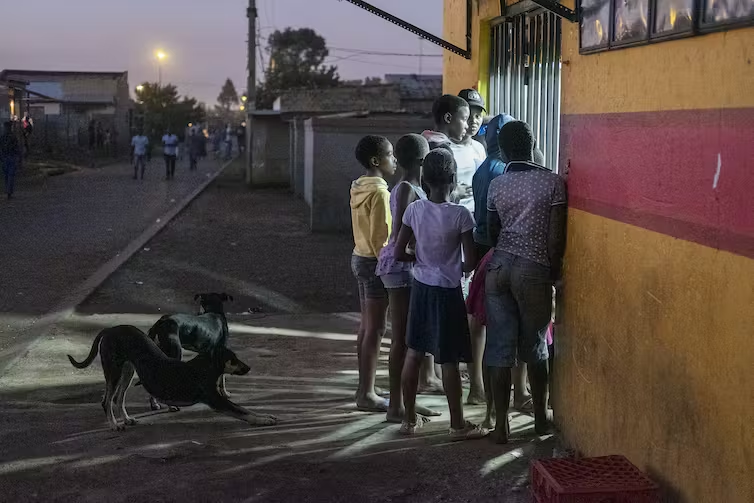 I interviewed him this year, about his upcoming book, I Carry Her photo with Me. I was taken, again, by his ability to visually conceptualise the larger threads of South African history: migrations to urban areas for income, the violent separations of families, the disappearances of loved ones into the bowels of the gold mines.
These disruptions left wounds in family narratives that never healed. Photography became Sobekwa's way to create a tentative, living connection with what was lost, to find a way forward. His exploration of internal struggles, and the external conditions that stamped his own family – all that which remains unspoken and unspeakable – makes his images dance with dimension and depth, full of ghosts and uncanny presences.
Interconnected stories
The two series that won him the FNB Art Prize – Lockdown and Ezilalini (The Country) – could not seem more different. While Lockdown follows life in Thokoza, Ezilalini is a journey to Tsomo in the Eastern Cape province, from where his grandfather and then his mother migrated. Apartheid forcibly corralled black South Africans to small territories, giving the arable land on which they once lived for generations to white farmers. Unable to make a living in these so-called homelands, many sought work as migrant labourers in the cities.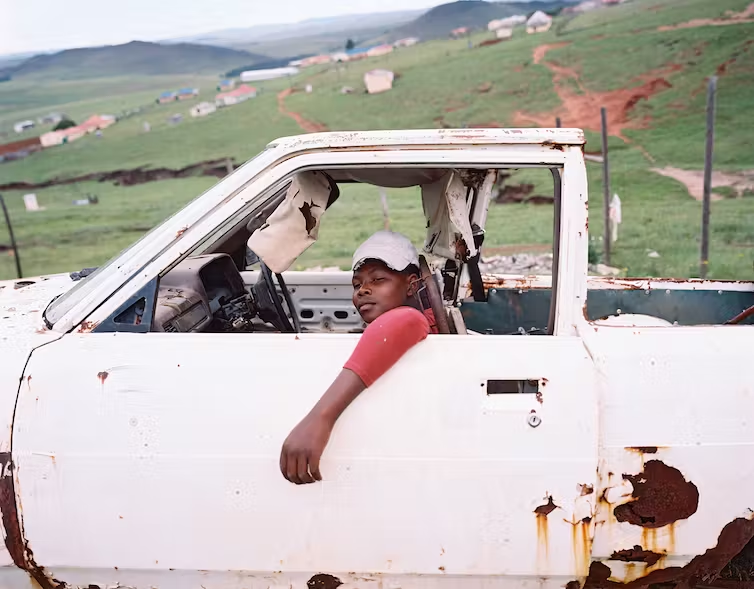 Lockdown and Ezilalini are two interconnected narratives. The history that created Thokoza is the same one that displaced so many from the beautiful vistas with which Sobekwa reconnects, on his return to the place in which the umbilical cords and bones of his blood relatives are buried.
Lockdown
During the COVID-19 lockdown in 2020, Sobekwa didn't have much work. With places of business closed, income dried up for most people in townships. The safety directives heard around the world sounded comical for those living in close proximity in shacks. But it was no laughing matter.
Sobekwa lived alongside the surreal – officials hammering on about social distancing – and the hyper-reality of his day-to-day life: the intimacies, interdependencies, economic desperation, and fears of those around him.
He took his camera and began to narrate his place. Sobekwa's photographs show the slow unfolding of how the pandemic exacerbated the violent conditions created by vast inequality. But there are also moments of beauty, love and community.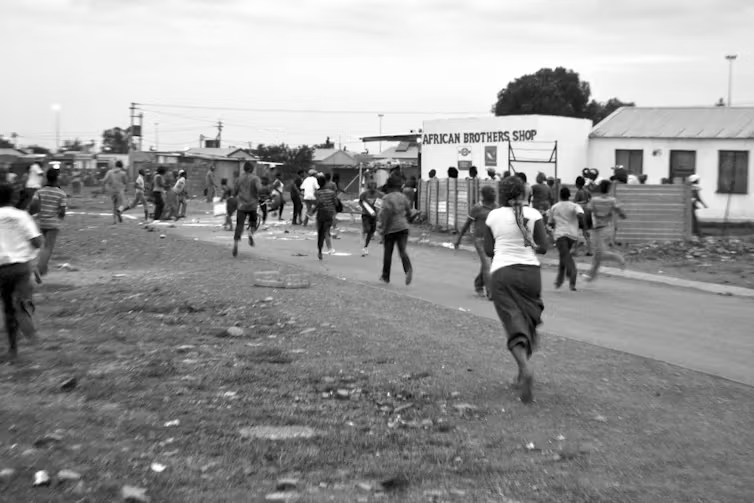 During twilight hours, a gaggle of young ones crane their necks to look through the iron bars of a tuckshop, perhaps getting cheap sweeties and crisps, a momentary escape from monotony. At night, friends gather around a charcoal brazier. On a hazy day, a young shepherd lies down on rough scrub at the foot of electricity pylons, surrounded by a thousand pieces of refuse. Two little girls walk through a corridor of lush flowers, deep in intimate conversation. A small fairytale, trapped in a larger global nightmare.
At times, people come to a breaking point amid the country's never-ending electricity cuts. They come together to protest, running from the same terrifying machinery of the state as their elders did. In one photograph, a man has draped his body over the long metal pole of a streetlamp, forcefully brought down across a road strewn with hurled concrete. In this blissful moment of respite, he seems oblivious to the chaos around him.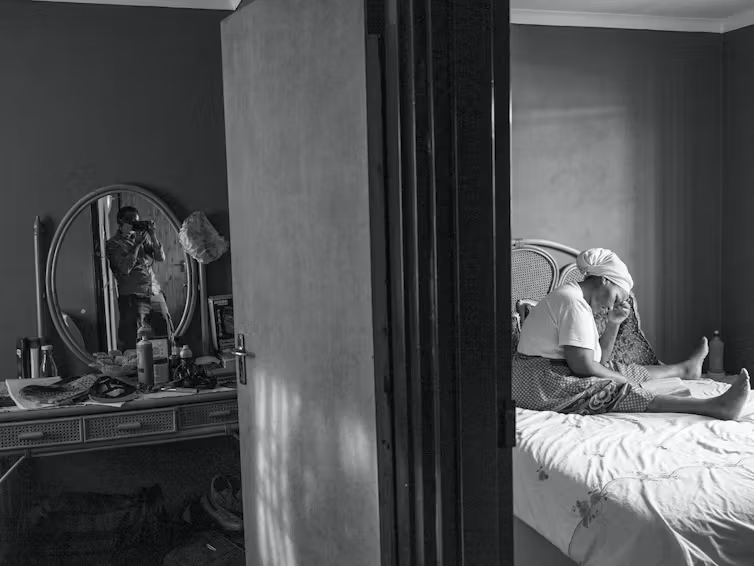 Sobekwa and his family, living in a shack without running water or electricity, were disproportionately susceptible to the virus. Visiting his mother, he photographed her in her nightly ritual. She's seated on the bed, shoulders slumped, deeply engrossed in reading her Bible, a ritual in which she had always found solace. Her worries are stilled for a moment by the promise and power of the Divine. She doesn't notice Sobekwa is witness to her meditation. But we – witnesses to what his camera sees – can spot him in an oval mirror, wearing a mask to protect his mother from all with which he may have come into contact.
One of Sobekwa's most powerful Lockdown photographs is of his partner's family home in Thokoza during a power cut. Here, the mechanism of escape is the phone screen and access to the internet. Each person is deeply focused on their own screen, which illuminates their face. This is the moment the video of Minneapolis police officer Derek Chauvin brutally strangling George Floyd to death spread across the world. Sobekwa's family were just as locked into the same horror, penned by white supremacy, as those in the US.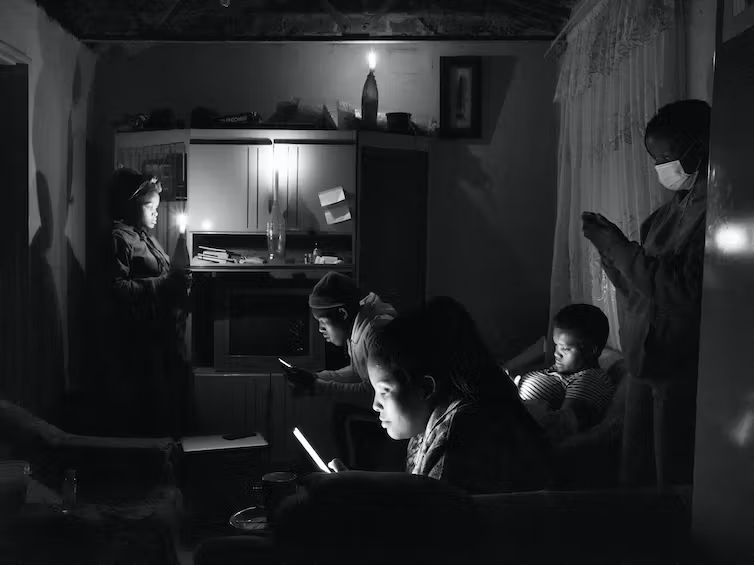 Ezilalini
Ezilaleni, starting in 2018, is an ongoing project motivated by Sobekwa's returns to Tsomo, where his sister Ziyanda lies buried. He began to think about the way disappearances were part of his family's narrative – his grandfather had left for Johannesburg, the city of gold, and never returned. His sister disappeared when he was very young.
Speaking with his grandmother, he was struck by her conceptualising of Johannesburg as a monstrous entity that "swallowed" her children. At the same time, he realised that those in Thokoza rarely spoke about the city as "home". When someone asked Sobekwa where he was from, they meant where his ancestral clan had come from. This is how people resisted being swallowed, wholly digested by a city that represented hardship, labour, and little pleasure other than through mechanisms of escape.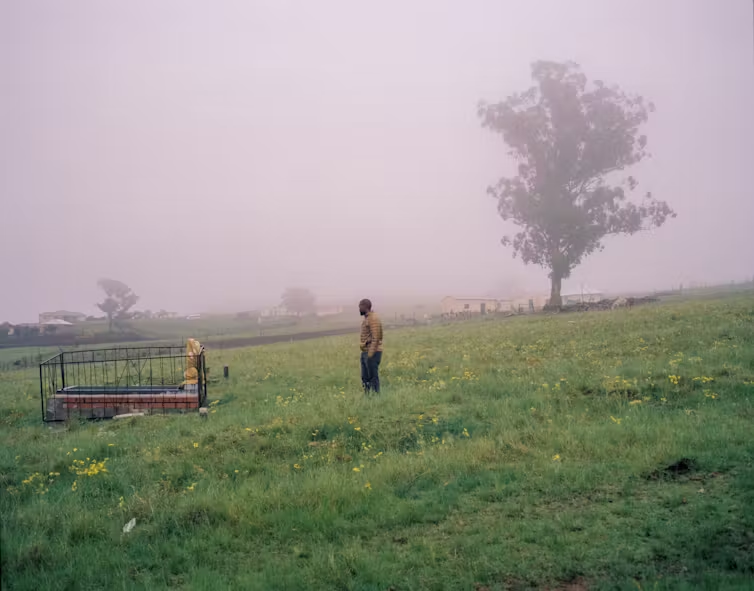 The return to Tsomo maps Sobekwa's explorative attempts to imagine what it might mean to belong. In tracing the lineage of his clan, uMthimkhulu (Big Tree clan), and where their journeys may have taken them, he is tracing the fragmentations created by colonial taxation and land expropriation, by the extractive processes of mining for which apartheid spatial planning was designed. It's a way of returning the disappeared to their home, to make a fragmented family whole again.
The land, as photographed by Sobekwa, carries the romance that other photographers before him have sought out and imaged. What I think is different is that the people present in his landscapes are persons, not decorative romances.
ALSO READ: SA Photographer wins 1st place in World Photography Awards
Reinventing tradition
Although the documentary tradition has a long history in South Africa, it has been associated with photography's perceived ability to witness and expose injustices, perhaps moving audiences to demand change. It is rarely recognised for its potential as a creative medium.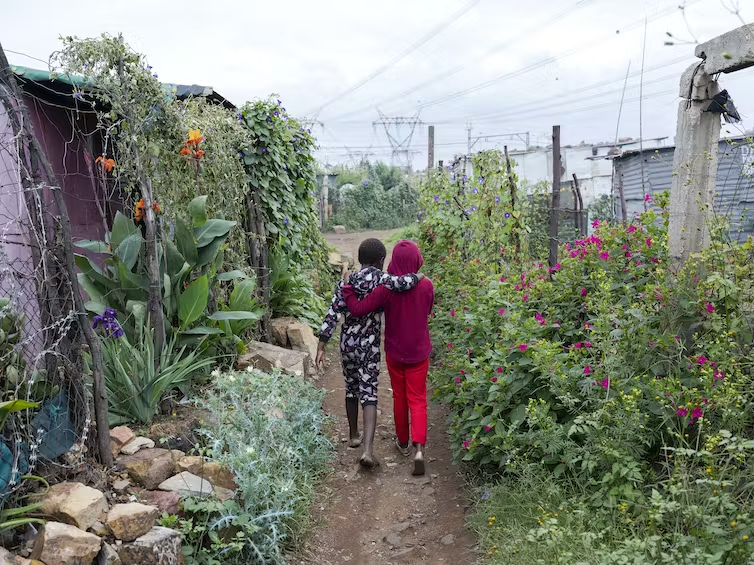 Recognition like this, Sobekwa says, allows the new generation of photographer-hopefuls at Of Soul and Joy to imagine that it is possible, for them, too, to find ways to narrate all that is unspoken and unwordable, to return themselves home.
Neelika Jayawardane, Associate Professor of English, State University of New York Oswego
This article is republished from The Conversation under a Creative Commons license. Read the original article.