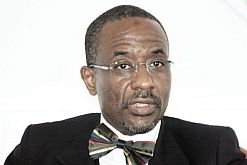 Nigerian banking guru is number one
Nigeria's Central Bank governor, Mallam Lamido Sanusi, has been voted Africa's Person of the Year 2011 by Forbes Africa, beating two Nobel laureates, a former president and the richest man in Africa. Sanusi masterminded the recovery of Nigeria's financial sector by introducing radical reforms when he started his tenure as governor of the country's central bank […]

Nigeria's Central Bank governor, Mallam Lamido Sanusi, has been voted Africa's Person of the Year 2011 by Forbes Africa, beating two Nobel laureates, a former president and the richest man in Africa.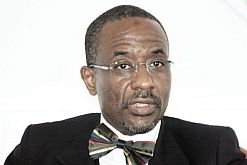 Sanusi masterminded the recovery of Nigeria's financial sector by introducing radical reforms when he started his tenure as governor of the country's central bank in 2009.
After taking up his appointment on 1 June 2009, Sanusi facilitated the 400-billion naira (US$2.6-billion or R21-billion) bailout of Nigeria's Afribank, Intercontinental Bank, Union Bank, Oceanic Bank and Finbank, and then dismissed most of those institutions' chief executives.
These reforms earned him the nickname "Sanusi Tsunami".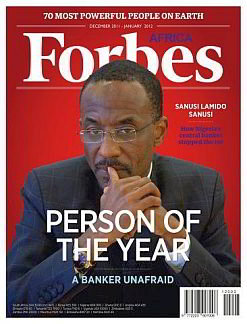 Sanusi won the epithet after bagging the most votes in an online poll by Forbes Africa, to find the individual who "for better or worse, has had the most influence on events of the year gone by".
He was pitted against Liberian president Ellen Johnson Sirleaf, Nobel laureate and Africa's first female head of state; Pedro Veron Pires, former president of Cape Verde and winner of the 2011 Mo Ibrahim Prize for Achievement in African Leadership; Africa's richest man Aliko Dangote; and the recently deceased Kenyan environmental and political activist and Nobel laureate, Wangari Mathaai.
Sanusi said: "Everything I achieved as governor is a collective result of the bank's 5 000 hardworking employees."
He urged the government to tighten fiscal discipline and discourage imports, saying: "You cannot be exporting crude oil and be importing refined petrol".
Nigeria is one of the world's leading petroleum suppliers.
The inaugural Forbes Africa Person of the Year awards ceremony was held in Lagos, Nigeria, on 29 November 2011.
Chris Bishop, the magazine's managing editor, said: "Those shortlisted for the award had significant influence on the events of 2011 on the African continent."
The awards ceremony also celebrated Sanusi's appearance on the cover of the publication's December/January issue, in which he is referred to as A Banker Unafraid for his banking sector reforms.
Forbes Africa was launched in late September 2011 and gracing its October/November cover was South African billionaire, Patrice Motsepe.
Motsepe said at the launch: "It's a huge honour to be on the cover of this prestigious magazine, as the people that will feature in this publication will reflect just how excellent entrepreneurship has become in Africa."
Entrepreneurship and excellence in an individual's field of profession seems to be a focus of Forbes Africa's content, as seen by the latest cover.
Sanusi honoured at home and abroad
Since assuming the role of governor Sanusi has been given honorary degrees from Nigerian universities and awards from leading publications.
He has received honorary degrees from, among others, the University of Benin and Benue State University.
He has been recognised as the 2010 and 2011 Central Bank Governor of the Year by The Banker – a high-profile magazine for the international banking industry; while Time magazine placed him in 2011's 100 Most Influential People in the World.
Various Nigerian publications including Silverbird, Leadership, The Nation and Tribune, named him Man of the Year between 2009 and 2011.
Forbes Africa has also recognised the richest people in Africa in the December/January edition which features Sanusi on the cover.
Africa's richest
The list of Africa's 40 richest people shows the continent's importance to the world by showing how companies catering for local taste or international needs are creating wealth in the continent.
According to the publication, the net worth of the combined 40 listed is $64.9-billion (R525-billion). They are all men and their average age is 61-years.
South Africa has bragging rights with 15 people listed – the most from any other country.
Representing their country are: Nicky Oppenheimer and family (2); Johann Rupert and family (4); Christoffel Wiese (8); Patrice Motsepe (10); Raymond Ackerman (25); Gerrit Thomas (GT) Ferreira (27); Lauritz (Laurie) Dippenaar (18); Jannie Mouton (31); Michiel Le Roux (33); Adrian Gore (34); Cyril Ramaphosa (36); Giovanni Ravazzotti (37); Markus Jooste (39); Paul Harris (40); and Stephen Saad (20).
There are four billionaires from South Africa in the top 10.
They are: Nicky Oppenheimer and family with a net worth of $6.5-billion (R52-billion). The Oppenheimers have been in the diamond industry for nearly a century. The family took a decision in early November to sell its 40% stake in De Beers.
Johan Rupert and family have a net worth of $4.7-billion (R38-billion) from their involvement in luxury goods concern Richemont, a Swiss holding company that controls brands such as Vacheron Constantin, Cartier, Alfred Dunhill, Montblanc and Chloé.
Christoffel Wiese is the chairman and the largest single shareholder of the continent's biggest retailer, low-price supermarket chain Shoprite. He has a net worth of $2.7-billion (R22-billion); while Patrice Motsepe, a mining magnate and football club owner who became South Africa's first black billionaire, has a net worth of $2.5-billion (R20-billion).
The diversity of the industries that these individuals represent is a true reflection that Africa, and South Africa in particular, can cater to the world's needs.
Read more: www.mediaclubsouthafrica.com