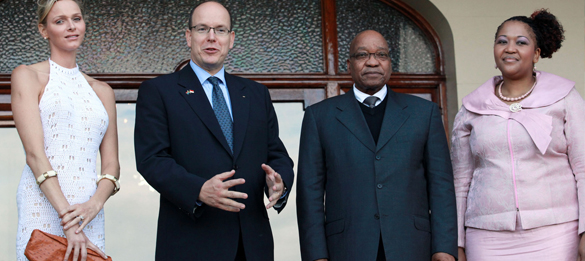 President Zuma moves to strengthen bilateral relations with Monaco
President Jacob Zuma today met with His Serene Highness, Prince Albert II of Monaco, on the sidelines of the 123rd session of the International Olympic Committee (IOC) in Durban. Prince Albert, the Head of State of the principality of Monaco, was accompanied by HRH Princess Charlène, and President Zuma by Mrs Thobeka Zuma.     […]

President Jacob Zuma today met with His Serene Highness, Prince Albert II of Monaco, on the sidelines of the 123rd session of the International Olympic Committee (IOC) in Durban.
Prince Albert, the Head of State of the principality of Monaco, was accompanied by HRH Princess Charlène, and President Zuma by Mrs Thobeka Zuma.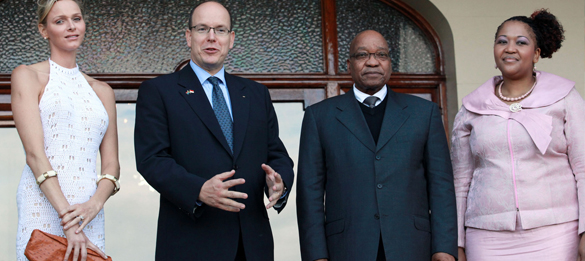 President Zuma conveyed, on behalf of the Government and people of South Africa, his warmest congratulations and best wishes to Prince Albert and Princess Charlène on their recent wedding.
President Zuma informed Prince Albert that apart from being the symbol of the bond between the loving couple, the internationally acclaimed wedding also served as a happy signal of the nature of the close and warm relations between the Republic of South Africa and the Principality of Monaco.
President Zuma reaffirmed South Africa's commitment to building on the very positive foundation that already exists to establish ever closer relations with the principality.
"There is no doubt that the princely wedding has served, in the most human and social of ways, to focus the international limelight on Monaco and South Africa, and both countries stand to benefit significantly from it,'' said President Zuma.
South Africa and the Principality of Monaco enjoy very good relations, and South Africa wishes to cultivate these relations further to Monaco's status as an important international financial and tourist hub. South Africa is keen to explore mutually beneficial investment opportunities. South Africa looks forward, for example, to learning from Monaco's experience in tourism promotion to strengthen its own capacity in this regard.  The President was represented by Tourism Minister, Mr Marthinus van Schalkwyk at the wedding.
President Zuma acknowledged Princess Charlene's contribution to South Africa's Olympic successes. In 1996, at 18, she won the South African Championship.
In 2000, her team came in fifth at the Sydney Olympic Games. That same year, she won the gold medal for the 200m backstroke event at the "Marenostrum" international swimming meeting in Monaco. This is when she met Prince Albert for the first time; he was presiding over the international competition.
In 2002, she won three gold medals at the swimming World Cup (50m and 100m crawl, 4x100m relay) and the silver medal during the Manchester Commonwealth Games (4x100m medley relay). In 2007, she ceased competing after qualifying for the Beijing Olympics.
Source: The Presidency Website