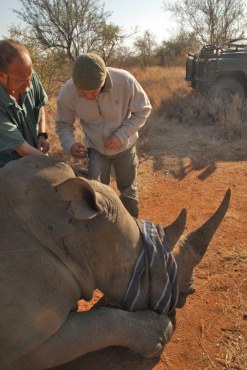 Rhinos in Boucher's safe hands
Following a severe eye injury which forced his early retirement, former Proteas wicketkeeper Mark Boucher has gloved up for rhinos – the cricket star has decided to devote his time to rhino activism as South Africa battles with escalating poaching figures. Boucher and South African Breweries (SAB) launched the non-profit SAB-Boucher Conservation in October this year. Boucher was appointed […]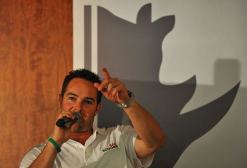 Following a severe eye injury which forced his early retirement, former Proteas wicketkeeper Mark Boucher has gloved up for rhinos – the cricket star has decided to devote his time to rhino activism as South Africa battles with escalating poaching figures.
Boucher and South African Breweries (SAB) launched the non-profit SAB-Boucher Conservation in October this year. Boucher was appointed by SAB as its Castle Lager rhino ambassador, to raise funds for rhino conservation both locally and abroad through the Our Rhinos in Safe Hands campaign.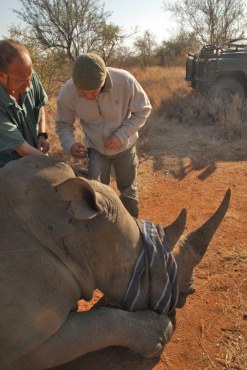 Having retired from his active cricket career in mid-2012, Boucher asserted that he will now focus all of his energy on the new partnership. The former Protea played 147 test matches and 295 one day internationals for South Africa, taking 999 dismissals behind the stumps and one wicket as bowler, in all forms of the game – his 556 test dismissals is still a world record.
"I now have the opportunity to contribute something meaningful towards a cause that is close to the hearts of my fellow South Africans." Boucher said at the launch.
"This type of partnership can make a positive contribution if we focus on a tangible contribution to the larger rhino conservation effort."
The SAB-Boucher partnership aims to raise enough money to register all of South Africa's 18 000 rhinos on a national rhino DNA database.
SAB was involved in the setup of the organisation with a donation of R300 000 (US$34 000) but the ultimate goal is to raise at least R1-million ($113 000).
Micro-chipping and DNA
RhoDIS (the Rhino DNA Index System) was established and is run by Veterinary Genetics Laboratory at the University of Pretoria.
A DNA database is an essential element in the fight against poaching. If the origin of the horn is unknown, it makes tracking the illegal trade very difficult. If trade is legalised, as many argue is the only sustainable solution to the poaching problem, then the DNA database will be central to managing it.
"Micro-chipping the rhinos and collecting the DNA for a database will go a long way towards saving the animals from decimation," Boucher said.
"There are so many passionate people out there fighting rhino poaching every day, and yet we don't seem to be winning the battle."
When a police raid results in the arrest of poachers, those in possession of rhino horns, or the actual traffickers, the DNA database will go a long way towards giving authorities more ammunition against criminals.
It will prove that horns seized from suspects can be traced to a particular country and conservancy, and will help to establish when the animal was killed; this makes a much stronger case in the courts.
"Our passion for the country's natural environment motivated us to join forces with Mark Boucher to single-mindedly focus on the DNA database as one of the key pillars required for a sustainable solution to rhino poaching," said SAB executive director Dr Vincent Maphai.
SAB has micro-chipped and collected DNA samples for the database since 2004 and 77 rhinos have received microchip insertions and had DNA samples extracted to deter poachers.
Other players get on board
Supporters of SAB-Boucher Conservation include Archbishop Emeritus Desmond Tutu, former cricket administrator Dr Ali Bacher, former SANParks CEO Mavuso Msimang, renowned conservationist Dr Ian Player, and scientific officer of the African Rhino Specialist Group Dr Richard Emslie.
Poaching figures for 2012 have already surpassed all past records, with 570 rhinos killed this year alone in South Africa.
SAB-Boucher Conservation will initially focus on its most pressing concern, namely the safety of South Africa's rhino, but is later expected to direct its efforts to other threatened species, whose DNA will also be entered into the database.
By; Cadine Pillay
Read more: www.mediaclubsouthafrica.com