South African Expat Becomes First Woman to Swim Around Dubai's Famous Palm
South African expat – and accomplished musician – Kieran Ballard-Tremeer has become the first woman to swim around Palm Jumeirah in Dubai, the iconic artificial island which can be viewed from space. Kieran (38) completed the 14.5 km swim around the palm-shaped island last Saturday morning in four hours and 25 minutes. The 38-year-old undertook the swim in aid […]

South African expat – and accomplished musician – Kieran Ballard-Tremeer has become the first woman to swim around Palm Jumeirah in Dubai, the iconic artificial island which can be viewed from space.
Kieran (38) completed the 14.5 km swim around the palm-shaped island last Saturday morning in four hours and 25 minutes. The 38-year-old undertook the swim in aid of Red Crescent, a humanitarian charity in the Emirates.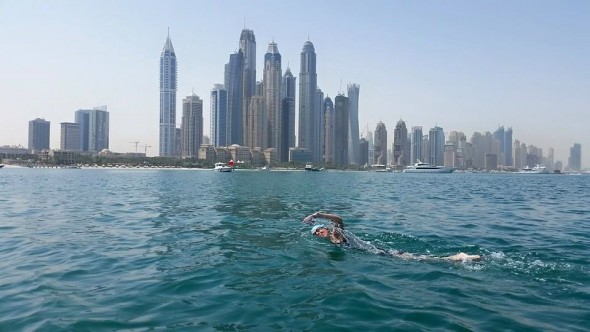 She was joined by elite endurance athlete Tobias Frenz from Germany and Australian Mitch Kennedy, who at 18 is now the youngest person to have achieved this swim in the Persian Gulf. Kieran says the swim "wouldn't have happened without them."
Tobias said: "The Palm Swim was great training for me to prepare for swimming the English Channel this July and I'm ever grateful to Kieran to make this happen." Mitch said he did the swim because "Life is short and you only get one shot. So make it worth it and look back knowing you took every opportunity that came up and had fun."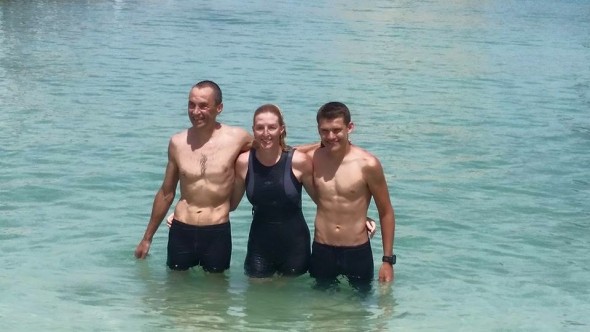 As the three swam past some of the most exclusive real estate in Dubai, including the impressive Atlantis Hotel, they were accompanied by dolphins and cormorants (a lot less frightening than the Great White sharks Kieran used to worry about in South Africa's oceans).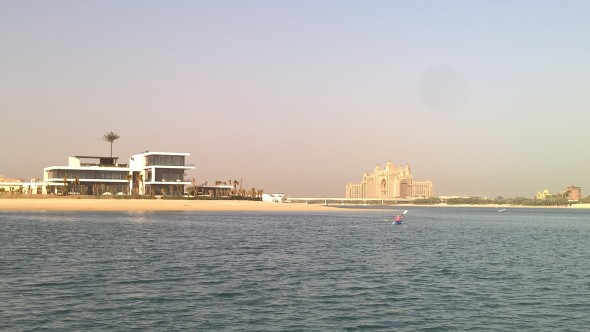 Kieran is an accomplished clarinetist and saxophonist who has performed extensively throughout the world in ensembles and orchestras, and as a soloist.  Her career highlights have included performing with Pavarotti, Bono, The Corrs, Hugh Masekela, Julian Lloyd-Webber and Yehudi Menuhin.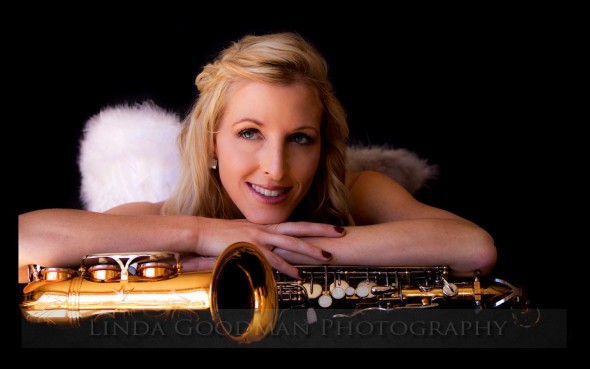 After completing her music degree at the University of Pretoria Kieran won the South African bursary to study further at the Royal College of Music in London. Her passion for travel took her to Dubai in 2005…and she has remained there ever since.
Kieran has also completed the Bosphorus Cross Continental Swim, four Ironman triathlons, and is an age group podium finisher in this year's UIPM Biathle held in Dubai.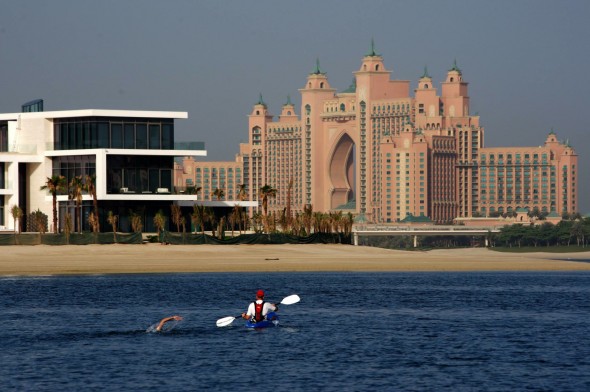 Swimming runs in the family as Kieran's father is former South African Universities swimming captain Roger Ballard-Tremeer and her cousins have also represented SA.
When she's not breaking records, Kieran teaches music and swimming at an international school in Dubai.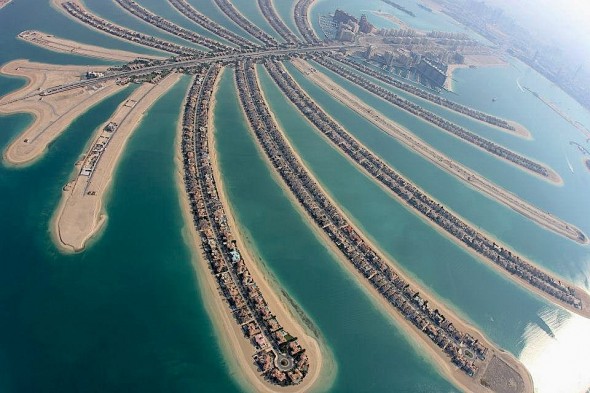 Her next dream is to form a Water Safety Charity to teach children in Dubai how to swim safely.  "A lot of unnecessary drownings are happening along the coast of Dubai and that is due to the fact that a lot of people do not know how to swim," she told the Gulf News. "In South Africa and Australia, most children learn to swim at an early age but here they don't."
Palm Jumeirah was created by Nakheel and is one of the world's largest man-made islands covering 560 hectares of land. It's in the shape of the United Arab Emirates' national plant, a date palm.
More Info