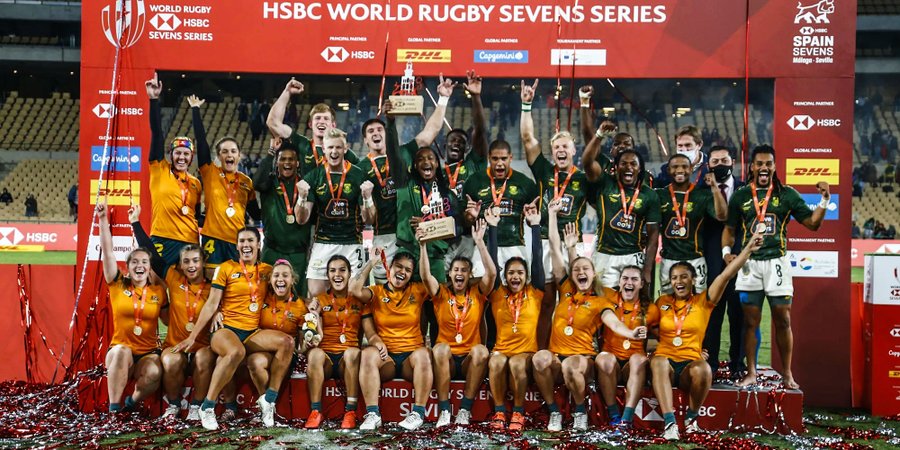 Springbok Sevens Blitz to Another Rugby 7s Championship in Seville, Spain
The Blitzboks' streak continues with South Africa winning a fourth consecutive Rugby Sevens Cup title this season… and their sixth straight gold medal overall. Additionally, this is also South Africa's 34th successive win which puts them level with New Zealand for the second most wins in a row. Christie Grobbelaar scored a brace of tries […]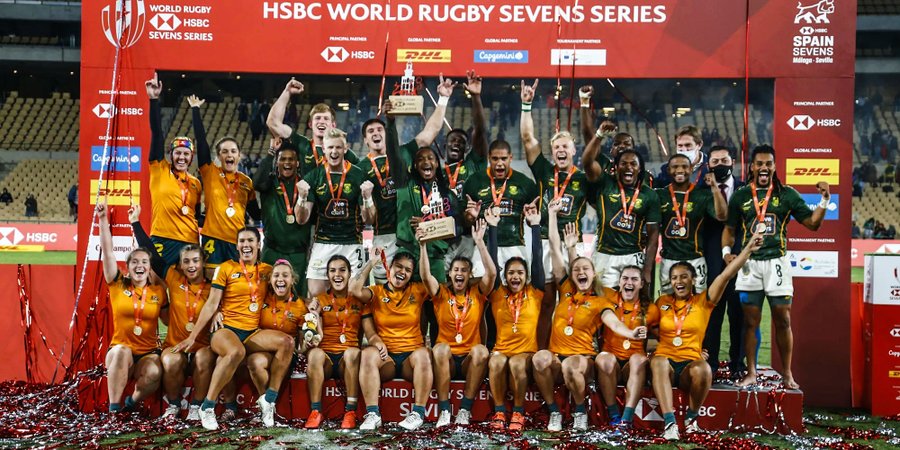 The Blitzboks' streak continues with South Africa winning a fourth consecutive Rugby Sevens Cup title this season… and their sixth straight gold medal overall. Additionally, this is also South Africa's 34th successive win which puts them level with New Zealand for the second most wins in a row.
Christie Grobbelaar scored a brace of tries as the South African Men's Sevens team beat Australia 33-7 to win the Cup final at the Spain Sevens in Seville on Sunday.
Stand-in captain Impi Visser says the team were pushed to the brink in the final. The victory in Seville did not come easy as South Africa were pushed in pool play. They had to come from behind against Spain and USA, and in the knockout stages they were trailing Scotland. They hit their straps in the Cup semi-final against Ireland and prevailed in a hard-fought win over Australia in the final.
"It is pretty emotional for us, we had to dig deep," said Visser, who led the team in Seville. "They are a tough team to play against, credit to them. I think our boys just grafted a bit more and in the end, we wanted it a bit more."
Visser took over the captaincy from Siviwe Soyizwapi, who was injured in the Malaga tournament, while South Africa also lost Branco du Preez to injury against Scotland and they then had to watch Justin Geduld being stretchered off in the final against Australia.
"This was a win that tested our character and resilience, and it is a feeling of relief and pride to know that we stood firm against some very good teams out there," added Visser.
"It was never about the winning streak or number of trophies won, it is our system that rewarded our belief and trust."
Free-running Christie Grobbelaar was named Player of the Final with a brace of tries, and he was all smiles and compliments afterwards.
"This is a team effort, we each have a role to play and when we do our jobs well, the rewards are there for everyone to enjoy," said Grobbelaar, whose tries on either side of the break put the Blitzboks on the road to victory after a slow start.
"This was a hard-fought tournament. We had some bad patches, but we kept the faith and belief in what we needed to do. These wins are testimony to the hard work we do in Stellenbosch."
As a result of Covid restrictions, New Zealand and Fiji are not playing on the current Rugby Sevens circuit.
The winning streak continues!

A beautifully worked try from @Blitzboks and Darren Adonis does the rest ✅#ImpactMoment | @DHLRugby pic.twitter.com/ElxRguG1y1

— HSBC SVNS (@SVNSSeries) January 30, 2022
The gold rush continues! 🥇

Christoffel Grobbelaar was crowned HSBC Player of the Final after an incredible performance at HSBC Spain Sevens in Seville. #Spain7s | #HSBC7s | @Blitzboks pic.twitter.com/BSmg86kDlE

— HSBC SVNS (@SVNSSeries) January 30, 2022
Source: TeamSA