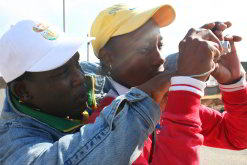 The boy who sees in pictures
by Emily van Rijswijck "Captain" Kgaugelo Mabjwe is one of eight students of the Umuzi Photo Club, based in the Johannesburg suburb of Braamfontein, who are currently exhibiting their work at the prestigious Gallery@Oxo on London's South Bank. The Wembley to Soweto exhibition is a visual depiction of how photography helped the eight teenagers to unleash their talent […]

by Emily van Rijswijck
"Captain" Kgaugelo Mabjwe is one of eight students of the Umuzi Photo Club, based in the Johannesburg suburb of Braamfontein, who are currently exhibiting their work at the prestigious Gallery@Oxo on London's South Bank.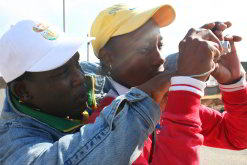 The Wembley to Soweto exhibition is a visual depiction of how photography helped the eight teenagers to unleash their talent and realise their dreams. The exhibition runs until 24 July, and admission is free.
The brainchild of internationally renowned photographer John Cole and actor/director David Westhead of Wilton Pictures, the project is also supported by Kweku Mandela, the grandson of former president Nelson Mandela.
Mabjwe attended his first workshop with Umuzi (isiZulu, meaning "village") in 2009. The photo club had been started in the same year by financial analyst David Dini, "to give a voice to young people through the medium of photography", said Emily Coppel, the project's facilitator.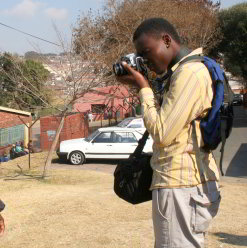 But the really big break for Mabjwe, Patience Ndhlovu, Siyabonga Sepotokele, Tshepang Masemola, Joao Nzina, Shoneez Cassim and Thapelo Motsumi came when Cole and Westhead approached Umuzi Club.
Cole is the photographer who took a shot of the Free Mandela concert, held in 1988 at Wembley Stadium to mark Mandela's 70th birthday, and which is now on display in the Nobel laureate's home in Johannesburg.
Witness to the World Cup
Early in 2010 Cole and Westhead held an in-depth four-week workshop with the eight students, before asking them to be official witnesses to the 2010 Fifa World Cup, which took place in South Africa in June and July that year.
The aim of the project was to teach disadvantaged young people how to feed their families with their cameras, said Cole on the exhibition's website.
The teenagers attended the official World Cup opening and recorded some extraordinary images with the wide-eyed innocence and honesty so typical of people their age.
Now, the Wembley to Soweto exhibition, which opened on 7 July, is showing 52 of the best pictures.
An excited Westhead spoke to Leicester Square Television (LSQ TV) before the opening, relating how this "small" project has snowballed into other projects and opportunities for the eight youngsters. He believes great things are still going to come from them.
"The pictures speak for themselves. It's wonderful. It warrants being exhibited. They [the students] are absolute dynamite."
In the same interview, Cole described his experiences with the group, noting that he was constantly surprised in the best possible sense by what came out of the project.
"Some of these pictures are really gritty, really gutsy – the kind of reportage that I cut my teeth on and what makes me love photography so much."
Three of the eight, Thapelo Motsumi, Patience Ndhlovu and Shoneez Cassim, attended the exhibition's official opening in London. While in the city, they also had the chance to impart some of their photographic knowledge to other kids, this time in London's East End areas of Streatham and Newham.
The young travellers also attended an exclusive photo shoot with renowned actor Alan Rickman, better known as Prof Snape in the Harry Potter film series.
As Cassim said in during a LSQ TV interview: "Now when I take a picture it is not just about taking a photograph anymore – it is about asking myself, what can I tell, what will people see when they see it?"
International exposure
Motsumi was interviewed by Outlook, a programme on the BBC World Service with a listenership of 40-million, where he was able to share the experience of growing up in Johannesburg's bustling Yeoville suburb, and feeling the weight of a real single-lens reflex camera in his hands for the first time.
That was in 2009, when he joined Mabjwe and the group for a workshop at Umuzi. Up to that point he did not think much about photography, he admitted, rather seeing himself as becoming an artist one day.
He now refers to his camera as his baby, his friend. "A camera is a powerful tool. You can change people's lives with it. You can make a difference, you can tell stories with it."
As a result of the Wembley to Soweto exposure, Motsumi has already successfully completed several paid assignments for Marie Claire women's magazine, South African Breweries, mobile provider Vodacom and Parliament. He continues to do workshops and assignments for Umuzi
Said Cole: "If this has given them some confidence, then I have succeeded. That's really the important thing. Photography is almost secondary."
On site in Alex
Meanwhile, back at home in South Africa, Mabjwe and the rest continue with workshops and programmes offered by Umuzi, and identify for themselves the social issues they wish to address through the lens.
Over the July school holidays, the Umuzi team was on site in Alexandra township, east of the city, to record the problems of school drop-outs and teenage pregnancies at the Alex East Bank Clinic.
It is an issue close to the heart of the group because it is one of the community's biggest challenges.
"Here in Alex, teenage pregnancy is a big problem, especially at the East Bank High School," said Precious Ntlabathi who is doing her first Umuzi workshop.
She attributed the problem to kids not knowing enough about the risks, peer pressure, drug and alcohol abuse. "Through my photographs, I hope to raise awareness."
"The idea is for students to start thinking critically about issues affecting them and to become advocates for change through their eyewitness accounts," added Coppel.
Recently, students did a presentation to Parliament on the lack of service delivery in the country. They've also exhibited their work in galleries in New York, Antwerp and Johannesburg.
After the workshops, exhibitions are usually held in the community to create social awareness through the evocative images.
"The hope is to engage the media and people to talk about these issues affecting young people and to bring about some change," said Coppel.
Becoming an Umuzi student
Umuzi participants undergo an intensive selection and interview process. Club staff visit schools in the Johannesburg area, usually at morning assembly, where they introduce the club to the pupils. Afterwards, application forms are handed out to interested scholars.
Those selected show enthusiasm and an aptitude for photography. But, said Coppel, it should not be to the detriment of their school work. The target group is Grade 10, pupils around 16 years of age.
From the basic workshops, teenagers showing potential in photography can follow Umuzi's Leadership through Photography course. The club also assists, through various sponsorships, in putting some of the students through formal photographic courses.
"The idea is that they learn to become professional," said Coppel.
And today, young Mabjwe, for one, sees himself as someone with a future. From a Diepsloot youngster with no real plans for the future, he now harbours big dreams.
"I love photography. Every day I think about taking good pictures. I see myself overseas, working as a freelance photographer one day."
And he has this to say about his work: "I can speak with my pictures. There are many stories inside my pictures."
Source: www.mediaclubsouthafrica.com