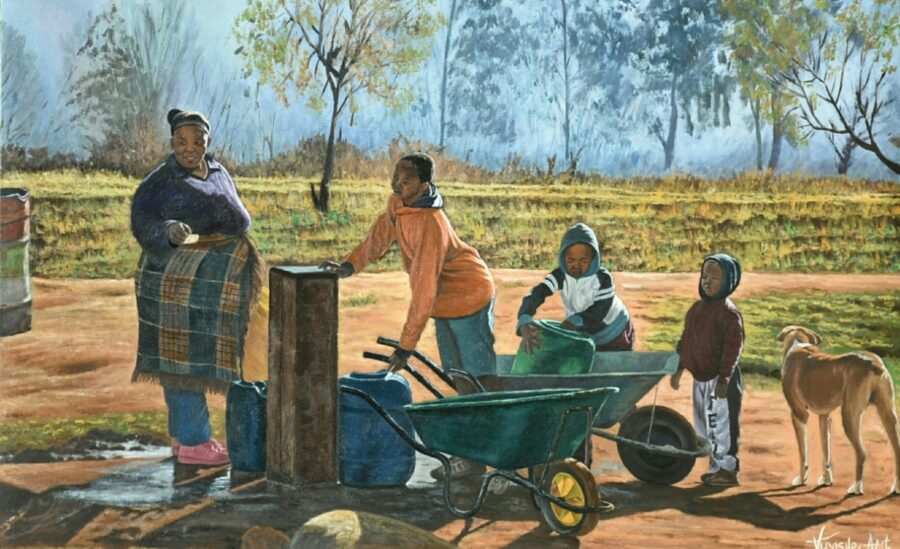 The Free State Artist Whose Paintings Are Wowing the World: Vuyisile Adoons
Free State artist Vuyisile Adoons may not yet be well known, but his paintings are adorning the walls of homes around South Africa and the world, and photos of them are adding soul and depth to our social media timelines. He's currently making a living from the "dusty small town of Rouxville" but with his […]
Free State artist Vuyisile Adoons may not yet be well known, but his paintings are adorning the walls of homes around South Africa and the world, and photos of them are adding soul and depth to our social media timelines. He's currently making a living from the "dusty small town of Rouxville" but with his talent and drive, he's on his way to making his dream of holding a solo exhibition a reality. SAPeople managed to drag the talented 33-year-old away from his canvas for a moment to find out more about the man behind the artwork…
1.When did you start painting?
I started drawing at the age of 12, however, I started painting straight after I completed my art course at Central Johannesburg College; but I have been working as a full-time artist since 2014.
2. What inspired you to become an artist? Were your parents artistic?
I am inspired by many things but what is really at heart that motivated me to paint is the people in my community… especially the elderly people and children. I am more passionate about painting every day scenes and activities. A lot of them are scenes that any viewer looking at my work will relate to. (Like the client who says: "When I look at your work, I see my childhood, it reminds me of my grandmother preparing us supper.")
Both my parents are not artistic and in fact, I am the first one in the Adoons family to be an artist.
3. Your paintings are in demand across the world, from the USA to Australia. Are these clients all South Africans who now live abroad?
Not all my clients overseas are South Africans, some are people who have visited South Africa in the past and seen how ordinary people lived. Some tell me that they have gotten tired of seeing the same artwork over and over again, they think my work is "Authentic and pure original art".Obviously some are South Africans living abroad who feel connected and close to home when they have one of my pieces in their houses.
4. Is there any painting that you have wanted to keep for yourself and not sell?
To be honest I wish I had kept all my paintings, but there's this particular work I did in 2019 called "the barber" which I initially painted for the Sanlam Portrait Award competition but my application was rejected. Two months later I was featured in the South African Artist Magazine for professional artists in which I was on the cover page of the magazine. On the particular artwork it's what my signature backgrounds and the style of painting was discovered, hence it's close to my heart.
5. How do you decide what or who to paint?
There is a whole lot of planning that goes into the work before I could start painting, I choose my subject matters very carefully, I don't just paint for the sake of painting. Every sale I make, a third of the sale/purchase goes to the people that I paint. I am not necessarily paying them but it's a way of thanking them for motivating and inspiring me to create artworks.
6. Do you have a website?
I currently don't have a website but I am hopeful that I will have one in the not too distant future. I have been working as a full-time artist for six years now and I take what I do extremely serious because I do it for a living. I am using my social media accounts (Facebook, Twitter) as a marketing tool for my work, in fact, I have sold more paintings online than I have ever had in an exhibition.
7. What is your dream for the future?
I don't see myself relocating anywhere else because my work is entirely inspired by the current environment and its people. My biggest dream is to have a solo exhibition local or overseas.
CONTACT VUYISILE ADOONS
Cellphone: +27 (0)733027890
Twitter: @Vuyisile_Art
Instagram: @Vuyisile_Fine_Art