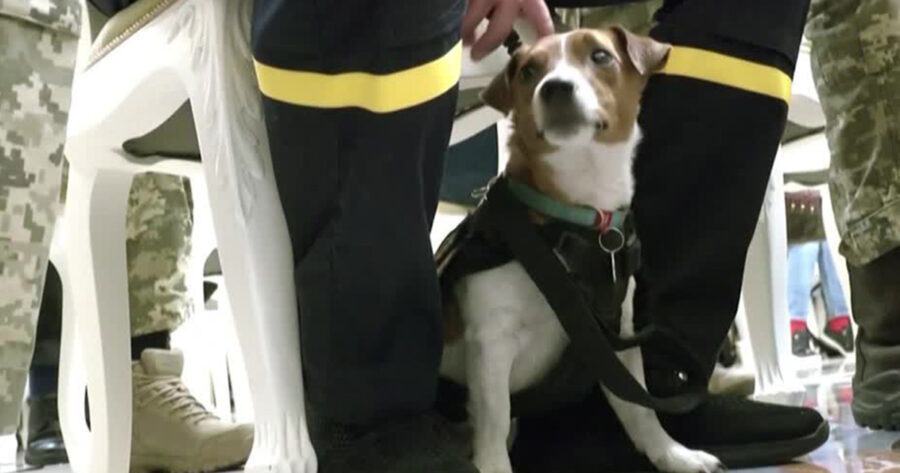 Ukraine's Little Mine-Sniffing Dog Patron Awarded Medal by President Zelenskiy
KYIV (Reuters) – President Volodymyr Zelenskiy presented Ukraine's famous mine sniffing dog Patron, and his owner, with a medal on Sunday to recognise their dedicated service since Russia's invasion. The pint-size Jack Russell terrier has been credited with detecting more than 200 explosives and preventing their detonation since the start of the war on Feb. […]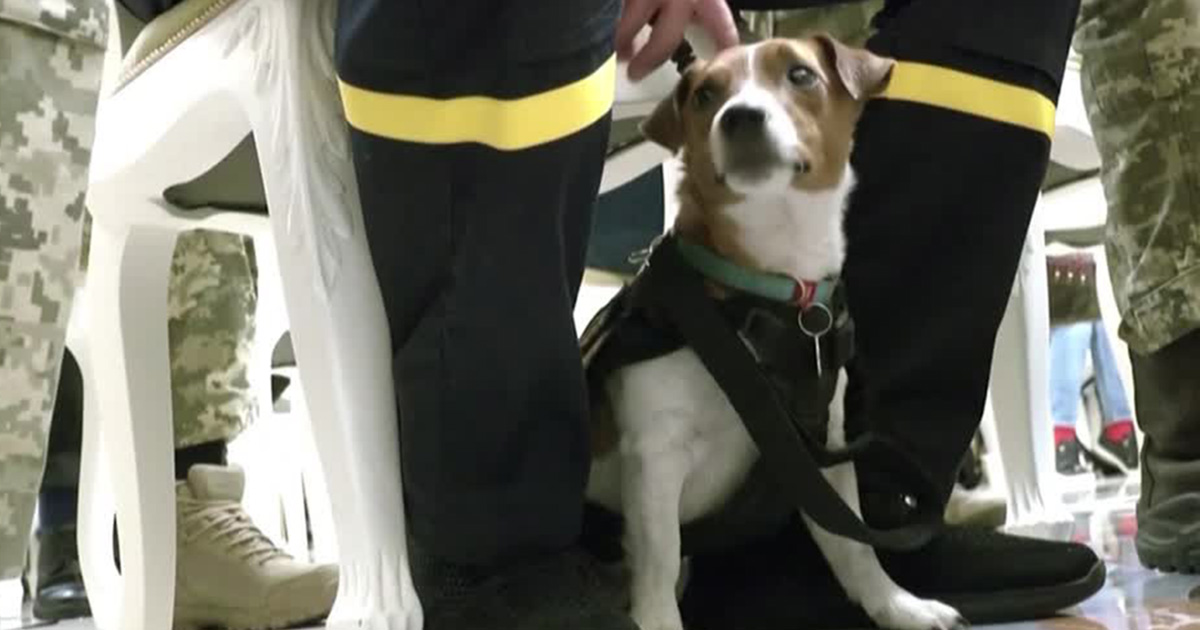 KYIV (Reuters) – President Volodymyr Zelenskiy presented Ukraine's famous mine sniffing dog Patron, and his owner, with a medal on Sunday to recognise their dedicated service since Russia's invasion.
The pint-size Jack Russell terrier has been credited with detecting more than 200 explosives and preventing their detonation since the start of the war on Feb. 24, quickly becoming a canine symbol of Ukrainian patriotism.
Zelenskiy made the award at a news conference in Kyiv with Canadian Prime Minister Justin Trudeau. Patron barked and wagged his tail proudly, prompting laughter from the audience. Trudeau patted his pockets as though looking for a dog treat.
WATCH Jack Russell Patron receives Medal of Courage from President Zelensky, Ukraine
"Today, I want to award those Ukrainian heroes who are already clearing our land of mines. And together with our heroes, a wonderful little sapper – Patron – who helps not only to neutralize explosives, but also to teach our children the necessary safety rules in areas where there is a mine threat," Zelenskiy said in a statement after the ceremony.
The award also went to Patron's owner, a major in the Civil Protection Service, Myhailo Iliev. It was all perhaps a little overwhelming for the cute little pup who finally fell asleep in his chair, head propped up on the table, during the press conference:
Patron, the mine-sniffing Ukrainian dog, fell asleep during a press conference. A very cute pup. pic.twitter.com/gYNtvzkoGu

— Trey Yingst (@TreyYingst) May 8, 2022
John Steenhuisen returns from Ukraine
DA Leader John Steenhuisen has just returned from Ukraine where he met with the Kyiv mayor amongst other people. Today, in feedback from his trip, Steenhuisen said: "The first thing that strikes you when you speak to leaders, academics or ordinary Ukrainians, is that surrender is not part of the vocabulary. And neither is self-pity.
"There is an incredibly strong resolve among Ukrainians to fight to save their country, and to rebuild what has already been destroyed.
"In areas where the Russian army had already withdrawn, it took mere days for them to begin the clean-up and rebuilding operation.
"The streets of Kyiv are, for the most part, neat and tidy, services have been restored, bridges and roads around the city are being repaired. There was certainly no load-shedding or water outages when I was there…" Read John Steenhuisen's full Ukraine Report here.
(Reporting by Tom Balmforth in Kyiv and by Oleksandr Kozhukhar in Lviv; Writing by Lidia Kelly; Editing by Daniel Wallis, Additional comments by DA Leader John Steenhuisen)
President Zelenskiy presented Ukraine's mine sniffing dog Patron and his owner with a medal on Sunday.

This Jack Russell terrier has been credited with detecting more than 200 explosives and preventing their detonation since the start of the war on 24 February. pic.twitter.com/KM6st01G8f

— Fuad Alakbarov ⁠⁠ (@DrAlakbarov) May 9, 2022
Patron, an expert bomb finder and perhaps Ukraine's smallest fighter, has been honored by the country's president.

He has found more than 200 Russian explosives, President Volodymyr Zelenksy said, and also helps children learn about mine safety. https://t.co/dmJ37qU0tf pic.twitter.com/yn3xH0dV6Q

— The New York Times (@nytimes) May 9, 2022