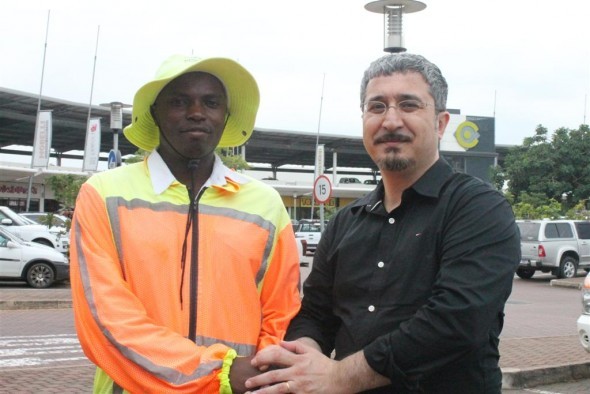 uMhlanga Residents Surprise Selfless Car Guard
A humble car guard made newspaper headlines in Durban on Friday thanks to both his integrity and that of those who benefitted from his principles. This story is republished here with kind permission of journalist Mariclair Smit and the Northglen News in uMhlanga: Residents Surprise Selfless uMhlanga Car Guard by Mariclair Smit It has often been said, […]

A humble car guard made newspaper headlines in Durban on Friday thanks to both his integrity and that of those who benefitted from his principles. This story is republished here with kind permission of journalist Mariclair Smit and the Northglen News in uMhlanga: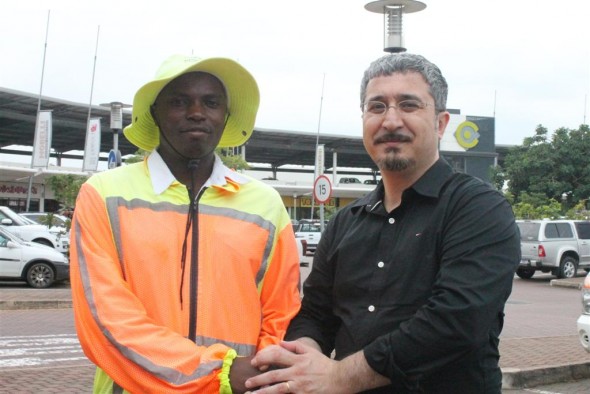 Residents Surprise Selfless uMhlanga Car Guard

 by Mariclair Smit

It has often been said, "Do good, and good will come to you."

And while he did not expect any recognition, this was exactly what happened to local car guard, Methode Kubwayo. The Good Samaritan, who lives in the Durban CBD and works at The Crescent on Umhlanga Ridge, was surprised with a R1,000 'reward' for helping an uMhlanga resident retrieve her lost wallet.

The resident, who did not want to be named, said that she had recently forgotten her wallet in the trolley after shopping at the Food Lover's Market on a Sunday morning.

"Even after arriving home I did not realise that my wallet was missing. After a while I received a call from the security office at the centre. They told me that one of the car guards had found my wallet. I was asked to describe the item, and once they confirmed that it was, in fact, my wallet they asked me to collect it," she said.

Upon arrival the relieved resident was amazed by Kubwayo's integrity and resolve. Not only did he deliver the wallet to the security office, but he had also ensured that the wallet and its contents were entirely returned to its rightful owner.

"Everything was intact – my cards, notes and small change. I was completely amazed and impressed by his act of kindness. When I arrived at the centre he took out a small piece of paper from his pocket, on which he meticulously made note of every single item that was in my wallet – down to the 10 cent coins. It is not common that someone goes to such extremes for a complete stranger. He had no obligation to do what he did," she said.

The resident's husband, Ismail Teke, added that he and his wife were mostly relieved to get her driver's licence back. "It is not so much about the money. The most important items were her bank cards and licence. Those would have been difficult to replace.

"We wanted to highlight the significance of his actions and give praise to someone who went out of his way to help a complete stranger," he said.

Kubwayo, who hails from Burundi, said that he had no interest in harming others for his own personal gain. "I saw the wallet that had been forgotten in the trolley. It was not mine to take, so I wanted to return it to its owner. I did not want to lose my dignity. As a Christian I don't want to hurt others to gain something." he said.

The humble altruist said that he did not expect the reward and said that he had actually forgotten about the deed after the wallet had been returned. "I was happy and surprised. It is a great encouragement for myself and others," he added.

Kubwayo had hoped to earn a nursing degree, but due to his financial situation was forced to abandon his studies.

UPDATE: Since this story was published on Friday, Prashan Bisseru, General Manager at Premier Book Bazaar, has stepped forward and said "I would be most happy to sponsor Kubwayo his textbooks and stationery for the remainder of his studies."

Please see the original story on the Northglen News here.