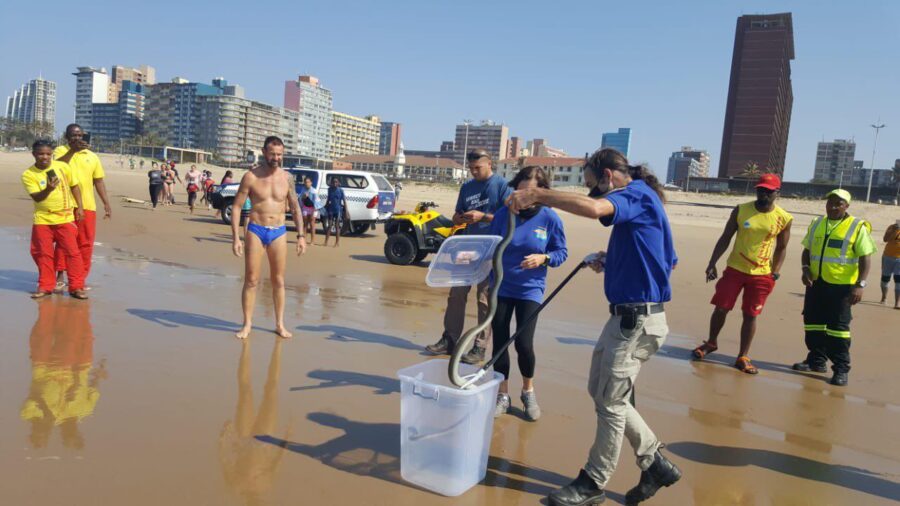 WATCH Black Mamba Rescued from Durban Beach, South Africa
A large black mamba has been rescued from the surf at Addington Beach on Durban's famous beachfront, a destination which is usually more popular with bathing tourists than venomous snakes! According to SAAMBR, the snake was 2.47 metres long! Metro Search and Rescue reached out to SAAMBR (the South African Association for Marine Biological Research) […]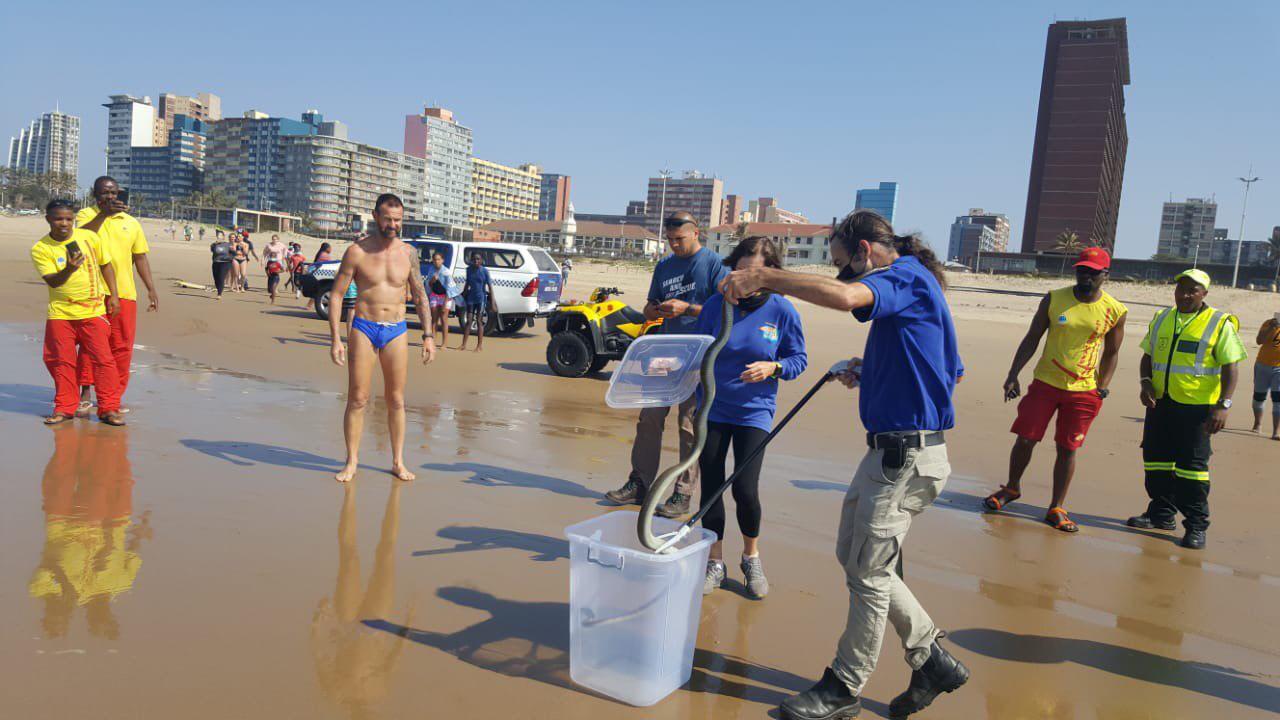 A large black mamba has been rescued from the surf at Addington Beach on Durban's famous beachfront, a destination which is usually more popular with bathing tourists than venomous snakes! According to SAAMBR, the snake was 2.47 metres long!
Metro Search and Rescue reached out to SAAMBR (the South African Association for Marine Biological Research) at 13h00 on Tuesday for assistance with retrieving the snake from the sea.
SAAMBR said: "Normally this would have been met with scepticism as most people believe that any dark snake is a mamba, and indeed many nonvenomous snakes are killed after being misidentified."
In this case though, the organisation had been expecting the call, following reports of a large snake spotted recently on the South Pier. Black mambas are not often found along the coastal belt, preferring deep valley areas – like Reservoir Hills, Westville and Krantzkloof – with thick vegetation, says SAAMBR. They believe this particular snake possibly made its way down through the canals and rivers that run into the harbour.
KZN , A 2,4 meter long black mamba was found at Addington Beach, 🐍 I didn't know Ukuthi Inyoka ihlala olwandlwe ,I thought sharks were the only danger. 🤷🏾‍♂️ pic.twitter.com/XAfGBdFNQw

— Bongiwe Indlovukazi (@BIndlovukazi) August 26, 2020
SAAMBR herpetologists Craig Smith and Lesley Labuschagne went straight to the beach to assist, and said that even though they were prepared to collect a Black Mamba… it was still an extraordinary experience.
"The snake was so exhausted that when we approached her she hardly even noticed us. She was so easy to handle and thankfully remained calm whilst we transported her back to uShaka Sea World where our resident veterinarian, Dr Francois Lampen was standing by to assess her condition," said Craig.
The mamba will remain in the care of uShaka Sea World staff until she regains her strength and is declared fit for reintroduction into a suitable habitat, said SAAMBR. Craig thanked the Metro Search and Rescue staff for keeping her safe until they arrived on the scene.
WATCH Black Mamba takes a swim at Durban beachfront
[ICYMI]: A 2.47m long black mamba, was spotted at the Addington Beach on the Durban Beachfront yesterday. The South African Association for Marine Biological Research rescued the snake and it will be in the care of the uShaka Sea World staff for now. Video: Supplied. @etvNewsSA pic.twitter.com/YPE9NyXGz5

— Nabeelah Shaikh (@Nabeelah_Shaikh) August 26, 2020