Winnie and Dlamini-Zuma's Very South African Kiss On The Lips Catches World's Attention
Most of the rest of the world just can't get used to South Africans' habit of kissing on the lips… and so a photo of Winnie Mandela greeting Nkosazana Dlamini-Zuma with a kiss on the lips – at the 54th ANC National Conference at the NASREC Expo Centre in Johannesburg on December 16, 2017 – […]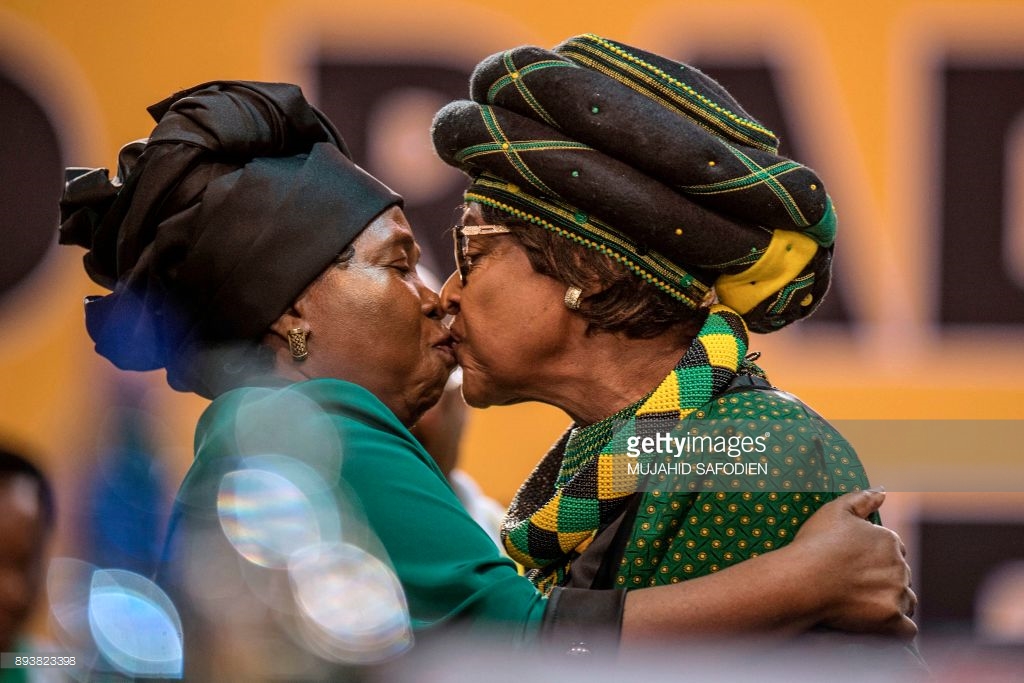 Most of the rest of the world just can't get used to South Africans' habit of kissing on the lips… and so a photo of Winnie Mandela greeting Nkosazana Dlamini-Zuma with a kiss on the lips – at the 54th ANC National Conference at the NASREC Expo Centre in Johannesburg on December 16, 2017 – has been splashed across the world.
As most South African expats discover when living abroad, the rest of the world doesn't really kiss people lip-to-lip… unless they're lovers, related or married. (And even Victoria Beckham discovered last year – with her birthday kiss to her daughter – that some people don't even approve of parents kissing their own children on the lips.)
In many cultures a kiss on the cheeks is enough. And while South Africans may find it strange that even men in France kiss each other on the cheeks, the French are shocked by the level of intimacy we're willing to share with people with whom we're not in love.
In some countries, like Finland, even kissing on the cheeks is not encouraged. People prefer to give friends a hug hello, and greet new people they're introduced to with a simple handshake. And if we look to Asia, many cultures prefer to bow and have no physical contact at all.
South African Kisses…
Perhaps the most famous photo of a lip-to-lip kiss that was shared around the world – Helen Zille and Mamphele Ramphele:
https://twitter.com/KMoahloli/status/811493095556743168
Helen was also photographed kissing a resident in Hammanskraal on the lips…
DA election strategy: kiss and conquer "@AFP: Leader of the DA Helen Zille kisses a resident during a campaign stop pic.twitter.com/KlDol3G1Jc"

— Lara (@KatzLara) April 16, 2014
Saturday's kiss between Winnie Mandela and ANC presidential contender Dr Nkosazana Dlamini Zuma:
And for South Africans, of all races, these types of kisses are normal, even between men and women who aren't 'involved'. Here's Winnie receiving a birthday kiss from Julius Malema:
@winniemandela Mama Nomzamo! Hee! Winifred?Happy Birthday.I also want that kiss that u once gave 2 CIC JMalema http://t.co/8ovfQFrFTL

— Leonard Masilela, Esquire. (@LeonardMasilela) September 26, 2014
In fact, in South Africa, a kiss on the lips is even normal between a widow and her late huband's ex-wife… as Winnie Mandela kisses Graca Machel below…
Graca Machel and Winnie Mandela kiss in greeting. / Beautiful respect! pic.twitter.com/SNGb8yPNz6

— 3ChicsPolitico (@3ChicsPolitico) December 11, 2013
And South Africans aren't the only ones to shock the world with their lip-to-lip kisses. Here's the photo Victoria Beckham posted which generated even more controversy than our politicians kissing each other…
Ppl are talking about @victoriabeckham pic of her kissing her daughter on the lips. Do you think it's okay to kiss your kids on the lips? pic.twitter.com/ANrs9y8rIG

— Skyler Nichols (@Skyler23) July 10, 2017