Carte Blanche Meets South Africa's 90-Year-Old Running Legend
She's 90 years old and thrashing runners half her age! Undefeated by lockdown or the pandemic, South Africa's astonishing Deirdre Larkin kicked off her ninth decade with a gentle 10km run. This Sunday Carte Blanche meets the humble, humorous South African running legend, a national treasure who turned 90 on SA's Heritage Day (24 September).  […]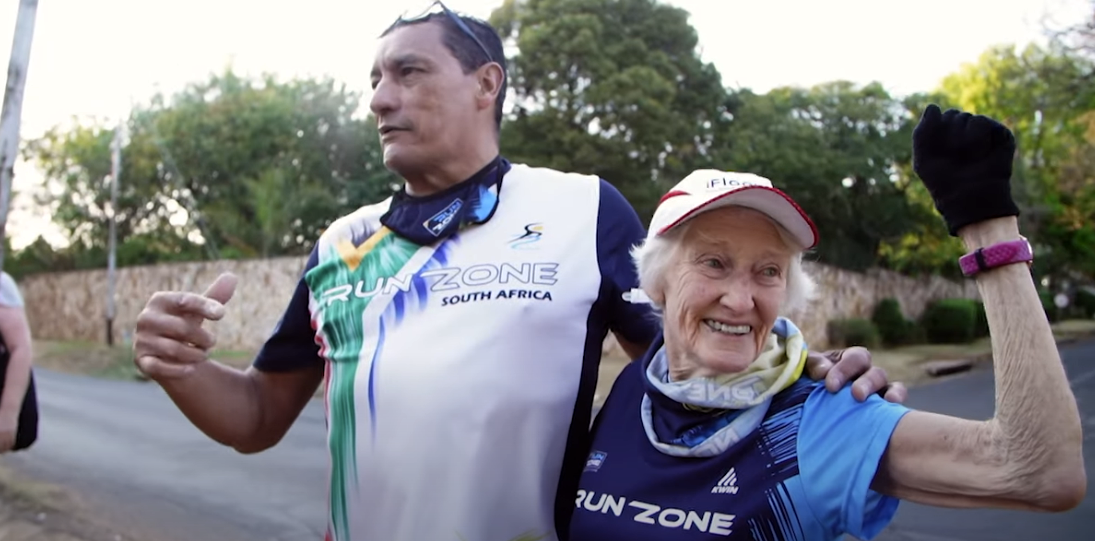 She's 90 years old and thrashing runners half her age! Undefeated by lockdown or the pandemic, South Africa's astonishing Deirdre Larkin kicked off her ninth decade with a gentle 10km run. This Sunday Carte Blanche meets the humble, humorous South African running legend, a national treasure who turned 90 on SA's Heritage Day (24 September). 
You can watch Carte Blanche this weekend, on Sunday 17 October in South Africa on DStv Now, or stream it overseas in most countries from 19 October if you're abroad. 
Deirdre Larkin is a former concert pianist who discovered her great athletic gift at the age of 78… and has been breaking records ever since. When Carte Blanche first met her in 2017 at a half marathon in Pretoria, she smashed the world record for her age group by a staggering 20 minutes.
For her 90th birthday she set another world record at the Spar Women's Race. With her positive attitude and consistent pace, Larkin is the steady inspiration that motivates younger runners to try and keep up with her. We joined the celebration. (Producer: Kate Barry | Presenter: Derek Watts)
Watch the show overseas | Watch in SA on DStv Now
In 2017, we met runner Deirdre Larkin and joined her on an unforgettable trip to take part in the prestigious #GenevaMarathon. Now, as she heralds in a new chapter & turns 90, @DerekWatts tries to keep up. That's #CarteBlanche this Sunday at 7pm on @MNet channel 101. #Running pic.twitter.com/ZYUFhHd9OQ

— Carte Blanche (@carteblanchetv) October 12, 2021
Also on Carte Blanche this Sunday 17 October 2021:
GOING LOCAL
The breath-taking vistas, rich historical legacy and distinct culture of the Eastern Cape – the birthplace of so many South African leadership icons – belie an ongoing tragedy of underdevelopment and municipal mismanagement. Divided into six districts and two metropolitan municipalities, not one of these have been declared stable or functional by the Department of Cooperative Governance and Traditional Affairs in its last report to Parliament. Growth in the province remains chronically stunted and most communities fail to receive the most basic services. So, what will shape residents' actions in the coming local election? In the second week of an election roadshow, Carte Blanche investigates how, from Mankozi to Nquthu, villagers are taking back control and finding their own solutions to decades-long problems. (Producers: Laura Byrne & Sinethemba Nogude | Presenter: Claire Mawisa)
Watch the show overseas | Watch in SA on DStv Now
Dogged by poverty, poor service delivery and a lack of economic development, the Eastern Cape is SA's poorest province. But despite its challenges, some communities are creating solutions. @clairemawisa reports live this Sunday 7pm on #CarteBlanche. #MNet101 #LGE2021 pic.twitter.com/XkdT5r8zxJ

— Carte Blanche (@carteblanchetv) October 14, 2021
ANALYSE
At the vanguard of South Africa's democracy as defender of a hard-won fundamental human rights, the Constitutional Court has long fulfilled its mandate to check the abuse of power by branches of government and enforce the rule of law. But more recent judgments have signalled a court deeply divided and at odds over politically sensitive cases. Could an increasingly politicised caseload and a leadership vacuum at the helm hasten the court's unravelling and undermine the leadership role the country's future depends on? (Producer: Julian Sun | Presenter: Bongani Bingwa)
Watch the show overseas | Watch in SA on DStv Now
INVESTIGATE
Bracing themselves for the disruption and frustration of loadshedding – this week at stage 2 due to high demand and Eskom's urgent maintenance at certain power stations – South Africans are increasingly exploring off-the-grid alternatives. Whether it's making life and business more sustainable, citizens are entering a future set for more of the same, according to the experts. Carte Blanche investigates a cautionary tale of solutions promised but not delivered as one solar service provider banks on the desperation of his clients and seems to get away with one excuse after the next. (Producer: Graham Coetzer | Research: Sinethemba Nogude | Presenter: Macfarlane Moleli)
Watch the show overseas | Watch in SA on DStv Now
It's another week of loadshedding and South Africans are once again looking toward alternatives to keep the lights on, including solar. But some consumers claim one service provider is keeping them in the dark. That's @CarteBlancheTV this Sunday at 7pm on #MNet101. #Loadshedding pic.twitter.com/siFTT8EBV8

— M-Net (@MNet) October 14, 2021
If you're in SA – you can watch Carte Blanche on DStv Now.
If you're overseas – you can watch #CarteBlanche from Tuesdays, and thousands of other popular local South African shows & movies by subscribing to Showmax International now. You can try it FREE for 14 days. 
Carte Blanche is on M-Net & M-Net HD [101], 17 October 2021 at 19:00 & & again on M-Net Plus 1 [901] at 20:00
***
Please note: Carte Blanche is only available to international Showmax subscribers in Andorra, Australia, Austria, Belgium, Denmark, Finland, France, Germany, Greece, Iceland, Indonesia, Ireland, Italy, Liechtenstein, Luxembourg, Malta, Monaco, Netherlands, New Zealand, Norway, Portugal, San Marino, Spain, Sweden, Switzerland, United Kingdom. Not all titles are available in all territories. Showmax brings you the best South African series and movies, from the classics to the latest releases, from complete box sets to kids' favourites.