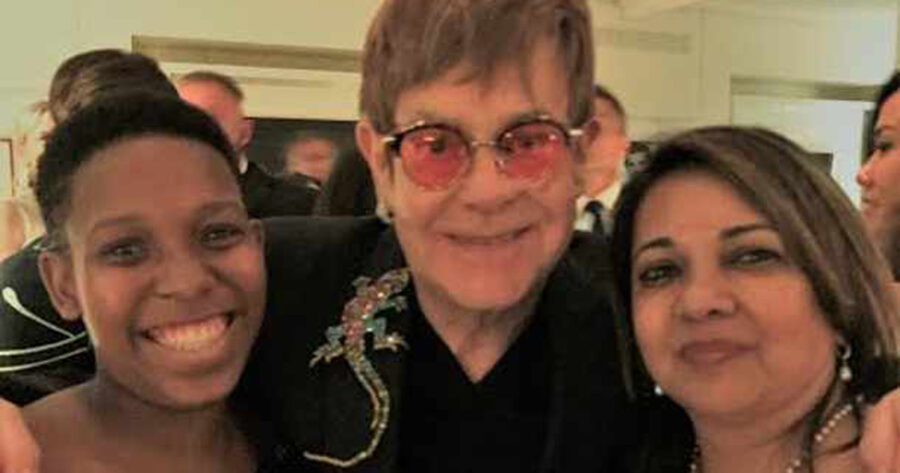 Elton John "Deeply Upset" by Death of South African HIV Doctor Dr Arthi Ramkissoon
Sir Elton John is reported to be "deeply upset" after the boss of his flagship project to care for teenagers struck down with HIV in South Africa died suddenly from Covid-19. The international superstar had befriended leading HIV scientist and tireless fundraiser Dr Arthi Ramkissoon after she wrote to him, begging for help to rebuild […]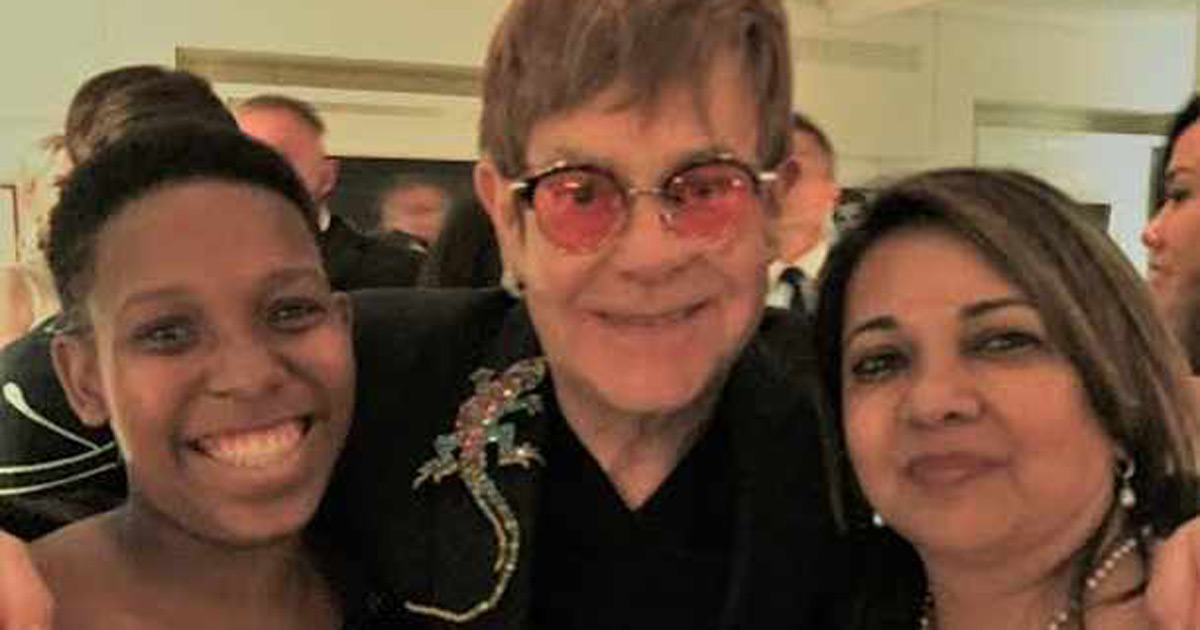 Sir Elton John is reported to be "deeply upset" after the boss of his flagship project to care for teenagers struck down with HIV in South Africa died suddenly from Covid-19.
The international superstar had befriended leading HIV scientist and tireless fundraiser Dr Arthi Ramkissoon after she wrote to him, begging for help to rebuild a hospital.
To her shock Elton, 73, and his partner David Furnish, 58, flew out from their UK mansion to Durban in KwaZulu-Natal (KZN) province to study the plans she had to help teenagers with AIDS.
The following year – in 2017 – Dr Ramkissoon received First Class airline tickets from Sir Elton for herself and her Youth Ambassador at the KZN Children's Hospital to fly to London.
Elton, a father-of-two and founder of the Elton John Aids Foundation (of which David is Chairman) had decided to back Dr Ramkissoon's fight against HIV in South Africa. The singer/songwriter invited the relatively unknown doctor to be his guest speaker at his famous annual VIP White Tie and Tiara ball, at his mansion Woodside in Old Windsor, Berks in England.
Elton sells tickets to royalty, celebrities and the super-rich at £3,000 each, and then holds an auction at his 37 acre-home near Windsor Castle to raise funds for his Aids charity.
The likes of Sir Mick Jagger, Sir Michael Caine, Simon Cowell, the Duchess of York, Rod Stewart and Joan Collins are regulars at what is seen as the Social Event of the Season.
After Dr Ramkissoon told his guests how she was spearheading a project to build a specialist unit at the hospital she was refurbishing, to help HIV sufferers aged from 13 to 19 years old, she received a standing ovation.
And to her shock, when bidding at the star-studded auction began, she was flabbergasted to find that within 20 minutes a staggering £2.5 million had been raised.
The Chief Executive Officer (CEO) of the KZN Children's Hospital Dr Ramkissoon, and her Youth Ambassador Lindiwe Nyathikazi, returned home with the money to help build their dream.
The Rocket Man and hospital boss Dr Ramkissoon had remained close friends and Sir Elton planned to visit the new HIV unit when it is completed next year. He is also believed to have made further donations.
A source at the KZN Children's Hospital revealed: "Tragically Dr Ramkissoon fell victim to Covid 19 last week and after a brave but short battle lost her fight for life on Monday.
"The Elton John Aids Foundation were immediately informed and have been in constant contact and offered Sir Elton's sincere condolences and they said he was "deeply upset".
"One of Arthi's most prized possessions is a photo taken of her and her Youth Ambassador Lindiwe with Sir Elton standing between them at the fund-raising auction in his mansion.
"She was like a human dynamo and never gave up raising money for the hospital since she joined in 2012; and her loss is a huge blow but we will keep up her work in her memory," he said.
The history of the hospital also fascinated Sir Elton as it was the first hospital built just for children in South Africa in 1928, and was designed to treat the sick no matter what colour they were.
But the apartheid government shut it down in 1984. It degenerated into a state of derelict for 28 years until 2012 when the original name was changed from the Addington Children's Hospital to the KwaZulu-Natal Children's Hospital.
Dr Ramkissoon became the CEO and she audaciously made an appeal to the Elton John Aids Foundation for them to help build a specialist HIV unit at the hospital to treat those suffering.
The married mother-of-two said at the time: "Sir Elton and David were due to visit Durban for the International AIDS Conference in July 2016 so we invited them to the children's hospital.
"We did not expect him to visit for a minute but he did and spent a long time talking to our young patients and understood what a difference the funding would make to thousands of teenagers.
"He invited me to the fundraising dinner he held the following year and R50-million was raised which meant that we had the money to get the facility built and up and running," she said.
The event at Sir Elton's country home was compered by British TV celebrity David Walliams OBE for 150 VIPs who heard him sing solo on his piano and then in several duets with American star Joan Baez.
The Elton John Aids Foundation posted on their fundraising page after the 2017 bash: "A huge thank you to our loyal and generous supporters who helped us raise over £3m at the gala.
"The money raised will go towards supporting people living with HIV around the world particularly adolescents through a new HIV Adolescent Treatment Centre at the KZN Children's Hospital."
Dr Ramkissoon said after the event: "We at the hospital are all so grateful for Sir Elton John and David Furnish's fund raising and we hope this will attract more sponsors to help our project".
Sir Elton told the Sunday Tribune at the time: "My mission is for an AIDS-free future and we are not going to achieve that if AIDS remains the leading cause of death for 10 to 19 year olds in South Africa.
"Of all the countries on the continent South Africa has the most acute Aids epidemic and the largest number of people living with HIV/Aids. No one should be left behind in this fight.
"While my foundation doesn't generally fund capital projects like this, we nevertheless felt this was an excellent opportunity to create a beacon of excellence with this project.
"I would love to return and visit the HIV Adolescent Centre when it is finished" he said.
Sir Elton revealed that he had visited South Africa five times already both to holiday and check up on his Aids/HIV projects, and planned to bring his sons Elijah, 8, and Zachary, 10, on holiday there soon.
One of South Africa's leading film-makers Anant Singh said this week: "I am devastated at the death of Dr Ramkissoon who was committed to making an impact on HIV/Aids.
"One of the coups she scored was the support of Sir Elton John and his Foundation through which R50-million was raised to help her bring her dreams to fruition.
"Thousands of children will benefit from the services the hospital provides and the KZN Children's Hospital will stand as her legacy and a reminder of what she achieved."
Dr Ramkissoon was due to be buried on Thursday evening.
The KwaZulu-Natal Children's Hospital Trust paid tribute to Dr Arthi Ramkissoon with this message:
It is with a heavy heart and a sense of disbelief that that we share with you the news of the untimely death of our Chief Executive Officer, Dr Arthi Ramkissoon. Arthi, together with Prof. Jerry Coovadia, apart from her sterling work with Maternal Adolescent and Child Health Institute NPC ("MatCH"), was the "mover and shaker" in the establishment of a Trust to initiate the restoration of the old Addington Children's Hospital, now known as the KwaZulu-Natal Children's Hospital. Arthi and Jerry gathered a group of Trustees who shared their passion for the project of restoring the old hospital and its services.

The restoration of these beautiful old buildings and the re-establishment of out-patient services for children, followed by careful planning for the further extension of services, are the result of the Trust's activities, and Arthi's passionate commitment to this project.

Arthi's vision and energy carried this project forward, together with the commitment of the Board of Trustees. She met with politicians, top functionaries in the Department of Health, international, national, and local donors, and persons with influence and infected them with her enthusiasm and commitment to solicit their support for the project.

Arthi's energy and commitment extended to monitoring the restoration site continuously, ensuring continuous progress on the phases of the project. Her passion for children and their health care was very evident once services to children were initiated through the new out-patient department. The building on its own was not sufficient, services also had to be high quality for all children and their families.

One cannot measure Arthi's contribution to the Trust, and to the children who have already
benefitted or will continue to benefit from the project, in material terms or even in words. She not only acted, Arthi inspired action.

To her family: we mourn with you and thank you for supporting Arthi in her work and commitment to the well-being of children.

She will be much missed by her fellow Trustees and all who are, and continue to be, involved in this and other projects. Her death was untimely and a sad event for which we were not prepared and find difficult to accept.

However, Arthi's life and how she lived it, will continue to inspire her fellow Trustees to ensure her legacy is carried forward.
In memory of Arthi, donations to the Children's Hospital project may be made online:
www.kznchildrenshospital.org
or by EFT:
Bank: Investec Bank Limited
Branch: 100 Grayston Drive, Sandton
Branch Code: 58 01 05
Type of Account: Current Account
Account Name: KwaZulu-Natal Children's Hospital Trust
Account Number: 10011437579
Reference: Your name/company name