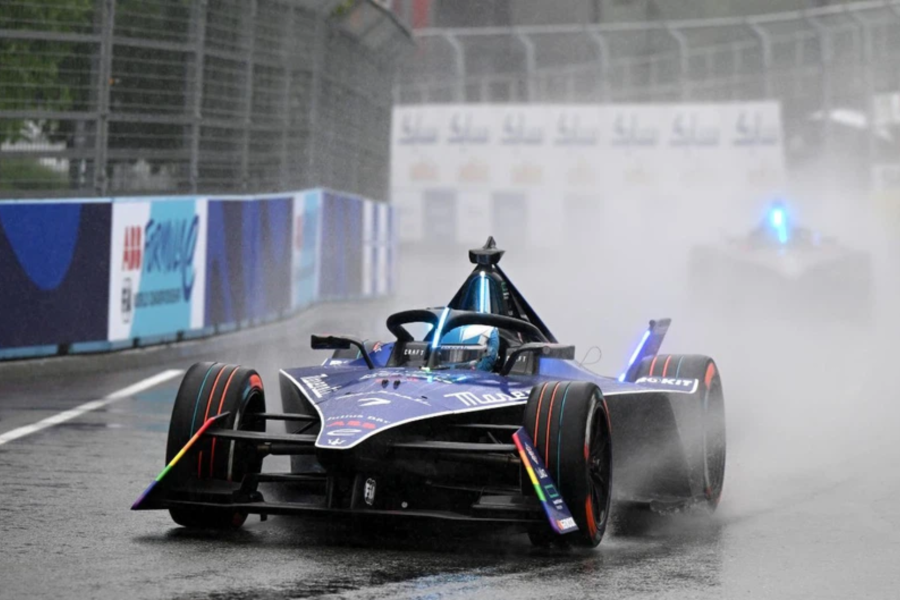 Maserati MSG Racing concluded season 9 at London E-Prix
Maserati MSG Racing wrapped up a landmark season of competition at the 2023 London E-Prix, with the Trident completing its comeback 2023 campaign in the UK capital. The Monaco-based team's season was underscored by unstoppable motivation, with the outfit rising from a challenging start to score 137 points in the second half of the season. […]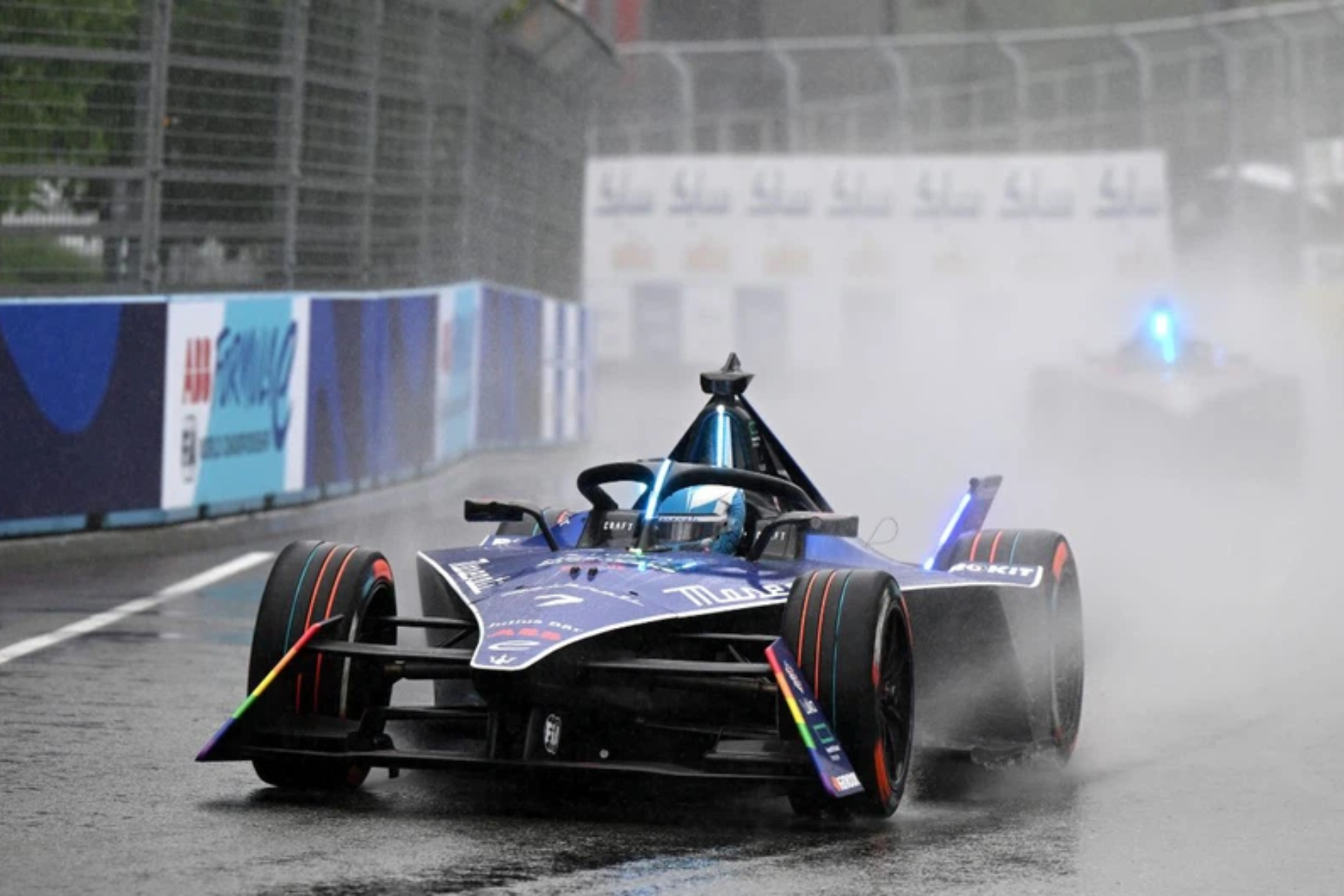 Maserati MSG Racing wrapped up a landmark season of competition at the 2023 London E-Prix, with the Trident completing its comeback 2023 campaign in the UK capital.
The Monaco-based team's season was underscored by unstoppable motivation, with the outfit rising from a challenging start to score 137 points in the second half of the season.
MASERATI MSG RACING HAD A CHAOTIC WEEKEND
Following a series of time penalties overnight, Edoardo Mortara was promoted to a top-five finish in Race One, and the team rallied for one final push at the ExCeL circuit.
Light rain late in Group B qualifying, however, prompted an early end for Edo and team-mate, Maximilian Günther, as the pair failed to advance to the duel-stages.
A heavy downpour prior to the race saw the season finale commence behind the Safety Car, although, with conditions deteriorating, the event was red flagged after five laps.
ALSO READ: Max Verstappen wins wild Belgian Grand Prix sprint race in downpour
Ongoing sighting laps preceded a full restart 90 minutes before the original planned start, and from 11th and 16th, Edo and Max settled into an early rhythm, exploring a continually evolving track environment.
The wet weather and shorter race distance heavily reduced the need to save energy, and both drivers opted to take Attack Mode early to maximise track position.
With this strategy, Edo slotted into 10th, although a snap of oversteer in difficult conditions cost the Swiss-Italian ground to Dan Ticktum. Max, meanwhile, rose to 14th.
ALSO READ: Why Orlando Pirates pulled out of Bathusi Aubaas transfer talks!
Edo responded by setting the fastest lap of the race at that point, but with the reduced energy management, gaining additional ground proved to be difficult.
Edo took the chequered flag in 11th while Max was 14th, which allowed the team to take sixth in the World Teams' Championship.
With Season 9 complete, all attention will switch onto Season 10, which will commence at the Circuit Ricardo Tormo, in Valencia, Spain on October 23-27 for pre-season testing.
ALSO READ: Formula E Championship 22/23 season finale is headed for London
IN THEIR WORDS
"It feels like only yesterday since we started the season in Mexico City but now, seven months on, it's all over. It was a season of two halves, but the recovery we've displayed as a team is a rare thing in motorsport. It came from a lot of hard work behind the scenes, and on the difficult days, we were able to learn the most to come back even stronger. I'm incredibly proud of the team and of our achievements. The whole team deserves a good break before Season 10, but the world of Formula E never stops, we're a team of racers, and we're already looking forward to 2024." – James Rossiter, Team Principal, Maserati MSG Racing
"A slightly disappointing way to end our season, but under the circumstances surrounding the energy management, there was very little we could do. Unfortunately, missing out on the duels in qualifying gave us a lot of work to do in the race, but after taking Attack Mode early, I was able to get into the top 10. Unfortunately, I had a loss in traction which meant that I dropped down to P11. I tried to come back, but with the race running nearly flat-out, there were few opportunities to gain ground. We should be extremely proud of the season we've been able to piece together this year. Now, we'll take some time to pause and make sure to celebrate our achievements." – Edoardo Mortara, Driver, Maserati MSG Racing
ALSO READ: Fritz Burkard announced as 'The Collector' at Concours of Elegance
"Not an easy day for us. Once again, we gave it our very best. In qualifying there was the chance to do better, but unfortunately, we couldn't pull it all together. P16 was not what we wanted to achieve and starting from there, it was always going to be a difficult day to recover. In the wet, it was very difficult to overtake. We managed to finish the race in P14 but it was a difficult race, a difficult day, but nevertheless, when we look back on our season, we can be proud about so many things and about this great turnaround we've achieved. With a bit of time, we will release lots of good achievements and I'm proud of our team and what we did this year." – Maximilian Günther, Driver, Maserati MSG Racing
"Today's weather conditions were challenging but it was great to see both of our drivers cross the finish line without any incident. This season was filled with interesting outcomes, competitive and exciting from the beginning. In the second half of the season Maserati achieved its first podium, first victory and the first home race podium; something that we will never forget. The resilience of the team and the competitive drive makes all of us confident that we have the right momentum to head into Season 10." – Giovanni Sgro, Head of Maserati Corse
ALSO READ: Duel of delight in Springboks vs Argentina showdown
THE RACE IN NUMBERS
Edoardo Mortara
Free Practice Three // P12
Qualifying Two // P12 [1:11.078, Group B]
Race Two // P11
Fastest Lap // 1:22.464
Championship // P14 [39 points]
Maximilian Günther
Free Practice Three // P11
Qualifying Two // P16 [1:11.346, Group B]
Race Two // P14
Fastest Lap // 1:22.511
Championship // P7 [101 points]
Maserati MSG Racing
Championship // P6 [140 points]
ALSO READ: Nichols Cars N1A: A road-going supercar inspired by an icon
Published by Maserati on Newspress
For more news about the concluded Formula E season and previews of the next, follow our motorsport page.