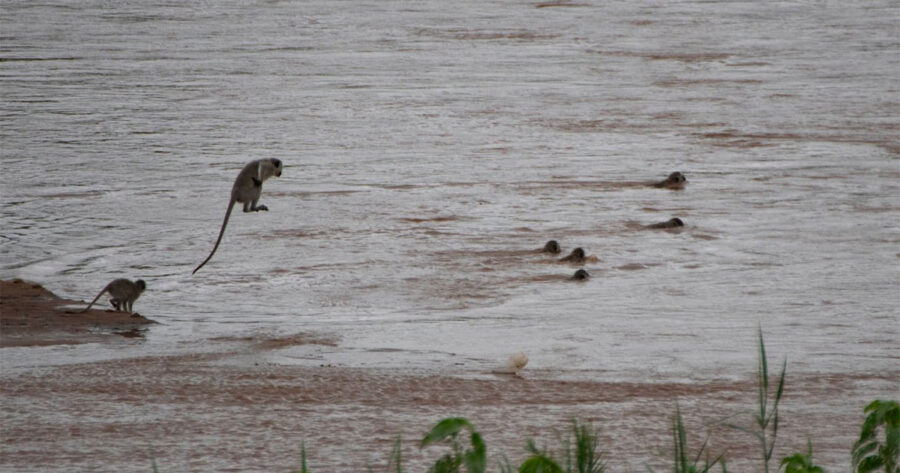 PHOTOS: Vervet Monkeys Swim Across Crocodile-Infested River in South Africa
Well known KwaZulu-Natal safari guide Gavin Udal captured a rare scene last week, at the Hluhluwe Game Reserve in South Africa, of a troop of Vervet Monkeys swimming across a swollen crocodile-infested river! This is not something monkeys would usually do. Gavin – who owns and runs Wendy's Country Lodge & Zululand Adventures – said: […]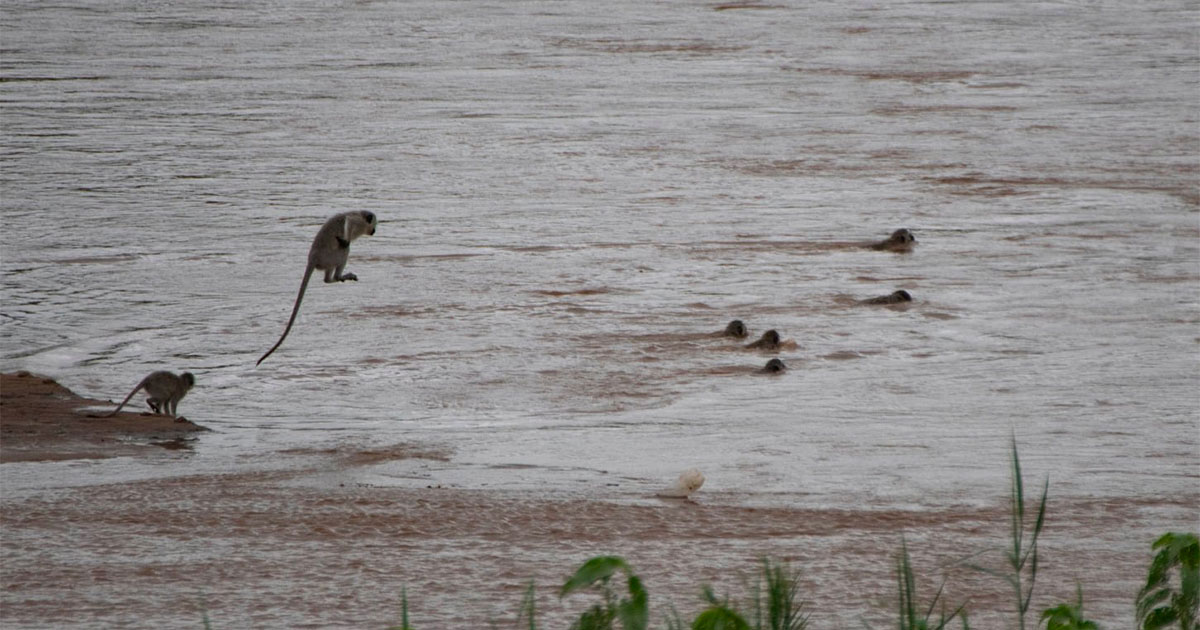 Well known KwaZulu-Natal safari guide Gavin Udal captured a rare scene last week, at the Hluhluwe Game Reserve in South Africa, of a troop of Vervet Monkeys swimming across a swollen crocodile-infested river! This is not something monkeys would usually do.
Gavin – who owns and runs Wendy's Country Lodge & Zululand Adventures – said: "What brave little souls! In all my years guiding and being in the bush, I have never seen this."
Fortunately all of the monkeys did make it safely to the other side. But why they chose to take such a risk and cross the crocodile-infested river remains a mystery.
Gavin says there are three main possibilities: "Were they being harassed by a predator, was it due to a lack of food source, or another troop pushing them out of their territory?"
He also observed their innate wisdom. Gavin says the vervets entered the river, not where the current was strong, but rather "where there was an eddy and (then) swam into the current which pushed them out onto the opposite bank. Animals are way more intelligent than we give them credit for."
Male elephant swims to cool testicles!
During the same week, Gavin also photographed an elephant mother and her offspring crossing the river.
As can be seen, only one of the elephants is actually swimming.
Gavin explains: "It's possible the elephant that is swimming is a young male. Males like to swim to cool their body temperature, and in turn their testicles. As the testicles are retained in the stomach area it's important to maintain a constant body temperature (37 degrees) in order for the sperm to survive. Although the primary cooling comes from the ears, a cool swim also helps."
Wendy's Country Lodge is an 8-sleeper house in lush settings, close to St Lucia and Isimangaliso Wetlands. Together with Zululand Adventures' daily guided safaris into Hluhluwe-iMfolozi Game Park, they provide a "gateway to Nature, where visitors can explore Nature and love Nature together".
Follow Wendys Country Lodge: